Pat Cummins Instagram story of Mitchell Marsh resting feet on World Cup trophy draws sports fans' ire; 'leg is not impure' say others
Updated: Nov 21, 2023, 10:12 AM
|
Published: Nov 20, 2023, 12:29 PM
Follow Us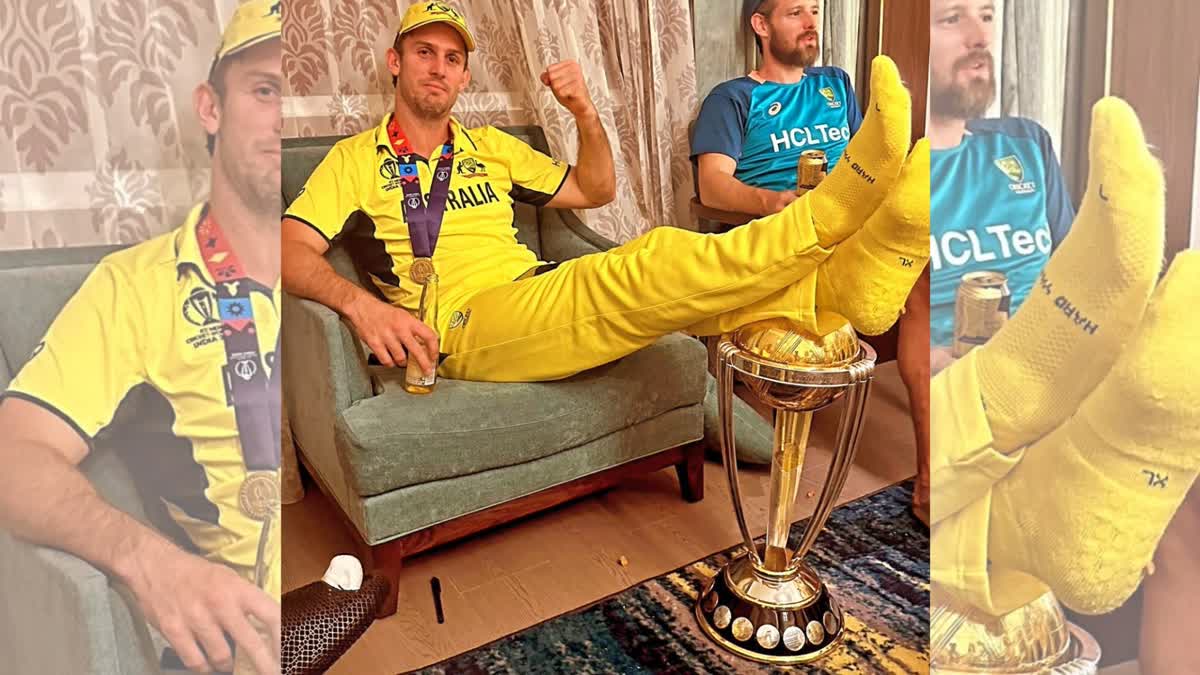 Pat Cummins Instagram story of Mitchell Marsh resting feet on World Cup trophy draws sports fans' ire; 'leg is not impure' say others
Updated: Nov 21, 2023, 10:12 AM
|
Published: Nov 20, 2023, 12:29 PM
Follow Us
Ahmedabad: Australian skipper Pat Cummins has shared a picture of all-rounder Mitchell Marsh, who rested his both legs on top of the World Cup Trophy on his social media handle. Australia thrashed India by 6 wickets in the ICC Men's Cricket World Cup 2023 final at the Narendra Modi Stadium in Ahmedabad on Sunday to clinch their sixth title.
One of the photos posted by Pat Cummins, who led his side to a victorious campaign, shows Mitchell Marsh sitting on a sofa holding a pint in his hand with his feet resting on the World Cup Trophy and showing off his gold medal.
Skipper Pat Cummins has shared some pictures of his fellow teammates on his official Instagram handle story after the lop-sided summit clash. But this picture of Marsh posted by Cummins is now going viral over the internet and a section of the sports fans are calling it a 'disrespectful' gesture. Marsh is also getting trolled over several social media platforms after this incident. Some say it is their right to treat it and it is a trophy, for the game's sake, and have cited many instances from around the world while also questioning "the leg being impure theory".
Social media user aarisha_fabgirl wrote on 'X', formerly known as Twitter, "Once it was @RickyPonting treating then @BCCI president @PawarSpeaks badly on stage in front of the world and now @ImMitchelmarsh doing this , ironically both @DelhiCapitals @CricketAus stars #Shame #mitchellmarsh (sic)."
"Such a disrespectful thing Mitchell Marsh giving pose legs on world cup. It's a disrespect to entire tournament, @ICC shuld rake strict action on this (sic)," wrote Sangepu Siva Kumar.
Such a disrespectful thing Mitchell Marsh giving pose legs on worldcup. It's e disrespect to entire tournament, @ICC shuld rake strict action on this #INDvAUS

— sangepu siva kumar 😷 (@sangepu_7) November 20, 2023
"Such a shameless behavior by #MitchellMarsh and @CricketAus. Such a disgusting thing that he put his legs on #WorldCup🏆 Take some action against them @ICC. He would have respected the cupp (sic)," wrote Amutha Ananth.
The right-hand batter has scored 441 runs with an average of 49.00 at an impressive strike rate of 107.56 including two centuries and a half century in the 10 matches he has played in the marquee tournament. He has also picked two wickets against the Netherlands.
In the 2023 Cricket World Cup final, put into bat, skipper Rohit Sharma gave India a flying start with few fireworks in powerplay but after his wicket, Australian bowlers bowled on very tight line and length and kept taking wickets at regular intervals to bundle out Men in Blue at 240. Star batter Virat Kohli and wicket-keeper-batter KL Rahul smashed half-centuries but couldn't convert into the big scores.
However, Australian opener Travis Head played a remarkable innings, scoring 137 runs off 120 balls, and led his team to victory. Australia won comfortably by six wickets, with 42 balls to spare.
Sharing a picture of Gerard Pique enjoying a celebratory cigar after the Champions League final triumph, a user who identifies himself as Advaid, noted that, "A trophy represents hard work and talent, not religious insignia. What you see in these three photos is 'The world at my feet' winning mentality. They 'respect' the trophy by giving their everything to win it."
Another social media user and Dalit activist Shalin Maria Lawrence equated the trolls to be the imposition stemming from Brahminical mentality, citing Football legend Diego Maradona had a tattoo of Fidel Castro in his leg. It is history that Maradona showed off his tattoo to Fidel Castro, when the two met in one of their meetings.
"Maradona had a tattoo of Fidel Castro in his left leg. He considered his legs as sacred as his other body parts. As a human I love all parts of my body and think all of it does its part and is dignified. The idea of legs being impure is imposed from the Indian Brahminical mentality," she wrote.
Feet being a "bad body part" is a purely cultural thing. Stop imposing your beliefs on others Mitchell Marsh, Jordan Henderson, Gerard Pique seen in pictures below with their hard fought and hard won trophies. They earned the right to do that. Let them be, Dr Jonathan, an emergency medicine physician, wrote.
Bingo
Feet being a "bad body part" is a purely cultural thing.
Stop immosing your beliefs on others
Mitchell Marsh, Jordan Henderson, Gerard Pique seen in pictures below with their hard fought and hard won trophies. They earned the right to do that. Let them be. https://t.co/SR38YLAZWH pic.twitter.com/8Kni5PUs4L

— Dr. Jonathan (@just1doctorwala) November 20, 2023