World Cup final 2023: Glenn Maxwell's wife Vini Raman slams Indian fans for hateful messages
Updated: Nov 20, 2023, 4:18 PM
|
Published: Nov 20, 2023, 3:36 PM
Follow Us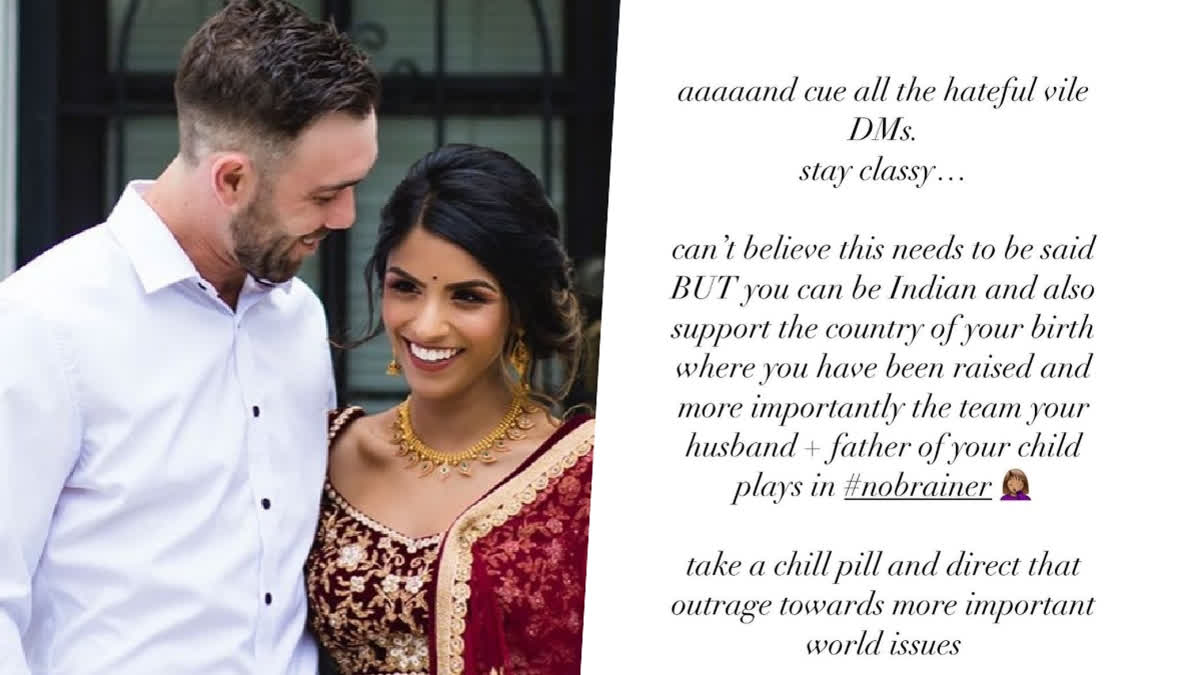 World Cup final 2023: Glenn Maxwell's wife Vini Raman slams Indian fans for hateful messages
Updated: Nov 20, 2023, 4:18 PM
|
Published: Nov 20, 2023, 3:36 PM
Follow Us
Ahmedabad: Indian origin Vini Raman, wife of Australia star batter Glenn Maxwell has inferred in her latest Instagram post that she was receiving online hate for cheering up for Australia and not for the country her parents were from after India's shocking defeat in the World Cup final in Ahmedabad on Sunday.
Vini wrote that one can be an Indian and also support the country of one's birth referring to Australia where she was born. "Aaaaand cue all the hateful vile DMs. stay classy... can't believe this needs to be said BUT you can be Indian and also support the country of your birth where you have been raised and more importantly the team your husband + father of your child plays in #nobrainer take a chill pill and direct that outrage towards more important world issues," Vini posted on Instagram.
Millions of Indians were left heartbroken on Sunday as Australia outplayed Team India in the ICC Men's Cricket World Cup final at Narendra Modi Stadium in Ahmedabad. Vini, whose parents are from Tamilnadu, was born and brought up in Melbourne. She hit back at those trolling her for supporting Australia and explained that it is the country she was born and brought up in.
Vini married Glenn Maxwell as per Christian rituals on March 18, 2022, in Australia before tying the knot in a traditional Tamil ritual wedding on March 27 in Chennai. The couple soon became parents in September this year when their son Logan was born.
Interestingly, Maxwell hit the winning runs in the summit clash against Rohit Sharm's led India. He also slammed some extraordinary knocks in the tournament including a double century against Afghanistan and smashing the fastest century (40 balls) of the World Cups against New Zealand at Dharamshala. Maxwell racked up 400 runs in the 9 innings he batted with two centuries at a strike rate of 150.37 and an average of 66.66.