World Cup 2023 final: These are moments to be remembered for the rest of life, asserts Pat Cummins

Published: Nov 20, 2023, 8:01 AM
Follow Us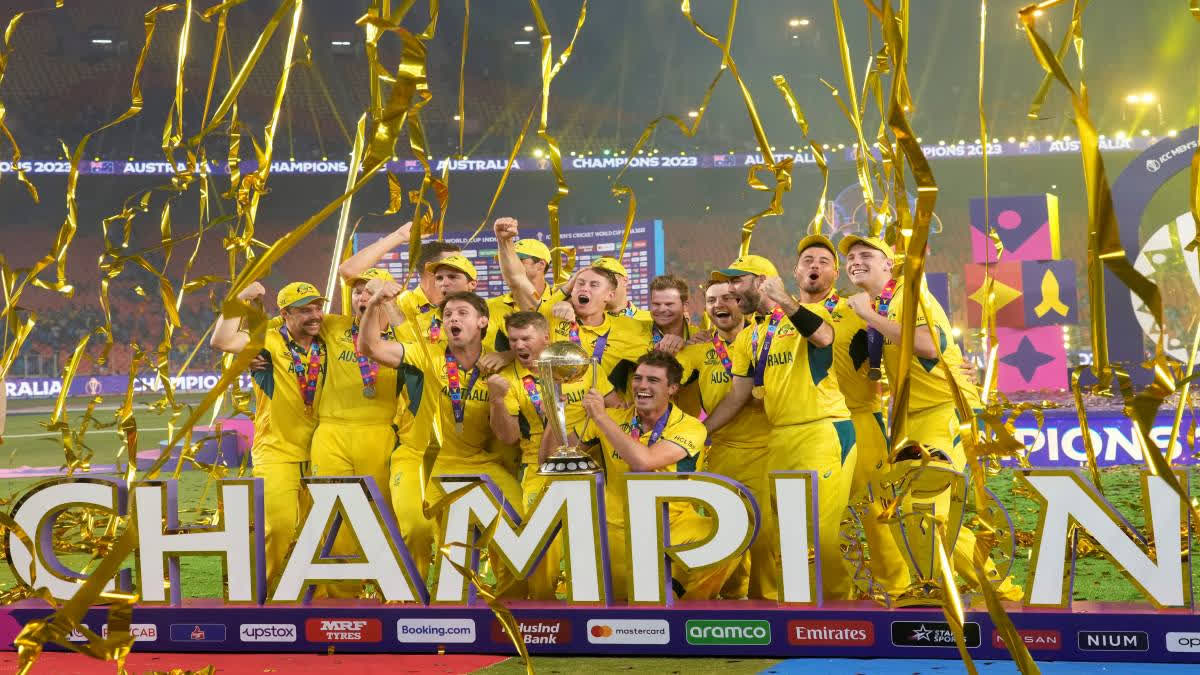 World Cup 2023 final: These are moments to be remembered for the rest of life, asserts Pat Cummins

Published: Nov 20, 2023, 8:01 AM
Follow Us
Ahmedabad: Australian skipper Pat Cummins is over the moon for having won the World Cup, that too in India, before a partisan crowd and despite all the odds of the bigness of the occasion.
"The pinnacle of international cricket, winning a one-day World Cup. Especially here in India, in front of a crowd like this. It's been a big year for everyone, but our cricket team has been here in India, the Ashes, and the World Test Championship and top it off this is huge. These are the moments that you'll remember for the rest of your life," he said at his post-match Press conference where he walked in with the trophy.
Explaining the pinnacle bit, he said "You get a shot at it only after four years. Even if you have a 10-year career, you might only get two chances at it. The cricket world stops with this World Cup. So, it doesn't get any better," he added.
Cummins admitted that he was a little nervous on match morning, pacing around waiting for it to get started. Seeing the sea of blue in the hotel, getting nearer the ground and walking, making its way to the ground, all the cars parked with their selfie cameras out. "You kind of knew you were walking into something special. Then walk out for the toss and see 130,000 blue Indian shirts, it's an experience you'll never forget. Awesome day and the good thing was they weren't too noisy for most of it," he said with a smile.
Talking about his decision to bowl first, he said, the pitch played pretty well. "It was quite slow and basically no bounce, but I don't think the bounce was anything different to anywhere else in the tournament. It didn't spin as much as I thought it would. Yesterday it looked really dry, but it was quite firm today. We were kind of umming and ahhing right up until the toss but I thought there was half a chance of the wicket getting better tonight and you know in a World Cup game you can make a mistake bowling and it doesn't really matter too much, but if you make a mistake in batting and you're under pressure it can be fatal so I just felt like it was the right time to go out and have a bowl," he said.
Talking about his leadership, especially against Afghanistan when he played a good supporting role with Maxwell, and also Travis Head's innings today, Cummins said Head was phenomenal.
"Credit should also go to Andrew McDonald and George Bailey, the selectors, to take a punt. He had a broken finger, and a broken hand for half of the tournament, but to keep him in the squad was a huge risk. The medical team were fantastic in getting him into a place where he could perform. That was a big risk. We could have been made to look really silly if that didn't pay off, but you got to take those risks to win a tournament. And Trav, the player we've seen in Test cricket, just epitomised everything I want out of a cricket team. He takes the game on, he plays with a smile, he just puts the pressure right back onto the opposition and he's just great fun to be around. So, I couldn't be happier for him," Cummins stated.