Being Travis Head: Heartbreaker, cricket guru, future captain...
Updated: Nov 21, 2023, 7:35 AM
|
Published: Nov 20, 2023, 9:21 PM
Follow Us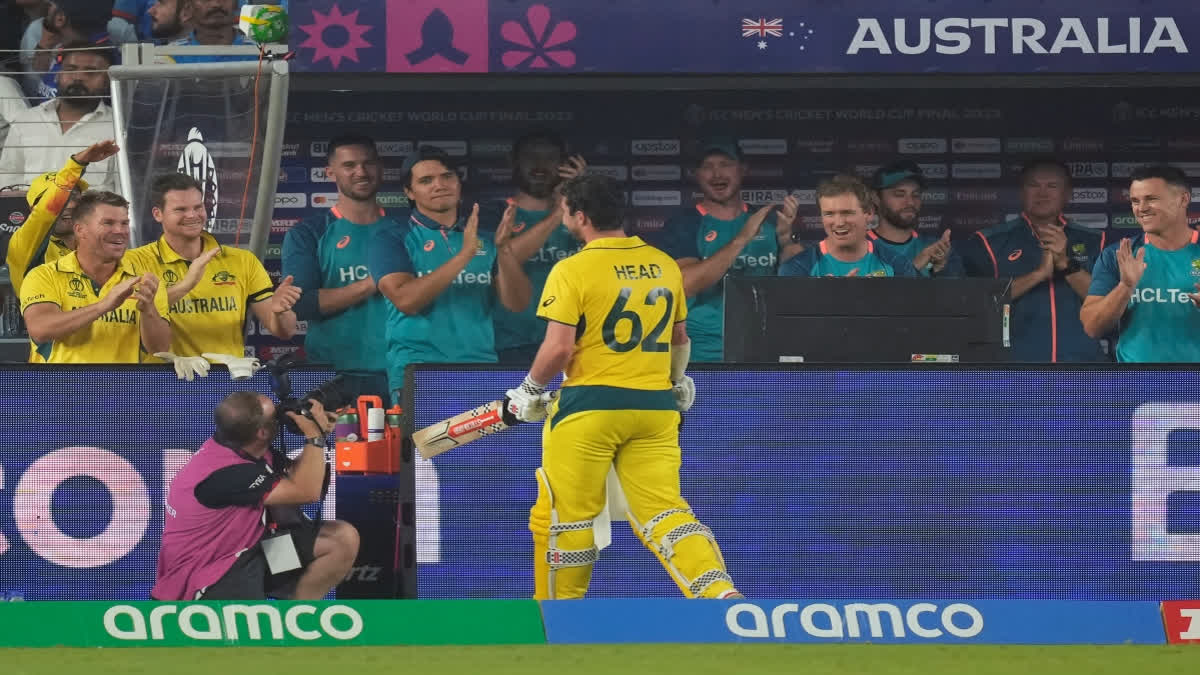 Being Travis Head: Heartbreaker, cricket guru, future captain...
Updated: Nov 21, 2023, 7:35 AM
|
Published: Nov 20, 2023, 9:21 PM
Follow Us
Hyderabad: Australian opener Travis Head was known in India and to his teammates in the Royal Challengers Bangalore (RCB) as a lookalike of legendary South African batter Ab de Villiers, but after his aggressive and match-winning knock of 137, which helped the Pat Cummins-led side to their sixth ODI World Cup winning title, the southpaw has carved an identity of his own.
The 29-year-old left-handed batter has played 64 ODIs for his side after making his debut against West Indies at Basseterre on June 13, 2016. But he played the biggest knock of his career at the world's largest stadium in probably the greatest game of his life against India on Sunday. Head, who became only the seventh batter to score a ton in an ODI World Cup final and joined the illustrious list comprising Sir Clive Lloyd, Sir Vivian Richards, Aravinda D'Silva, Ricky Ponting, Adam Gilchrist and Mahela Jayawardene, hails from a middle-class background.
ETV Bharat spoke to Gaurav Joshi, a well-known journalist, broadcaster and cricket coach, who is based in Sydney for 30 years, over the phone to learn more about the Aussie batter who broke a billion Indian hearts with his breathtaking knock
"He was South Australia's youngest cricket captain. When he came into the side and was made the skipper, South Australia was going through a terrible time. Head, now 29, had to mature quickly. He was given responsibility and he delivered. He has got the knowledge about the game through his conversation with the senior players in the dressing room and by hearing their stories while playing grade cricket," added Joshi, who knows Australian cricket and its intricacies.
Joshi reckons that Head is a "simple man who possesses immense knowledge of the game". "He will remain the same and that is in his personality. He comes from a middle-class family and has worked extremely hard to earn a national call-up. Another trait of the left-handed batter is that he likes to stay in the present," Joshi said. Credit must also be given to the Australian selectors for reposing faith in Travis Head, who missed the first five matches of the ODI World Cup due to a hand injury, which he sustained in the series against South Africa. Head showed why the selectors did not name a replacement as he pummeled an in-form Indian attack to submission.
Head has over 10,000 first-class runs and has also represented his country in 42 Tests and 20 T20s. "Travis Head is a team man and gels well in the team. He is just 29 years old and has all the qualities to lead Australia in the future. He is a potential Australia captain for the future," Joshi concluded. At the post-match presentation, Head said that he never expected this, not in a million years and truly it was an exceptional day.
"Lot better than sitting on the couch at home. Really glad to contribute, the first twenty balls I played gave me a lot of confidence and yeah I was able to carry through. The way Mitch Marsh came out and took the game on, he set the tone. That was the energy we wanted and we knew the wicket may get tough. It was a great decision to bowl first after winning the toss. I felt the wicket got better as the day went on. Nice to be a part of it, nice to play a role in all of that," Head told official broadcasters after earning the Player of the Match Award.
For the record, Travis Head was also the Man of the Match in the World Test Championship final played at The Oval, London. He smashed 163 in the first innings of the game which Australia won by a staggering 209 runs. It was yet another heartbreak for the Indian team. For Australia, someone or the other has stood up in the ICC World Cup 2023, which was held in India and on Sunday, it was Travis Head.