World Cup final 2023: 'I never lost hope and belief in miracles', says Marnus Labuschagne

Published: Nov 20, 2023, 1:36 PM
Follow Us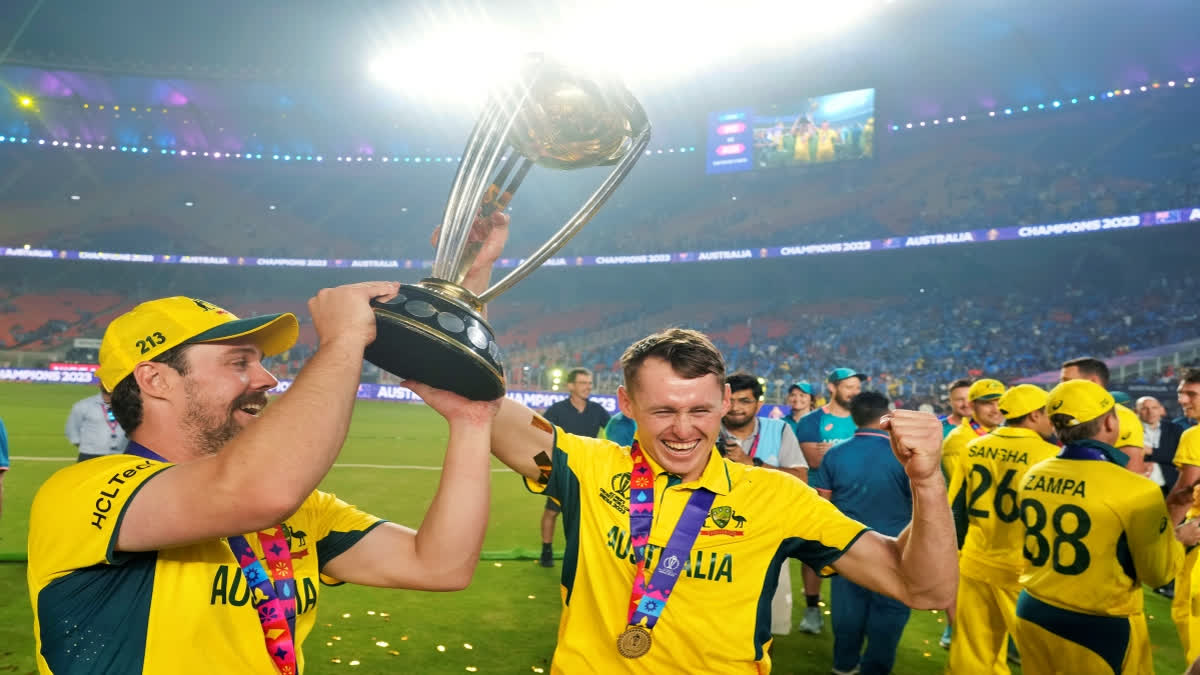 World Cup final 2023: 'I never lost hope and belief in miracles', says Marnus Labuschagne

Published: Nov 20, 2023, 1:36 PM
Follow Us
Ahmedabad: Australia's star batter Marnus Labuschagne, who played a crucial role in Australia's record sixth ICC Men's ODI Cricket World Cup title victory against India at Narendra Modi stadium here on Sunday, was elated after the triumph.
Marnus Labuschagne played an unbeaten 58-run knock when Australia were struggling at 47/3 at one stage and stitched the match-winning 192 runs partnership with centurion Travis Head for the fourth wicket. After the match, the middle-order batter emphasized that he never lost hope and belief in "miracles".
The 29-year-old was initially sidelined from Australia's 18-member provisional World Cup squad but was included at the last moment, replacing Ashton Agar, who missed out on an opportunity due to a calf injury. "It's hard for me not to believe in miracles, and that there's someone above putting the pieces together," Labuschagne said after his responsible knock on Sunday.
Labuschagne has scored 362 runs including three fifties from 10 innings at an average of 40.22. In the final, he stood in a match-winning 192-run partnership with Travis Head that sealed their six-wicket win over India. But by his own admission, Labuschagne was not sure about his place in the playing eleven for the final.
"Last night, at 10 o'clock, the team hadn't been announced yet. Didn't know (if I was playing), I was sitting on my bed. And I was actually thinking, how can I add value then if I'm not playing? Maybe fielding?" he told cricket.com.au.
"Then at quarter past 10, the team got sent out and it just said 'same team'. So that was a bit of a relief." After the initial snub, a wrist injury to Steve Smith saw Marnus Labuschagne being added as a late inclusion for a five-match ODI series in South Africa but was ignored for the first game in Bloemfontein.
"I think I was unofficially dropped five times, but played every game," said Labuschagne, who has now played in 25 consecutive ODIs for Australia over the past 12 months."I wasn't in the squad in South Africa. Someone got concussed, I got an opportunity, got some runs, pushed my case, got in the squad, and played 19 games since the first South Africa (ODI) in a row.
"So it's hard for me not to think, you know, as a man of faith, that there's not someone else pulling the strings. I'm very thankful to the coaches and selectors for sticking by me... Luckily I got us over the line," he added. Labuschagne was full of praise for his partner Travis Head, who made 137 off 120 balls.
"It's almost the perfect pair out there for that sort of scenario. Me absorbing the pressure at one end, Heady (Travis Head) putting pressure back on them at the other," said Labuschagne.
"We played a beautiful hand, because I'm playing such a low-risk game, not letting them in, Heady's taking the game on... They're kind of getting punched from both ends. "We just kept saying to each other, 'Just keep playing your way'. He said (when victory was in sight) 'I'm gonna finish it this over'. I really wish he was out there for the finish... It was such a special innings," concluded Labuschagne.