Aussie Deputy PM Richard Marles savours Nimbu Pani, Ram Laddu in Delhi

Published: Nov 20, 2023, 6:41 PM
Follow Us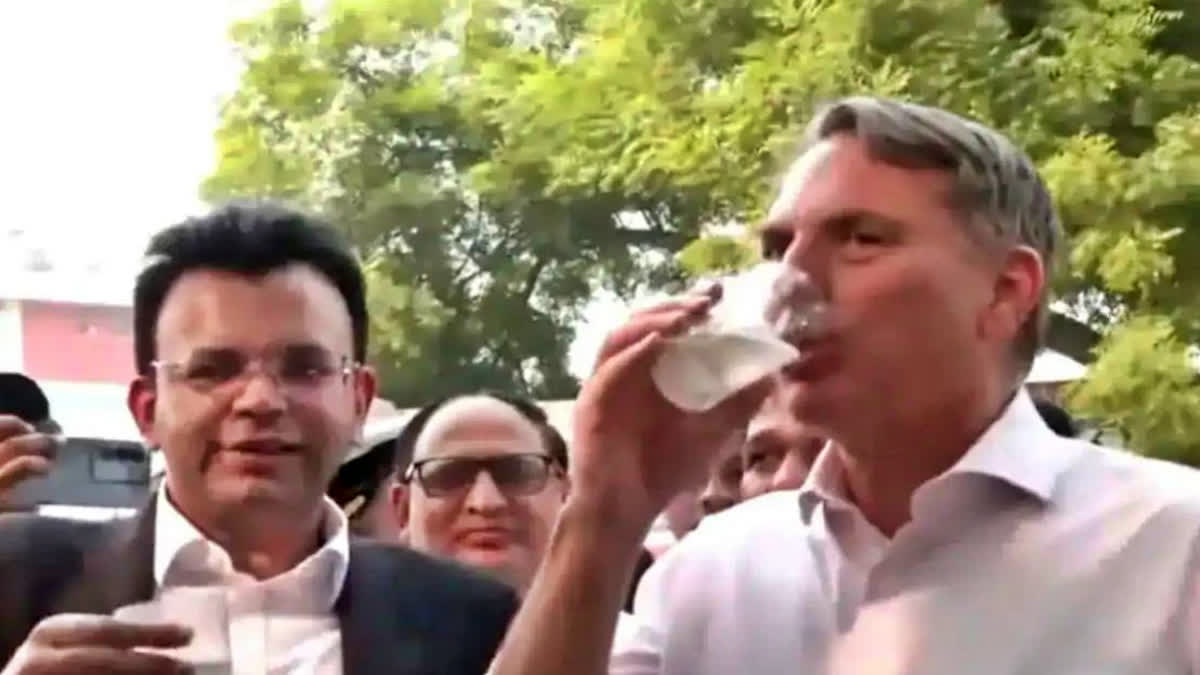 Aussie Deputy PM Richard Marles savours Nimbu Pani, Ram Laddu in Delhi

Published: Nov 20, 2023, 6:41 PM
Follow Us
New Delhi: Australian Deputy Prime Minister and Defence Minister Richard Marles indulged in a vibrant cultural exchange during his visit to India. Embracing the local flavours and activities, Marles was seen immersing himself in the essence of Delhi.
One of the highlights of his visit was experiencing the simplicity of Indian street refreshments. Marles enjoyed sipping on 'nimbu pani' from a roadside stall, showcasing a willingness to engage with local traditions on Monday. Marles also relished the taste of 'Ram laddu,' another Indian delicacy. He was assisted in using the UPI digital payment system to pay for the Indian snacks.
In addition to this, the Australian leader enthusiastically interacted with young cricket players at the Arun Jaitley Stadium. Engaging in a game of 'gully cricket,' Marles displayed his sporting spirit, joined by young players aged between 14 to 18 years. Paying homage to former Union Minister Arun Jaitley, Marles also laid a floral tribute at the stadium.
Later in the day, with Foreign Affairs Minister Penny Wong, Marles solemnly paid respects at the National War Memorial, underscoring the strong ties between the two nations.
India-Australia 2+2 Dialogue
The highlight of the diplomatic agenda includes the co-chairing of the India-Australia 2+2 Ministerial Dialogue, with their Indian counterparts, External Affairs Minister S. Jaishankar and Defence Minister Rajnath Singh. The dialogue, a crucial platform for strategic, defence, and security discussions, aims to strengthen the bilateral relationship between India and Australia.
An official statement emphasised that the 2+2 Ministerial Dialogue serves as a pivotal element in the India-Australia relationship, providing an opportunity to jointly shape the future of the region.
The second India-Australia 2+2 Ministerial Dialogue, scheduled in the national capital on Monday, is anticipated to cover the way for deeper cooperation and layout on mutual interests, promoting a more strong partnership between the two countries.