West Bengal: 10-year-old Malda boy turns hero by stopping a running train
Updated: Sep 23, 2023, 10:24 PM
|
Published: Sep 23, 2023, 10:13 PM
Follow Us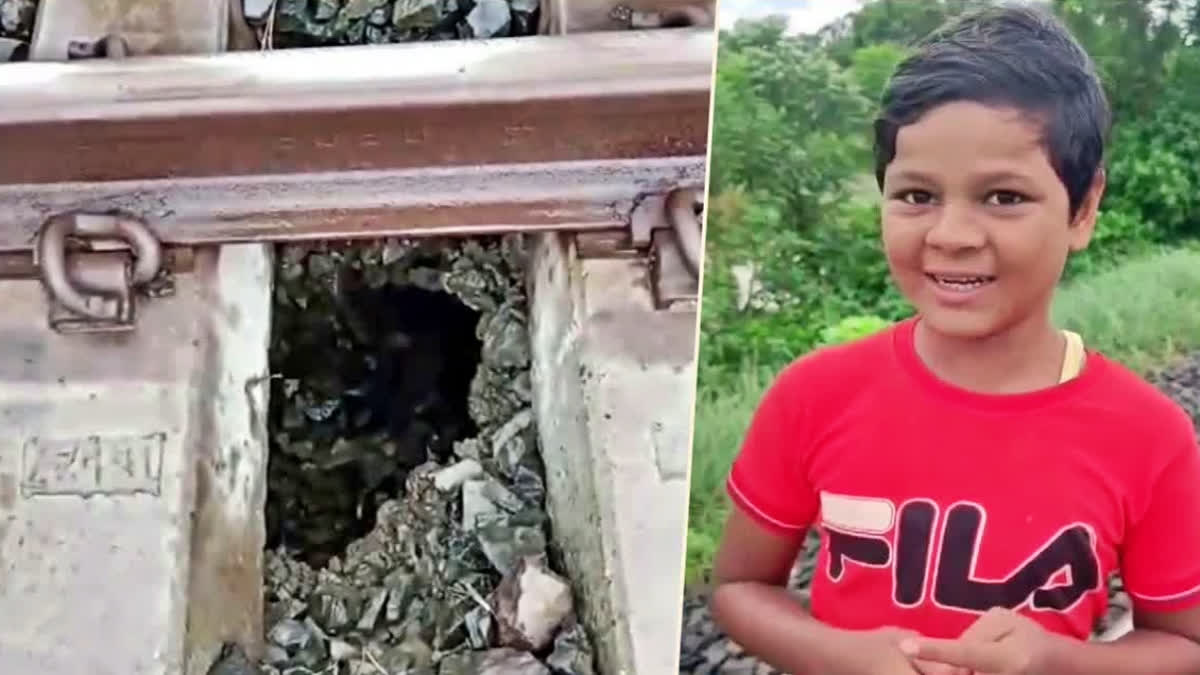 West Bengal: 10-year-old Malda boy turns hero by stopping a running train
Updated: Sep 23, 2023, 10:24 PM
|
Published: Sep 23, 2023, 10:13 PM
Follow Us
Malda (West Bengal): A Class 5 boy from West Bengal's Malda district turned hero for saving the lives of passengers after he detected a damaged track and managed to stop the train. The 10-year-old boy identified as Murseleen Shaikh will be awarded by the North East Frontier Railway for his daring and timely action.
On Friday, Murseleen, a resident of Kariyali village in Mashaldah village panchayat of Harishchandrapur, went fishing in the nearby pond when he noticed a big hole that had developed due to land subsidence underneath the railway track as Malda district has been receiving good rainfall for the past few days.
Around the same time, the boy also saw that the Sealdah-Silchar Kanchanjungha Express was running at full speed on that line. Murseleen took off his red T-shirt in a flash and stood on the line waving it vigorously so that the train driver could see it from a distance. The train guard saw the boy and stopped the train in time.
As he rushed down from the engine, Murseleen explained to him why he had stopped the train. Seeing the damaged track, the train guard lauded the boy for saving the lives of many passengers. Soon after, Bhaluka Road Station GRP, RPF and railway workers rushed to the spot. The train left for Silchar an hour and a half after filling the hole below the line.
As soon as this news spread, Murseleen became a hero in the area. His mother Morzina said she was proud of her son's work. "He has saved so many lives. Can't be more proud of him! The train guard also thanked the boy," she said.
On the other hand, Murseleen said, "When I went fishing, I noticed the hole under the train line. Seeing the train coming on that line, I took off my T-shirt and waved it. Finally, the train stopped and the guard came down to check. He thanked me for saving the lives of so many people."
Sahimuddin, a villager, said, "At that time I was crossing the railway line to fix my torch. The train was coming along that line. That's when Murseleen opened his T-shirt and tried to stop the train. Finally, the train stopped. The kid did a great job."
North East Frontier Railway has announced a reward for Murseleen in this incident. Sabyasachi De, Chief Public Relations Officer, NF Rail, said, "The incident has come to our attention. We have decided to reward the kid. The reward will be handed over to him very soon." Eastern Railway's Chief Public Relations Officer Kaushik Mitra also praised Murseleen for his work while not deciding on the award. "Perhaps the matter did not come to our attention because of the incident in the North East Frontier Railway. On behalf of the Eastern Railway, I congratulate the kid. But no decision has been taken yet to reward him for it," he said.