Cauvery protests: Opposition parties pledge support for Bengaluru bandh on Tuesday

Published: Sep 25, 2023, 11:08 PM
Follow Us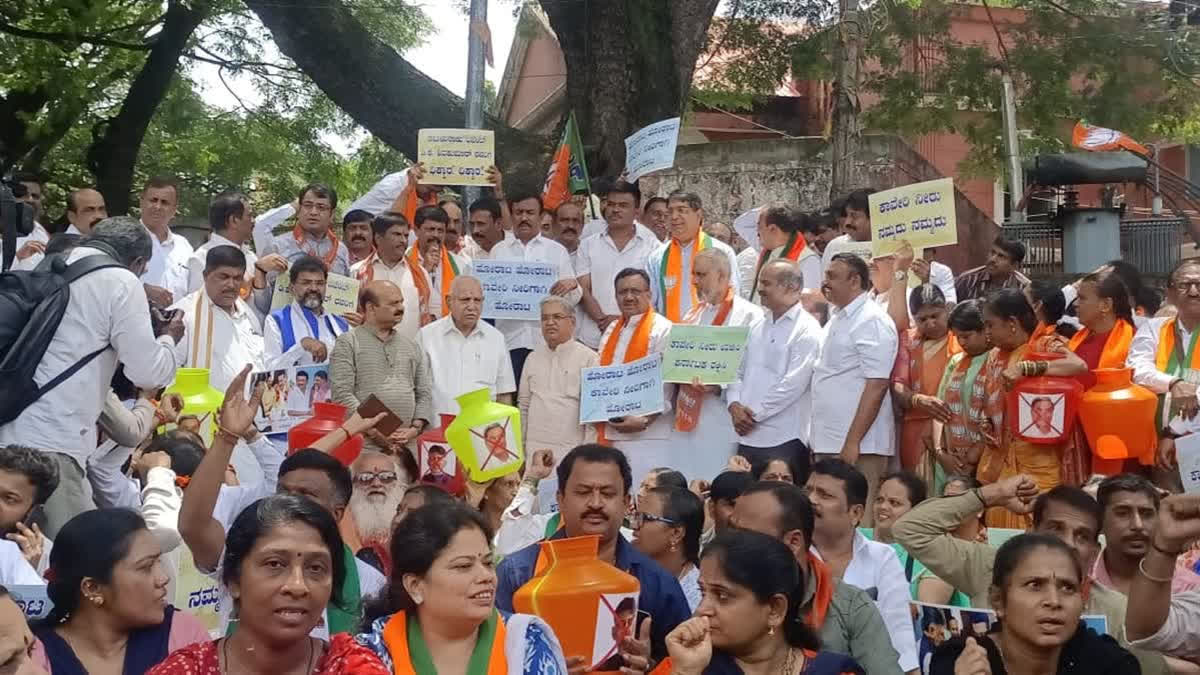 Cauvery protests: Opposition parties pledge support for Bengaluru bandh on Tuesday

Published: Sep 25, 2023, 11:08 PM
Follow Us
Bengaluru: Two bandhs have been announced this week -- one in Bengaluru tomorrow and another statewide on Friday -- to protest against the release of Cauvery water to Tamil Nadu, with opposition parties in Karnataka backing the call made by a farmers' organisation for the shutdown tomorrow.
The announcement for the Karnataka bandh on September 29 was made on Monday, under the banner 'Kannada Okkuta' — led by Kannada activist Vatal Nagaraj, days after 'Karnataka Jala Samrakshana Samiti', an umbrella outfit of farmers' associations and other organisations led by farmer leader Kuruburu Shanthakumar gave the call for Tuesday's Bengaluru shutdown.

The two bandhs reflect the divide among the farmers and pro-Kannada organisations, and has also now led to a confusion about who is supporting the bandh on which day, and whether services will be available tomorrow. While Shanthakumar has said that they will be going ahead with the Bengaluru bandh on Tuesday, Vatal Nagaraj, who has called for a state bandh on Friday, made it clear that Kannada Okkuta is not supporting tomorrow's bandh.

Shanthakumar said they have received support from a number of organisations for their bandh call tomorrow and would go ahead with it. "We will come in a protest to Bengaluru's Freedom Park and stage a demonstration there with our demands. The state government, the chief minister, will have to receive our memorandum. If there is no proper response to our protest from the government, we will decide on our further course of action," he said.

Calling for a peaceful bandh, he also appealed to the police to take adequate measures to ensure there are no untoward incidents. Vatal Nagaraj said they had asked 'Karnataka Jala Samrakshana Samiti' to postpone their bandh call and to observe it together with them on September 29.

"What we have called is Akhanda Karnataka bandh (entire Karnataka bandh) on September 29. It will be observed across the state without leaving any district. Our fight is for entire Karnataka. Kannada Okkuta has organised more than 50 bandhs in the whole state so far," he said, as he questioned why the bandh was called by others only for Bengaluru.

Meanwhile, Ola-Uber Drivers' Association today said they would extend full support for the September 29 Karnataka bandh called by pro-Kannada organisations but will not support tomorrow's bandh. "Tomorrow our services will be normal. This decision was taken in a meeting held today in the presence of pro-Kannada and various organisations," the association in a statement said, adding that drivers are in the midst of financial difficulties and they are of the opinion that they cannot afford to lose two days of work.

The Hotel Owners' Association too has decided to withdraw support for the bandh tomorrow, citing confusion, and said all hotels and restaurants will be open. However, associations and unions operating autos and taxis have extended their complete support for tomorrow's bandh call, and KSRTC Staff and Workers' Federation too had asked Bengaluru Metropolitan Transport Corporation (BMTC) staff not to bring out any buses from depots from dawn to dusk (6 am to 6 pm).

However, BMTC officials maintaining that services will not be affected fully said, situation will be reviewed tomorrow morning. Metro services are likely to be unaffected by the bandh call and would continue to function as usual.

Bengaluru Urban district Deputy Commissioner Dayananda K A has declared a holiday for all schools and colleges in the city on Tuesday, in the interest of students in the wake of the bandh call. Most private schools and colleges across the city had already declared holiday for students tomorrow.

City police are taking all adequate security measures to ensure that no untoward incident takes place. About 100 platoons will be deployed to guard the city. Bengaluru Police Commissioner B Dayananda said that prohibitory orders under section 144 will be in place across the city from midnight tonight to midnight tomorrow in the wake of bandh.

Also, according to existing restrictions and court orders, there is no permission for any bandh or procession in the city tomorrow, he said, "No one can forcefully implement the bandh by using force, other than in case where someone wants to observe it voluntarily."
BJP leader B S Yediyurappa on Monday said his party would extend cooperation in ensuring that the Bengaluru bandh called by various organisations protesting against the release of Cauvery water is successful. He accused Chief Minister Siddaramaiah and Deputy CM D K Shivakumar of behaving like agents of Tamil Nadu for complying with orders of the Cauvery Water Management Authority and the Cauvery Water Regulation Committee, which the Supreme Court refused to interfere with.

On September 27, the BJP has organised a satyagraha protest in front of Gandhi statue at Vidhana Soudha, Yediyurappa said, adding that all the party MLAs, MLCs and MPs will sit in protest and highlight the issues of the people to put pressure on the government. The JD(S), which recently forged an alliance with BJP, will also join the protest, he added.

JD(S) leader H D Kumaraswamy separately said his party too would be supporting tomorrow's bandh. "I have asked my party workers to support the bandh. Our workers will support it. There should be no chance for any untoward incident," he said.

With protests intensifying, Karnataka Chief Minister Siddaramaiah on Monday said his government will not curtail them, but underlined the importance of maintaining peace. "In a democracy, we (government) will not curtail protests, but BJP and JD(S) are trying to do politics on the issue," Siddaramaiah told reporters. Stating that the government will do everything in the interest of the state, as protecting the land, its water and language is a priority, Deputy Chief Minister D K Shivakumar said, "We will not try to control the protests, but peace has to be maintained and people should not face any difficulty."

Former Prime Minister H D Deve Gowda, noting that due to the failure of the Southwest monsoon (from June to September) this year, there is insufficient storage in the identified/designated four reservoirs of Cauvery basin in Karnataka, said that the state is facing such a grave situation that it is finding it extremely difficult even to cater to the drinking water requirements, let alone for irrigation. The JD(S) supremo said that the rainfall received in Karnataka this year in the months of August and September has been the lowest in the last 123 years. (PTI)