Amaravati's struggling government teachers: An in-depth look at their plight

Published: Sep 5, 2023, 1:14 PM
Follow Us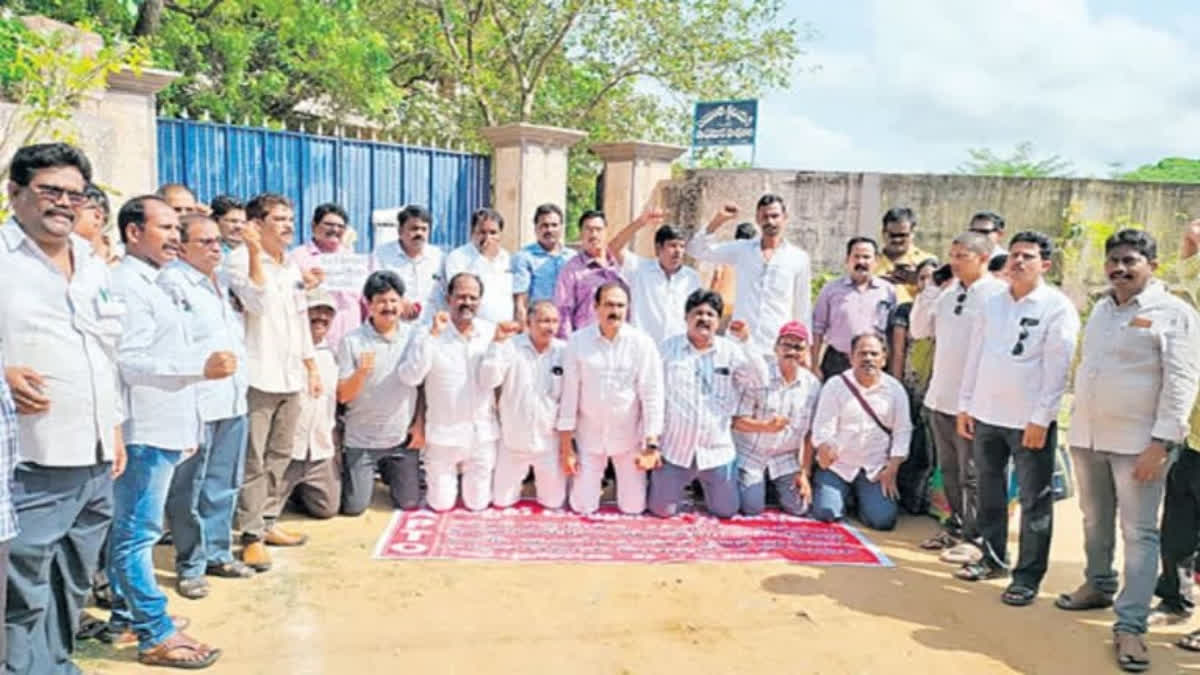 Amaravati's struggling government teachers: An in-depth look at their plight

Published: Sep 5, 2023, 1:14 PM
Follow Us
Amravati (Andhra Pradesh): In the heart of Andhra Pradesh, a disheartening saga unfolds as the state's government teachers have to face multiple challenges, from delayed salaries to undue responsibilities and controversial administrative decisions. Even on the Teachers' Day, the government teachers have not received their salaries.
Salaries Delayed - On Teacher's Day, a day meant to honour the teachers, educators across Andhra Pradesh are left in financial turmoil due to delayed salaries. The government, which acknowledges the work of teachers only on a particular day, that too only by words, seemingly disregards its teachers' financial well-being on all other days.
Financial Struggles and Loan Burdens - The non-payment of salaries has compelled teachers to take hefty loans to meet their financial commitments, including bank instalments, Life Insurance Corporation (LIC) premiums, family expenses, and medical bills. The government's failure to ensure regular and timely payments has left the teachers disappointed and also raises questions about its commitment to the very individuals it celebrates on Teachers' Day.
Transfers - Around 30,000 teachers who were transferred, promoted, or moved from one school to another as part of adjustment within the educational system have not received their salaries for three months. The salary bills of 1,700 intermediate teachers in high schools are yet to reach the treasury, causing uncertainty and financial stress. Teachers transitioning from primary to high school levels also face delays in salary bill submissions.
Show Cause Notices Over Toilets and 'Nadu-Nedu' Works- The government's instruction to the school administrations to photograph school toilets has led to show cause notices for teachers, who fail to upload these images online. Teachers are also held accountable for the progress of 'Nadu-Nedu' projects, with principals of the respective schools facing scrutiny if the works do not meet expectations.
'Nadu-Nedu' is a program launched by the Government of Andhra Pradesh to improve learning outcomes and decrease the dropout rate in all schools by taking up various measures including upgrading the school infrastructure. Even the YSRCP leaders at the field level impose informal authority, pressuring teachers to accept additional responsibilities or face repercussions.
Single Teacher in School- In schools serving classes 1 to 5 with a limited number of students, only one teacher is appointed. This results in a relentless teaching schedule, from morning to evening, without any rest. Ultimately, the classes are merged due to the shortage of teachers. Over 9,000 schools in the state are running with just a single teacher.
Posts Cancelled - The state government has cancelled new teacher appointments, considering them a financial burden, and opted to adjust existing positions. This decision has led to the cancellation of posts in areas such as Art, Craft, and Drawing, impacting the quality of education. Many secondary grade teacher posts have been cut, affecting 3,260 teacher positions in 'Adarsh' Schools. Also, 1,752 Secondary Grade Teachers (SGT) posts have been cancelled for the appointment of School Assistants for Intermediate Teaching in High Schools.
Even Chalk pieces with their own money- The government's irregularities in funding from the 'Samagra Siksha Abhiyan' for school management have forced teachers to dip into their own pockets to purchase essential supplies like chalk, registers, and dusters. Some teachers have spent substantial amounts from their own funds, amounting to as much as Rs 1 lakh, and have not been paid back. Municipal schools face a dearth of maintenance funds, citing technical reasons.
Online Attendance Pressure- Teachers are strictly instructed to take online classes, regardless of technical glitches or internet connectivity issues. Along with it, field officials issue warnings that latecomers will have to take leave, leading to rushed commutes and potential injuries.
Controversial Transfers and Allegations- Allegations regarding illegal transfers, with accusations of money changing hands between certain individuals, including a minister, have unfolded recently. The government also decided to block posts near cities and towns and replace them with recommended transfers.