World Cup Final 2023: Tale of India, Australia, giantkillers, and everyone else
Updated: Nov 19, 2023, 3:08 PM
|
Published: Nov 19, 2023, 1:43 PM
Follow Us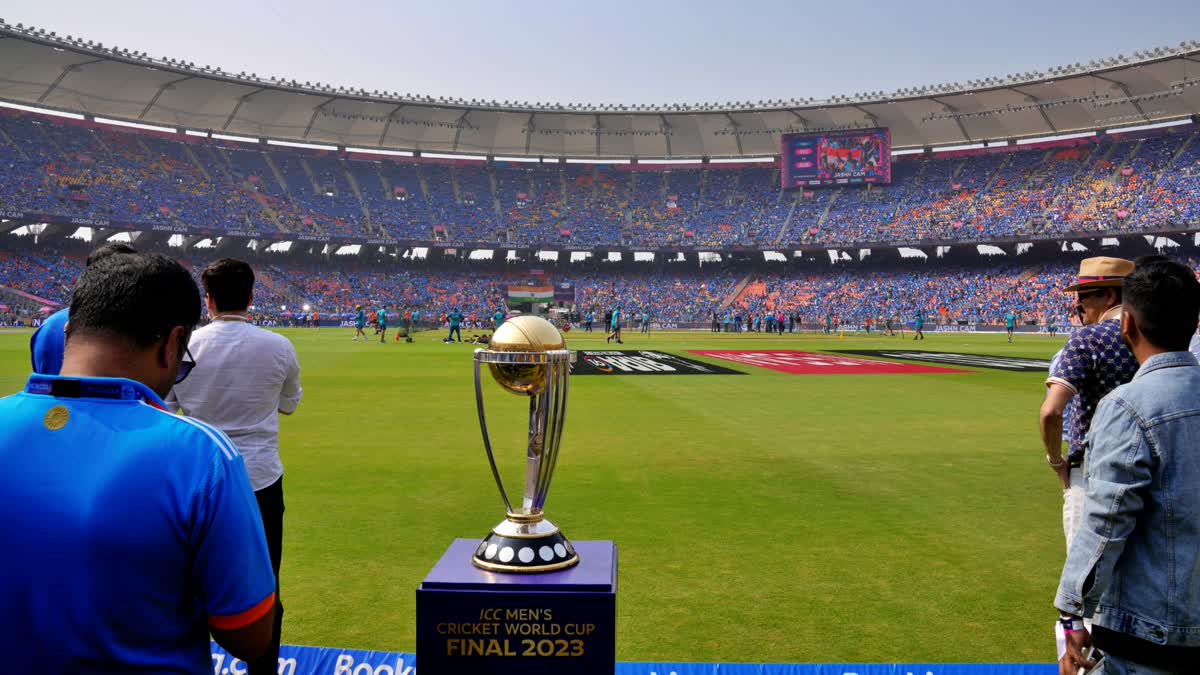 World Cup Final 2023: Tale of India, Australia, giantkillers, and everyone else
Updated: Nov 19, 2023, 3:08 PM
|
Published: Nov 19, 2023, 1:43 PM
Follow Us
Ahmedabad: This World Cup has been a heartbeat, a roar for India, a home wonder for the Men in Blue. This World Cup has also been waylaid with chirps of an unsavoury kind, but overwhelmingly it has been about sparkling performances in the middle and a very Indian stand atmospherics.
A somewhat underpublicized edition which sprung into public imagination with sixes, centuries, plummets, uprisings, pitch talk, heavy duty travels across the nation, all veering towards a Final, the only one in the world sports to be escorted by IAF's fighter planes, and an Indian Prime Minister marking his attendance, putting it above his election commitments.
The syrup has come from India's brilliant run which has been undefeated in 10 matches, defeating even the law of averages talk. But come on, tennis greats like Roger Federer have never bothered about this law in their grand slam campaigns ever. They could never afford to. But the dominance and wholesome team performance that Rohit Sharma's men have delivered in 10 out of 10 matches so far, makes them favourites over even the eternal champions Australia.
The Cup's trajectory has been full of incidents, some good, others of passing concern and still some others delightful, like the Afghan run in the tournament. They defeated big teams, played with a big heart, had a gentle captain taking your hearts in post-match conferences of games he lost by a whisker. Even the Dutchmen made their presence felt by downing South Africa at a time they were moving towards summit glory and unsettled the Australians too for a bit.
Before 2023, Afghanistan had secured only one victory across two World Cup tournaments after their qualification in 2015. In 2023, they won four, including one each against defending champions England and former winners Pakistan, where some of the Afghan players first encountered the game as refugees. That's a rainbow show by the big hearts from the mountain nation mired in strife and ruin for decades.
But for a largely concocted furore over a used pitch being used for the semi-final, out in the headlines after a leaked email by independent curator Andy Atkins, and an unprecedented timeout being slapped on Sri Lanka's Angelo Matthews, and, of course, the continuous non-availability of tickets to common fans, all else was about how India was performing and how Australia came back from the bottom of the table with two back to back losses against India and South Africa at the mouth of their campaign.
But Australians are dogged and fierce and they rose from the ruins on Glen Maxwell's 40-ball century, a double hundred despite the duck stance due to back issues, the five-for by Starc against South Africa and a brand of cricket that turned Aussie after a bit.
South Africa started off with a bang and continued through much of their campaign in the belief they finally had a date with destiny and a road to Final before it all started breaking up for them after India defeated them at Eden Garden and pushed them to No 2 spot on the table, setting up their clash with a resurgent Australia, under the clouds and with a cyclone set to hit the coast of Bengal the next day. It was not to be for them as they returned to their country to fight another day, perhaps achieving the target in their home Cup in 2027.
Pakistan came mired in issues of another kind. They feed on home support and continuous interactions with their home journalists, none of which they could get to India, thanks to a visa squeeze by the Indian Government. After making some noise in Hyderabad over warm welcomes, biryanis and some wins, they went on the plummet road, blundering match after match after match. Once Rizwan had made a political statement by dedicating his century to "brothers and sisters of Palestine", the only news that came out of the camp was skipper Babar's inaction, hesitance to attack and general aversion to winnability tactics.
It also triggered expected convulsions back home, compelling Babar and coach Atherton to step down with a new regime coming in, already to criticism and disdain in a section of their local Press. But Pakistan has long been known as the banana Republic of cricket, thanks to their brittle Board structure and passions that overpower reason in selections and performances.
Sri Lanka continued to fight its battles, turning into the battered 11 and looking more like the minnows they are not. Two of 10 is an alarming loss percentage, something that will spur introspection and change back home, with home too only just emerging out of the emergency situation, and the financial ventilator. Add to that Angelo Mathews being told to leave the field without playing after a longer than allowed break at the stumps due to some helmet issues, was a nail in the coffin which had no place for extra screws.
Bangladesh remained Bangla, comfortable in their ups and downs, doing some and undoing a lot, taking the captaincy of Shakib as expected.
Defending champions England made news on the dark side with a terrible campaign in India. The only talk that came out of that battered unit is that they hate 50-over cricket, worse still are not interested in it. For defending champions with greats like Ben Stokes, Joe Root, Johnny Bairstow, Moeen Ali and Abdul Rashid, the situation was inexplicable with their coach holding his head in Press conferences, not having an answer of worth on why such inertia has gripped the squad.
Defeated squarely by India, Australia, Afghanistan, South Africa and Sri Lanka, they exited in sheer relief of an ordeal they could neither shed nor fathom. Their World Cup winning captain Eoin Morgan attributed the ruination to England's loss of faith and interest in 50-over white ball cricket.
The lasting legacy of this World Cup, wherein every team played every team in the league matches, will be the home run of the hosts, led by a selfless, fearless, aggressive, adaptable and intellectual captain Rohit Sharma, a coach that stood like an unassuming Wall he has ever been and a squad of performers who never let up on the excellence gear. That, and all the colour, the passion, the movie-hall screenings, the cricket menus, the all-nighters by fans at various stadia looking for tickets, the Amul ad-lines like "Shami-final" for the bowler's amazing rise from the bench and a Cup that Hardik Pandya missed out on, only to serve the bigger more impactful purpose of letting in Shami who changed the trajectory of India for ever and ever. Not to forget, Virat Kohli and his 50th century, 711 runs and record that no one will hold for a long time.