Rahul Dravid, the wall that made Team India a near-impregnable fortress
Updated: Nov 19, 2023, 12:10 PM
|
Published: Nov 19, 2023, 10:16 AM
Follow Us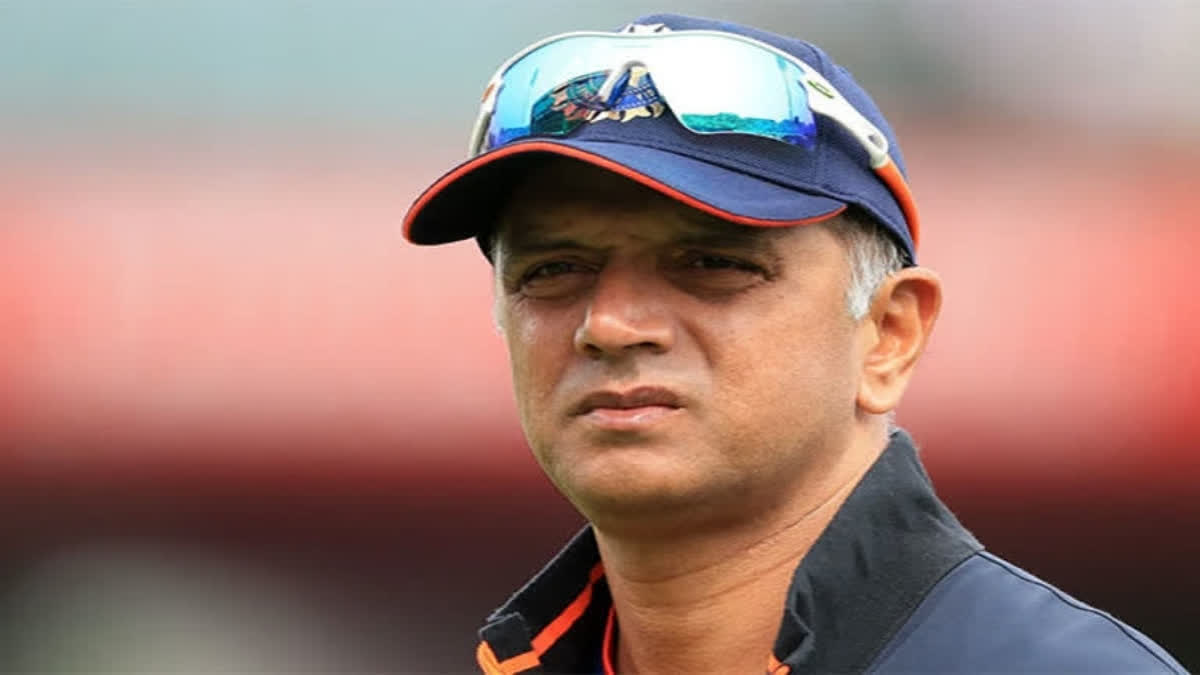 Rahul Dravid, the wall that made Team India a near-impregnable fortress
Updated: Nov 19, 2023, 12:10 PM
|
Published: Nov 19, 2023, 10:16 AM
Follow Us
Ahmedabad: As the cricketing world serenades Team India for their performances altering the global order in the game, behind all the fiery starts, the centuries, the wicket hauls and the unbeaten victories there stands a Wall – an invisible and invincible Wall of Indian cricket, an incredibly private and unassuming man, who has chiselled the 2023 performers with quiet analytics and a reassuring presence in the dressing room. He wants no credit for his contribution to Team India, he seeks no acclaim.
But when they teach school kids about character, about quiet pride, about working out of the limelight, they should put up this man's photo on the class wall – Rahul Dravid, the solid bat, an unsung captain, a grassroots hunter, a sculptor of India's bench strength and now the head coach of Team India shaping the fortunes of a unit on roll.
Dravid, who has appeared in press conferences to talk about tactics, strategies, build-ups, the thought behind combinations, the permutations, the 50-over format itself and the brouhaha over pitches, taking on the chirpers in a rare moment of glasnost, is one man who never screams to be heard but people and his players listen to him even if he whispers.
This may be this great man's first and last 50-over World Cup as Team India head coach but ever since this reluctant teacher of the game took over two years ago, the ethos of Team India's players and their journeys took a turn towards excellence and thoughtfulness.
Before taking up this high-profile assignment, Dravid was happy hunting down, nurturing and sculpting talent into blooming on the big stage, shaping Team India and under-19 players from the grassroots in the remote corners of the vast pool of nation's talent.
Paying tribute to his master strategist, Captain Rohit Sharma announced the other day that the team will work for the ultimate win and that "we've got to do it for him." If 2011 was informally dedicated by MS Dhoni and his squad to the Great Little Master Sachin Tendulkar who was playing the last World Cup of his long career, this one will be a tribute to the unwatched, unheard-of efforts put in by Dravid.
You never see him laughing or talking animatedly in any huddle or even reacting to a bad or good shot. But cameras zoom him onto the screen with a hint of a smile. Seldom has a smile come visiting his handsome face but one of them was when Kohli cut a grounded four in India's first and most difficult battle of the tournament, against Australia, a team that prides itself in silencing the crowds when they are travelling.
Sharma acknowledges how crucial Dravid's contribution to the great Indian run has been in this tournament, but more importantly in the build-up to it in the last two years, Dravid used to watch every single player who is in the team now, analyse his place in the team and assign a role to him in the larger gameplan of matches and clashes with teams of global importance.
"His role has been absolutely massive in terms of getting that clarity, which I keep talking about," Sharma said in his match eve of the Final battle India launches against Australia at Motera.
Dravid, a man of intense pride and few words, headed a disastrous World Cup in the Caribbean way back in 2007 when Bangladesh sent India packing in the group stages of the tournament, and the picture of the three big ones – Dravid, Tendulkar and Sehwag – looking quietly heartbroken – will remain in memory till the dying day of cricket enthusiasts.
One will also remember the day when Dravid, in defence of a match, scored just one run in 100 balls thrown at him by Pakistan's fiery quick Mohammed Amir, to win the day for India. For a man of that slow and steady tortoise temperament, to actually give a green signal to a fast and furious role for the skipper at the mouth of even a crucial knockout match against New Zealand, talks about the trust he has in the skipper's opinion and the adaptability he sports in changed situations.
"There's one thing for me to think about and the other thing for the coach to not agree to certain things. Clearly, looking at how Rahul bhai himself has played his cricket and how I am playing these days, obviously, it's quite contrasting. For him to agree and give me that freedom and liberty to go and play the way we want to play, that says a lot about him," Sharma said.
When this team of legends walks, hopefully with a well-earned Cup in their hands, they will pay obeisance to their coach for showing them the path through this edition and get lionised by studiously following the roles carved out for them by Dravid in consultation with the skipper and some huddlers in the support staff.
"The way he stood by the players in difficult times where during the T20 World Cup, we had a good run up until that semi-final and then lost and how he reacted to certain situations and informing the players about this is what we are looking at and all of that says a lot about him as well. What he has done for Indian cricket is massive. He also feels that he wants to be part of this big occasion. And it is for us to do it for him," Sharma said.
No one in this glittering and personality-altering game of cricket can be more to-the-point, humble and self-effacing as Dravid in any role, as a player or as a coach. "My approach to cricket has been reasonably simple: It is about giving everything to the team, it was about playing with dignity and it was about upholding the spirit of the game. I hope I have done some of that. I have failed at times, but I have never stopped trying," he said in the past.
Indeed, for the stateman of the game whom reading allows a recharge of his batteries, and one who believes that no dream is ever chased alone, his place in cricket's Hall of Fame would have quietly earned its place.
Hopefully, under the lights and fireworks tonight, the opposition will be asking of Team India "Yeh toottee kyon nahin (why doesn't it break?" They may not realise but they would be talking about the original Wall that has created many more, using bricks and mortar of excellence, cementing them into a team that history will remember as the most dominant and delightful one to have made India proud.
That will be a real tribute to Rahul Dravid who visited Planet World Cup with gumption and a quietly searing brand of work ethics that rarely polishes bats and balls with such innate quietude, consistency and impact.