Fans left disappointed as World Cup 2023 final at Narendra Modi Stadium records full booking of tickets
Updated: Nov 18, 2023, 4:15 PM
|
Published: Nov 18, 2023, 12:53 PM
Follow Us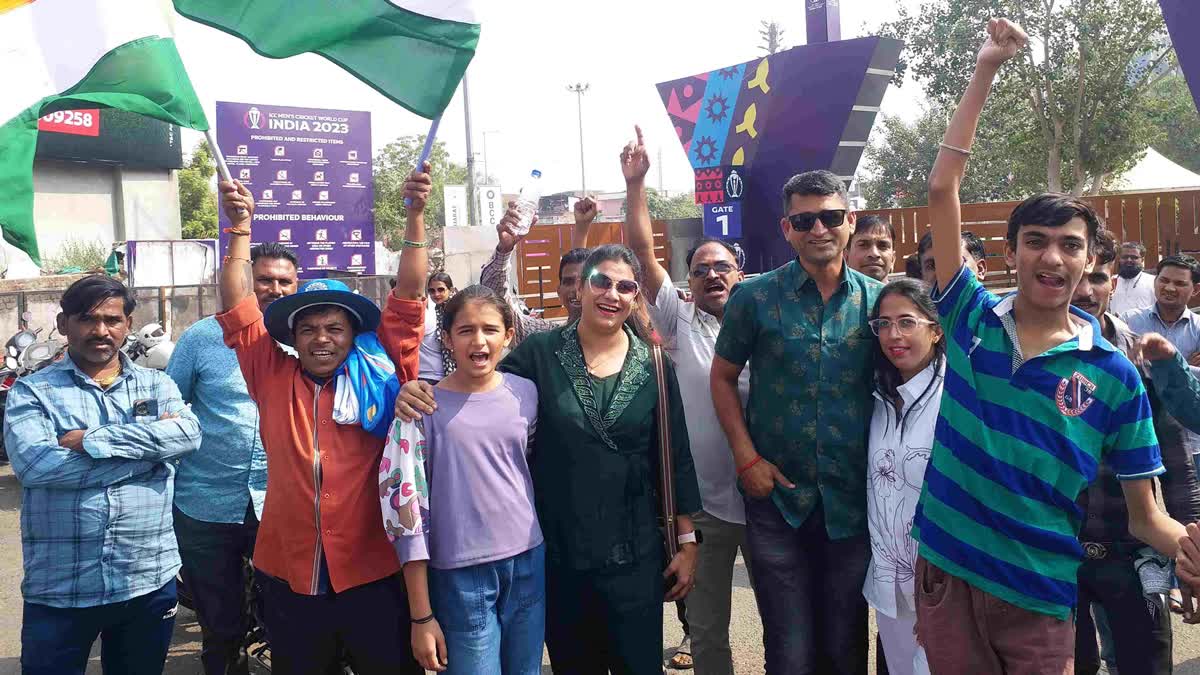 Fans left disappointed as World Cup 2023 final at Narendra Modi Stadium records full booking of tickets
Updated: Nov 18, 2023, 4:15 PM
|
Published: Nov 18, 2023, 12:53 PM
Follow Us
Ahmedabad: Ahead of the final of the World Cup 2023 to be played between India and Australia on November 19 at the Narendra Modi Stadium in Gujarat's Ahmedabad, fans are having a difficult time due to lack of tickets, they said. It has now become a dream to cricket lovers to watch this match live in the stadium having a capacity of 1.30 lakh.
Talking to ETV Bharat outside the Narendra Modi stadium in Ahmedabad, cricket lovers said that they are not getting tickets online or offline with a ticket of Rs 2000 selling as high as Rs 20000 in black market. Cricket lovers not only from Ahmedabad but also from other states like Goa and Maharashtra are yearning to reach the stadium.
However, they have to face a setback due to lack of tickets. The cricket lovers are creating ruckus outside the stadium for tickets for the final match. Ajay Satish, a cricket fan from Goa while talking about the lack of tickets for the World Cup final between India and Australia said, "We flew from Goa today for Sunday's match.
We came straight to Narendra Modi Stadium from the airport but did not get any ticket. If we do not get the tickets, we still watch the match on TV at home, but we will pray that India wins the final match". Sagar, another cricket fan from Nagpur said, "It is a pleasure to watch the live match sitting with 1 lakh 30 thousand spectators at the Narendra Modi Stadium in Ahmedabad.
I have come here with my entire family from Nagpur to buy tickets to watch this match live. Eight of us have come to buy tickets but none got the tickets for match. At present the price of Rs 2000 ticket is Rs 20000 and Rs 4000 ticket is selling at Rs 40000" while hoping India will win the final against Australia.
Anil, a local cricket fan from Ahmedabad said when the slots opened for the online tickets, they worked hard online for two to three hours but only managed to get only two tickets.