Pitch invader who wore 'STOP BOMBING PALESTINE' t-shirt during World Cup final arrested, says he's a Virat Kohli fan
Updated: Nov 19, 2023, 8:36 PM
|
Published: Nov 19, 2023, 3:11 PM
Follow Us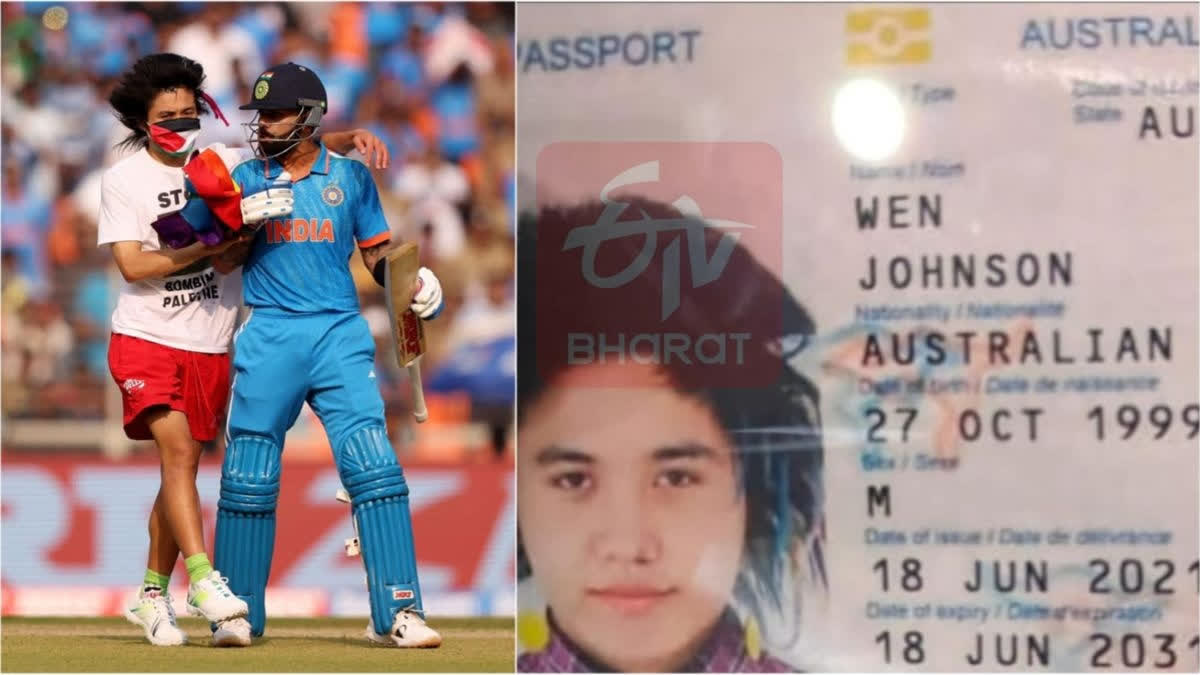 Pitch invader who wore 'STOP BOMBING PALESTINE' t-shirt during World Cup final arrested, says he's a Virat Kohli fan
Updated: Nov 19, 2023, 8:36 PM
|
Published: Nov 19, 2023, 3:11 PM
Follow Us
Ahmedabad: A pitch invader clad in 'STOP BOMBING PALESTINE' t-shirt managed to breach the heavily fortified Narendra Modi Stadium and run towards India batter Virat Kohli during the most-awaited final of the Cricket World Cup 2023 between India and Australia on Sunday.
The man identified as 24-year-old Johnson Wen, an Australian citizen, interrupted the passage of play briefly before he was escorted out though not before he managed to hug Kohli who was batting along with KL Rahul at that moment. His t-shirt read 'STOP BOMBING PALESTINE' on the front and 'FREE PALESTINE' on the back. He was wearing a green, red, white and black facemask, colours that denote Palestine and managed to reach Kohli. The security personnel who were on his tail were quick to react, whisking him away.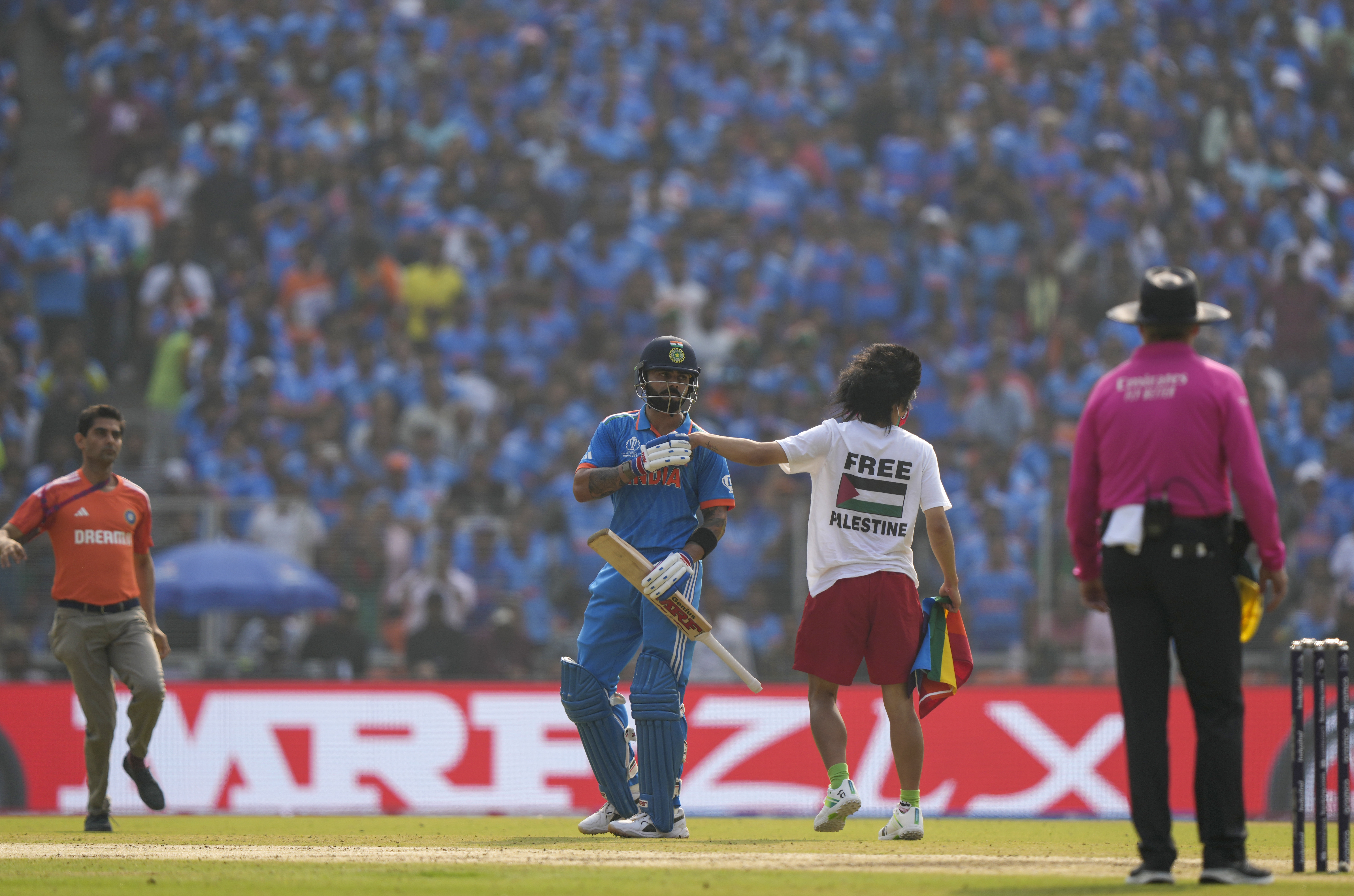 Wen was seen pointing his fingers at the crowd as he was ushered out. The live telecast from Star Sports did not show the moment but was caught by the media lensmen present in the stadium. The pictures clicked by photojournalists and spectators were widely shared on social media.
The pitch intruder was eventually brought to the Chandkheda Police Station in Ahmedabad where he was formally arrested. Wen said he wanted to meet Virat Kohli and was protesting against the war in Palestine. "My name is Johnson Wen...I am from Australia. I entered (the field) to meet Virat Kohli. I support Palestine. I protested against the war," he told reporters.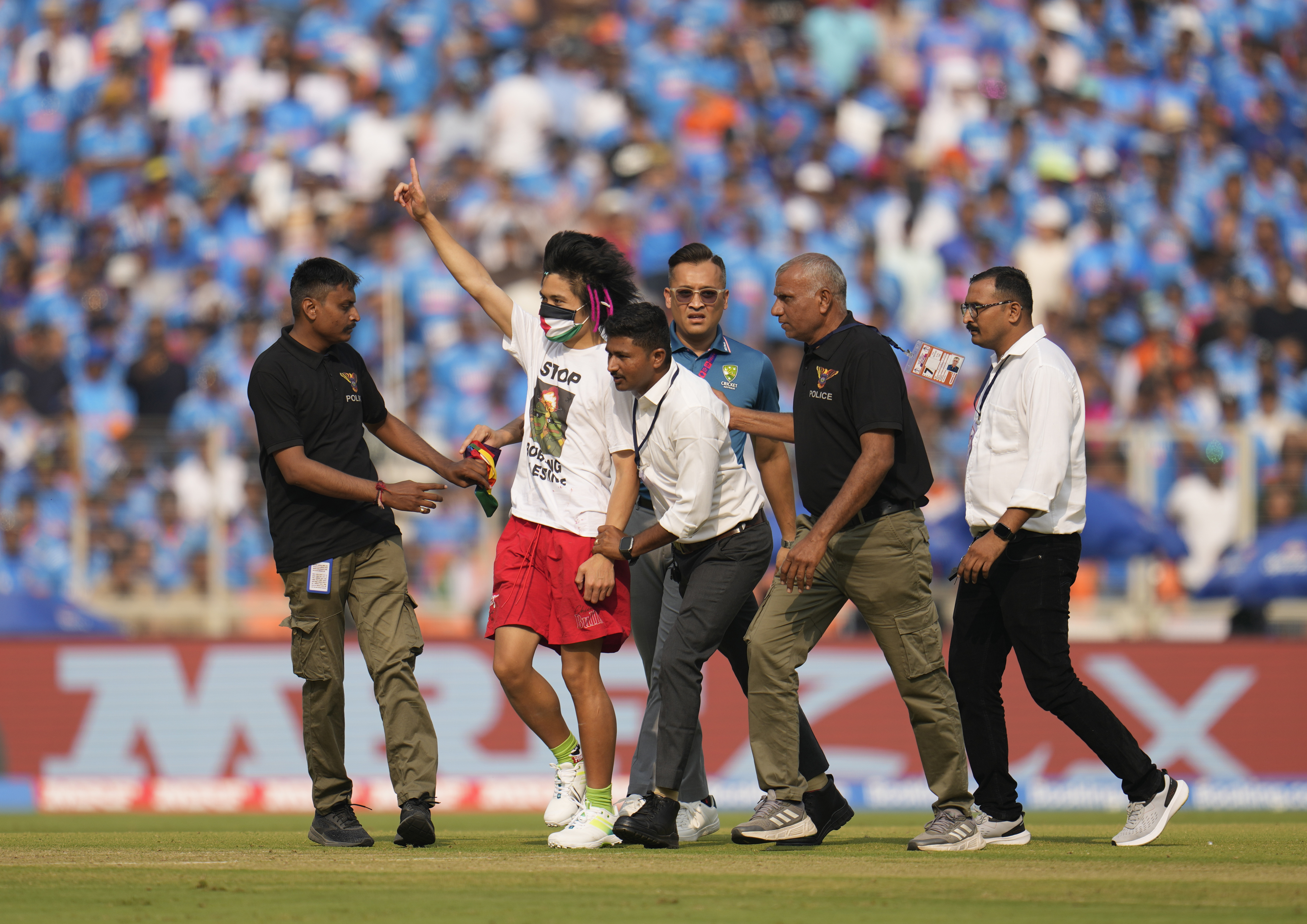 Earlier, Australia won the toss and opted to bowl against India in the grand finale, which is being played at Narendra Modi Stadium, the world's largest cricket venue with a seating capacity of 1,32,000. A world-record attendance for a cricket match is in order, and the exact number of attendees will be known after the count of turnstiles.
As for Palestine, the Israel-Hamas war has turned bloodier than ever with Israel continuing with its siege in Gaza. More than 11,500 people, including over 5,000 children, have been killed in Israeli airstrikes in Gaza. Israeli ground forces, meanwhile, continue to target hospitals, schools, and other establishments where displaced Gazans are taking shelter.
According to a United Nations team, 291 patients were left at Gaza's largest hospital after Israeli troops had others evacuate. The UN said those left behind include 32 babies who are in extremely critical condition, trauma patients with severely infected wounds and others with spinal injuries who are unable to move.
The team was able to tour Shifa Hospital for an hour after about 2,500 displaced people, mobile patients and medical staff left the sprawling compound Saturday morning, said the World Health Organization, which led the mission, the Associated Press said in a report.
Meanwhile, the marquee tournament saw a pitch invasion earlier as well. It was the first match for India and Australia in the tournament. The celebrity invader, Daniel Jarvis, known for breaching security and making unauthorised appearances on cricket grounds, managed to repeat his act. He attempted to invade the pitch while the Indian team was fielding. He later posted a video on X (formerly Twitter) where he was seen escorted by the Indian players and the ground security.
Incidentally, it was Virat Kohli who took it upon himself to escort Daniel Jarvis, also known as 'Jarvo 69', from the middle of Chennai's MA Chidambaram Stadium. Jarvo's subtitles claimed that Kohli applauded him for his videos on YouTube and subsequently asked him to get out of the field.