World Cup final pitch invader in 'FREE PALESTINE' shirt brought to court on Monday

Published: Nov 20, 2023, 5:59 PM
Follow Us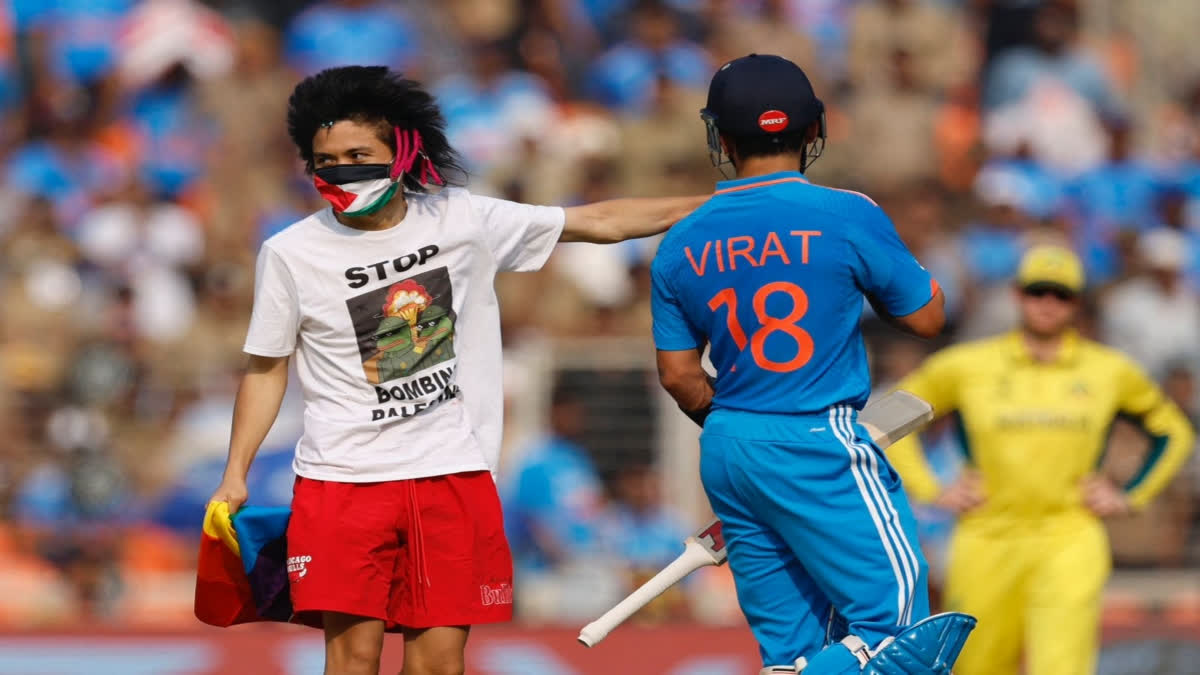 World Cup final pitch invader in 'FREE PALESTINE' shirt brought to court on Monday

Published: Nov 20, 2023, 5:59 PM
Follow Us
Ahmedabad: Johnson Wen, the 24-year-old Australian citizen who invaded the pitch during the World Cup final wearing a "FREE PALESTINE" shirt, was brought to Gandhinagar court on Monday.
Wen was arrested following his illegal entry and disturbance during the ICC World Cup Final match at Narendra Modi Stadium in Ahmedabad on Sunday. He breached security protocols and attempted to hug Indian cricketer Virat Kohli as the latter was batting against Australia during the all-important World Cup final.
He was subsequently apprehended by stadium security personnel. The incident occurred around 3:30 PM when the police officials were busy performing their duty at the B-2 Block lower sitting arrangement team at point no. R88 of area no.11. The staff members tried to stop him but Wen pushed them, jumped the net, and started running towards the field.
Wen's actions led to his capture by stadium security. A complaint was lodged at the ChandKheda Police Station, resulting in the Ahmedabad Crime Branch taking over the case. The case involves charges related to breaching security and unlawfully attempting to interact with players during the match.
Earlier, while interacting with the reporters, the accused said, he is from Australia and he entered the field to Virat Kohli. He also said that he is a supporter of Palestine and has protested against the war.
It is pertinent to mention here that as Israel continues to bomb Gaza since October 7, 2023, the war has become more bloody than before. Over 11,500 individuals, more than 5,000 of them children, have perished in airstrikes in Gaza. In the meantime, hospitals, schools, and other locations where fled Gazans are seeking shelter are still being targeted by Israeli ground forces.