World Cup Final 2023: Anushka Sharma, Athiya Shetty, Ritika Sajdeh and others inside stadium as India vs Australia commences - watch
Updated: Nov 20, 2023, 6:07 AM
|
Published: Nov 19, 2023, 2:33 PM
Follow Us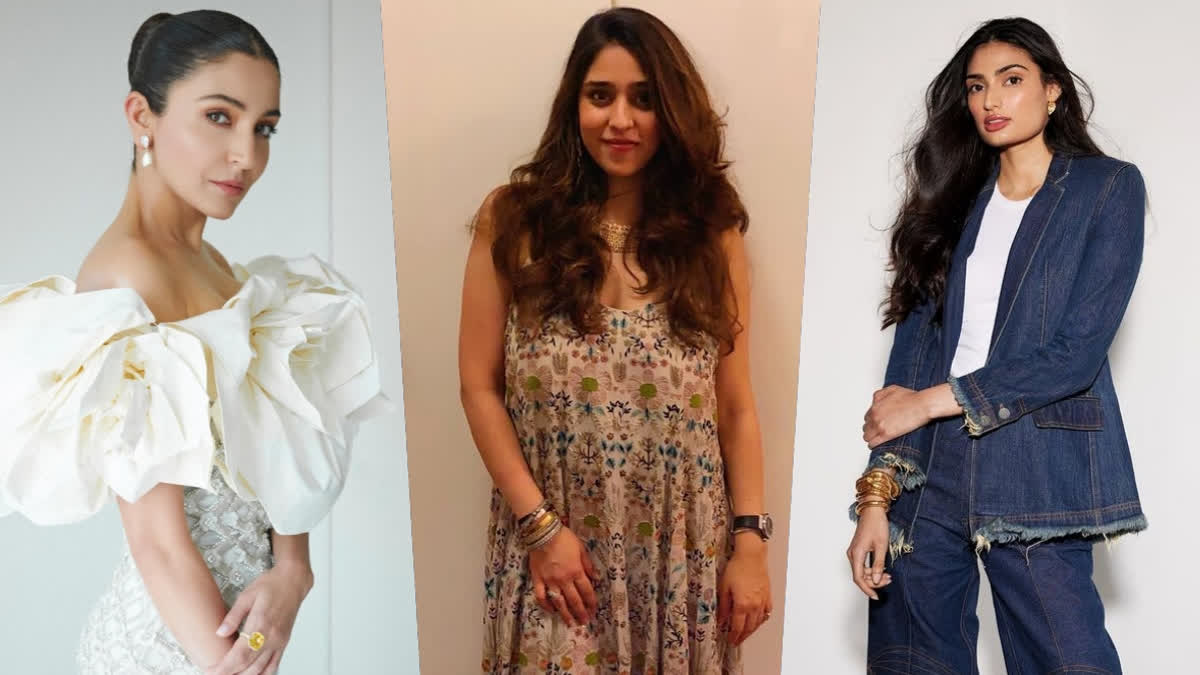 World Cup Final 2023: Anushka Sharma, Athiya Shetty, Ritika Sajdeh and others inside stadium as India vs Australia commences - watch
Updated: Nov 20, 2023, 6:07 AM
|
Published: Nov 19, 2023, 2:33 PM
Follow Us
Ahmedabad: Heading towards the Narendra Modi Stadium in Ahmedabad, Anushka Sharma, the proud partner of the renowned cricketer and star batter Virat Kohli, prepared herself to witness his performance against Team Australia in the World Cup final. Spotted at the stadium today (Sunday), in various videos from the stadium, Anushka could be seen accompanied by other spouses of the cricketers. The Bollywood actor was seen with Athiya Shetty, Ritika Sajdeh, Rivaba Jadeja and Prithi Narayanan being seated in the audience section.
Anushka looked stylish in a white-blue printed attire, complemented by trendy white sunglasses. This is not the first occasion in which Virat's wife has graced the stadium to support her beloved husband. She is often captured by cameras while fervently cheering for him at cricket stadiums. Not just her, cricketer KL Rahul's wife and actor Athiya Shetty, Indian team's captain Rohit Sharma's wife Ritika Sajdeh, Ravindra Jadeja's wife Rivaba Jadeja, and Ravichandran Ashwin's wife Prithi Narayanan were also spotted at the Narendra Modi Stadium. In addition to Bollywood celebrities, legendary cricketers Kapil Dev and Sachin Tendulkar were also seen at the airport, making their way towards the venue for the match.
Virat currently holds the title of being the tournament's leading run-scorer, having registered an exceptional 711 runs in 10 matches, boasting an impressive average of over 101, including three centuries and five half-centuries. Furthermore, Virat has notably broken the record for the highest number of runs scored in a single edition of the World Cup, along with being the sole player to have achieved 50 ODI centuries. With these two remarkable milestones and an undefeated streak to his credit, Virat's confidence is undoubtedly soaring, as he eagerly anticipates delivering an exceptional performance against the Australian team.
India attained a magnificent victory over New Zealand on Wednesday, securing their spot in the finals with a remarkable 70-run margin. After an explosive start provided by Rohit Sharma and Shubman Gill, Virat Kohli and Shreyas Iyer each scored a century, ensuring that India remained on track to achieve an imposing target.
KL Rahul subsequently made his entrance, applying the finishing touches to propel India to an impressive score of 397/4. Despite New Zealand initially displaying control during the chase, Mohammed Shami timely intervened, taking crucial wickets to ensure India's reach to the final stage of the tournament.