Sahara Group chief Subrata Roy dies of cardiorespiratory arrest
Updated: Nov 15, 2023, 7:29 AM
|
Published: Nov 15, 2023, 6:48 AM
Follow Us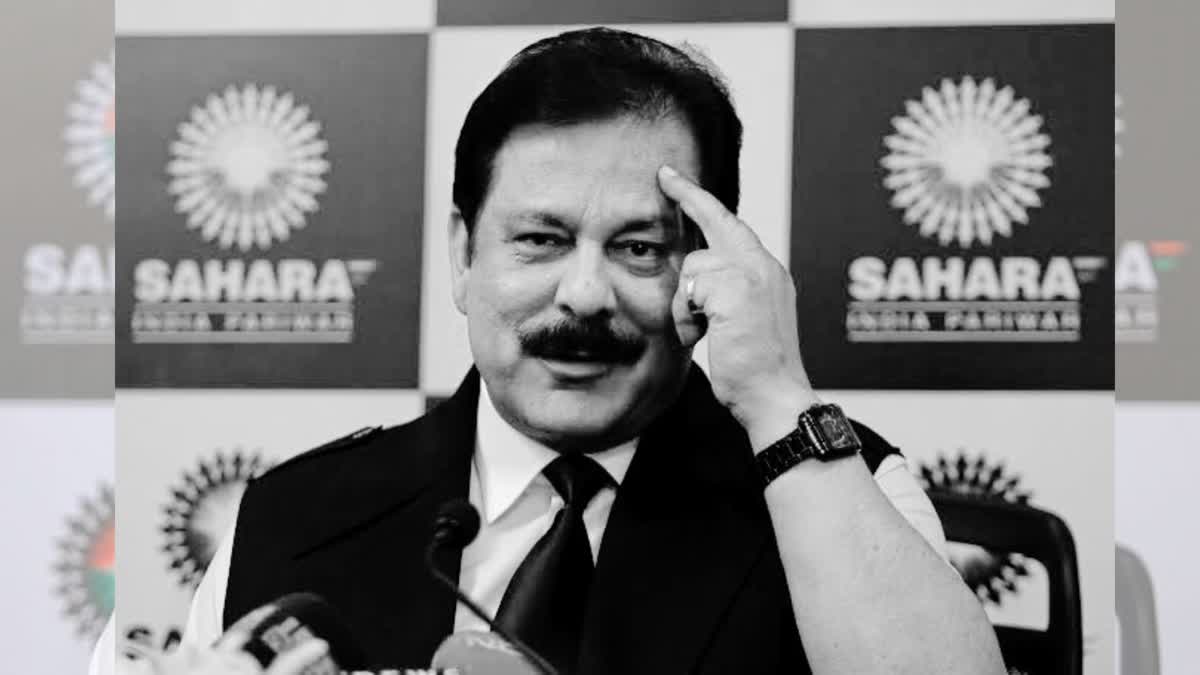 Sahara Group chief Subrata Roy dies of cardiorespiratory arrest
Updated: Nov 15, 2023, 7:29 AM
|
Published: Nov 15, 2023, 6:48 AM
Follow Us
Mumbai: Sahara Group chief Subrata Roy passed away due to a cardiorespiratory arrest at a private hospital in Mumbai on Tuesday after a prolonged illness, according to a company statement. He was 75.
Roy built a huge business empire across retail, real estate and financial services sectors. He was in the eye of a huge controversy, facing multiple regulatory and legal battles related to allegations of his group firms having circumvented regulations with Ponzi schemes, while the group denied all such allegations.
A statement from the company on Tuesday night said the Sahara chief was admitted to the Kokilaben Dhirubhai Ambani Hospital & Medical Research Institute in Mumbai on Sunday after his health deteriorated.
It said Roy passed away at 10.30 pm on Tuesday due to a cardiorespiratory arrest following an extended battle with complications arising from metastatic malignancy, hypertension and diabetes.
"It is with profound sadness that Sahara India Pariwar informs the demise of our Hon'ble 'Saharasri' Subrata Roy Sahara, Managing Worker and Chairman, Sahara India Pariwar," the statement read.
It called him an "inspirational leader and visionary", adding that "His loss will be deeply felt by the entire Sahara India Pariwar. Saharasri ji was a guiding force, a mentor, and a source of inspiration for all who had the privilege to work alongside him."
Sahara India Pariwar will uphold Roy's legacy and continue to honour his vision in driving the organisation, the company said.
Legacy of Roy- Roy, in his prime, developed the Sahara Group into a multi-billion dollar enterprise. The group counted itself among the biggest employers of the country.
He had friends among the famous and powerful across the fields of politics and Bollywood, while he was seen rubbing shoulders with who's who in national politics.
He has scripted one of the most famous rags-to-riches stories of the country. He expanded his business across various verticals ranging from finance, housing, manufacturing, aviation and the media and became a household name with the group name splurged all over in the game of cricket.
Under his wings, Sahara also sponsored the Indian cricket and hockey teams and owned a Formula One racing team.
His enterprise grew further and acquired landmark global properties — New York's Plaza Hotel and London's iconic Grosvenor House.
The world witnessed the biggest parties ever in India when his two sons got married some decades ago. Probably, the parties thrown by Roy will remain etched in history for some more time.
Trouble from SEBI- Trouble began to brew in November 2010 when the Securities and Exchange Board of India (SEBI) asked two firms of Sahara Group not to mobilise funds from equity markets or from issuance of any security to the public and restrained Roy from approaching the public for raising money.
Four years later, Roy was arrested on the orders of the Supreme Court. The top court's action was in sequel to his skipping of appearance before it in a contempt case arising out of non-refund of more than Rs 20,000 crore to investors by two of his companies.
The apex court granted him bail subsequently but troubles continued to mount in other businesses.
What was the issue? Sahara Group companies — Sahara India Real Estate Corporation (SIRECA) and Sahara Housing Investment Corporation — raised funds in 2007-08 through a debenture instrument Optionally Fully Convertible Debentures (OFCD).
In June 2011, the market regulator directed the two group entities to refund money collected from investors through OFCD along with the return.
In 2012, the top court had ordered a refund of deposits of its investors along with 15 per cent interest, after a long drawn legal process,
How he brought the crisis to SEBI's doorstep? Sahara was asked to deposit an estimated Rs 24,000 crore with SEBI for refund to investors. The group stood its ground that the regulator's direction will amount to "double payment" as it has already refunded money to more than 95 % of investors directly.
Now, SEBI asked Sahar to furnish proof of repayment. Roy decided to provide the same. He sent across 100 truckloads of documents to SEBI. The move triggered a unique warehousing crisis for the regulator, which it has not faced till then.
Attack on Roy- In March 2014, a Gwalior man threw ink on Roy's face and called him a thief when he was brought to the Supreme Court. Roy, who was in his trademark waistcoat and tie, was making a statement to the awaiting media crowd when the attack unfolded. With ink smeared over his face, Roy walked off with a smile, which he almost wears every time.
Sahara's mantra- According to the Sahara Group, it has always built its businesses by productively channelising human capital spread across India and giving employment and work at people's doorstep.
"In this way, Sahara is providing bread and butter to more than 14 lakh people in their own villages and towns. It is the country's second-largest human capital after Indian Railways. This amount could have been used by the organisation to generate more employment and work and helped the country and therefore its economy," the group said in a statement, while wading through a spate of controversies.