World Lymphoma Awareness Day: Symptoms, diagnosis and history of Lymphoma

Published: Sep 14, 2023, 11:57 PM
Follow Us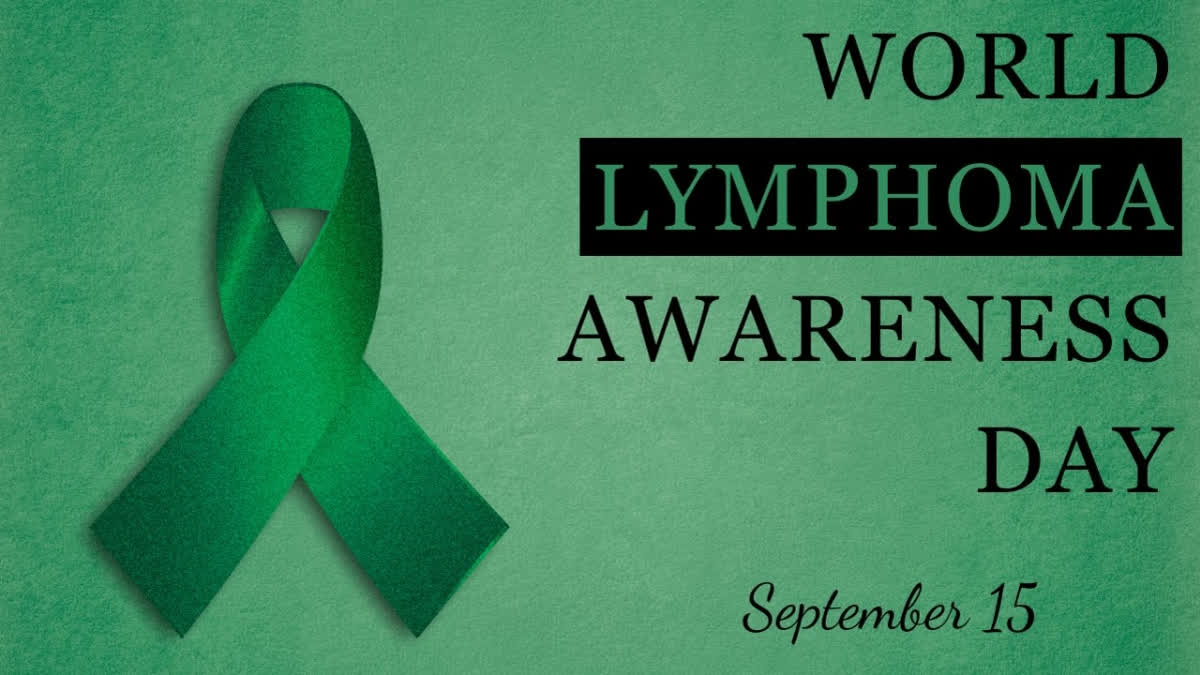 World Lymphoma Awareness Day: Symptoms, diagnosis and history of Lymphoma

Published: Sep 14, 2023, 11:57 PM
Follow Us
Hyderabad: World Lymphoma Awareness Day is observed every September 15 across the globe with an aim to raise awareness about lymphoma, a cancer of the lymphatic system. This annual event not only tries to inform the public about this lesser-known form of cancer but also provides vital information and support to those affected.
Understanding the basics of Lymphoma-
Lymphoma, often considered a form of blood cancer, distinguishes itself by its connection to lymphocytes, a type of white blood cell. However, there is a difference between lymphoma and leukemia, as these two cancers originate in different cell types.
Lymphoma primarily affects lymphocytes, a vital component of the immune system, responsible for fighting infections. These lymphocytes are scattered throughout the body, residing in lymph nodes, the spleen, thymus, and bone marrow. When lymphoma strikes, these lymphocytes become uncontrollable and undergo rapid growth.
Lymphoma can be classified into two categories: Hodgkin lymphoma and non-Hodgkin lymphoma, with numerous sub types under each. Both types involve lymphocytes, but they exhibit distinct characteristics, necessitating different approaches to diagnosis and treatment.
Hodgkin Lymphoma is characterized by the presence of Reed-Sternberg cells, a type of abnormal cell not typically found in healthy lymph nodes. This subtype is relatively rare and generally has a high cure rate.
Non-Hodgkin Lymphoma encompasses a wide array of lymphomas. It's the more prevalent form and includes sub types with varying prognosis and treatment approaches.
The global Lymphoma statistics
Recent statistics indicate that approximately 1 million people worldwide grapple with lymphoma, and an alarming 1,000 new cases are diagnosed daily. In India alone, data from 2020 reveals that 11,300 patients faced Hodgkin lymphoma, while 41,000 battled non-Hodgkin lymphoma. Notably, non-Hodgkin lymphoma appears to affect more individuals in India, with an estimated incidence rate of 2.9 per 100,000 in men and 1.5 per 100,000 in women.
Doctors believe that due to various reasons in the last few years, along with all types of cancers, the number of victims of lymphoma is also increasing. In such a situation, it becomes very important that the general public has information about the causes, symptoms and treatment responsible for these diseases. Beyond shedding light on lymphoma's symptoms, diagnosis, types, and subtypes, the day also seeks to address the emotional and psychological challenges faced by patients.
History of World Lymphoma Awareness Day-
The origins of World Lymphoma Awareness Day can be traced back to the year 2004 on Sept 15. It emerged from the collaborative efforts of a non-profit coalition comprising 83 lymphoma patient groups across 52 countries. This international coalition aimed to not only raise public awareness about lymphoma but also provide support and guidance to those navigating the complex terrain of lymphoma diagnosis and treatment.
The common symptoms of Lymphoma include:
Frequent fever
Cough and breathing difficulties
Night sweats
Enlarged tonsils
Fatigue and reduced appetite
Headaches and bone pain
Unexplained weight loss
Swollen lymph nodes in the neck, armpits, or groin
Persistent itching without apparent cause
Urinary obstruction
Various tests and examinations are performed based on the symptoms of Lymphoma which inlcude a complete blood count(CBC), blood chemistry analysis, CT scan, PET scan, MRI, lymph node biopsy, bone marrow biopsy, and spinal tap. Treatment of lymphoma can involve chemotherapy, radiation therapy (radiotherapy), immunotherapy, targeted therapy, CAR T-cell therapy, and bone marrow transplantation as needed.