A 'Shikari' from Hyderabad on trail of a 'man-eater' leopard in Jharkhand
Updated: Jan 2, 2023, 10:27 PM
|
Published: Jan 2, 2023, 10:17 PM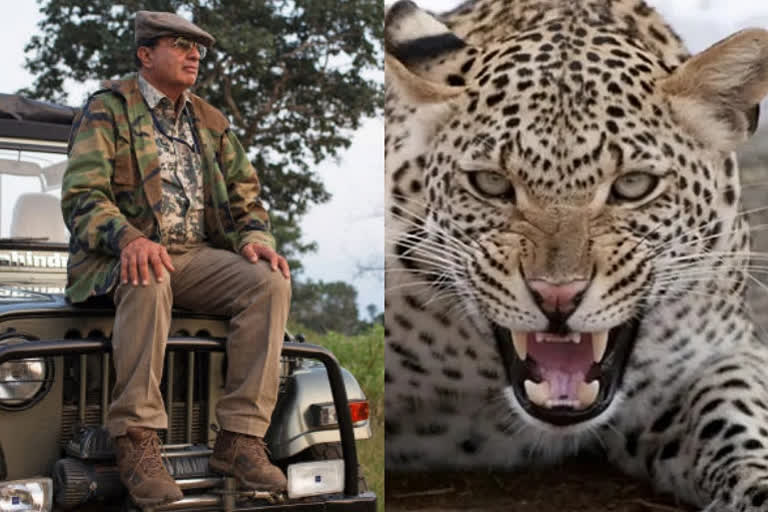 A 'Shikari' from Hyderabad on trail of a 'man-eater' leopard in Jharkhand
Updated: Jan 2, 2023, 10:27 PM
|
Published: Jan 2, 2023, 10:17 PM
Garhwa (Jharkhand): To find and tranquilize a man-eater leopard, the Jharkhand forest department has roped in famous Hyderabad-based hunter Nawab Shafath Ali Khan while deploying over 50 trap cameras, one drone, and a large number of officials to trace the big cat that is believed to have killed four children since December 10 in Palamu division.
Official suspect that all four children, who were between ages 6 and 12, including three in Garhwa and one in Latehar district, were killed by the same leopard. As many as 50 villages in three blocks -- Ramkanda, Ranka and Bhandariya -- are terrified by the presence of the man-eater leopard. Following the deaths, the forest department asked people not to venture out after sunset.
"We are spending sleepless nights in fear of the leopard. Women and children are scared. It appears to be a curfew-like situation in the evening," said Ravindra Prasad, a farmer from Ramkanda block. The Garhwa forest division had submitted a proposal to state Chief Wildlife Warden on Thursday to declare the big cat a man-eater and it had also suggested names of three hunters including Nawab Shafath Ali Khan and former legislator Girinath Singh.
"There are some official formalities to declare an animal man-eater. Our first priority is to capture the leopard through tranquillisation, which is possible only by experts. Therefore, we have consulted Nawab Shafath Ali Khan to help in our effort. He is not only an expert but also equipped with latest equipment to identify and control an animal," State Chief Wildlife Warden Sasikar Samanta told PTI.
Also read: Leopard attacks eight persons at Assam Forest Institute premises
Samanta, who is also Principal Chief Conservator of Forest (Wildlife), said that Khan is expected to arrive in first week of January. "If capturing was not possible, then we may think of killing the leopard as last option," Samanta said. Khan confirmed that he was approached by state forest officials. "I was told to visit Jharkhand and help in monitoring and tranquilizing the leopard. However, I am yet to receive any official letter in this regard," he said.
More than 50 trap cameras have been put up in possible route of the big cat in and around Kushwaha village where a 12-year-old boy was killed by the animal on December 28. "The trap cameras have captured various animals in the region but leopard has not been traced yet. Besides trap cameras, we are also using drone cameras but it has also not found any trace of the leopard," said Garhwa Divisional Forest Officer (DFO) Shashi Kumar.
He said that they would change the locations of the cameras on Sunday and make another effort to trace it. "We have also ordered three cages from Meerut, which is likely to arrive by Sunday evening," he said. On December 10, the leopard reportedly killed its first victim, a 12-year-old girl, in Chipadohar area in the nearby Barwadih block of Latehar district.
Then, a six-year-old child was killed in Rodo village in Bhandariya block on December 14 in Garhwa district, while another six-year-old girl was mauled to death by the leopard in Sevadih village in Ranka block on December 19 in the same district.