US: Former first lady Rosalynn Carter passes away at 96

Published: Nov 20, 2023, 7:13 AM
Follow Us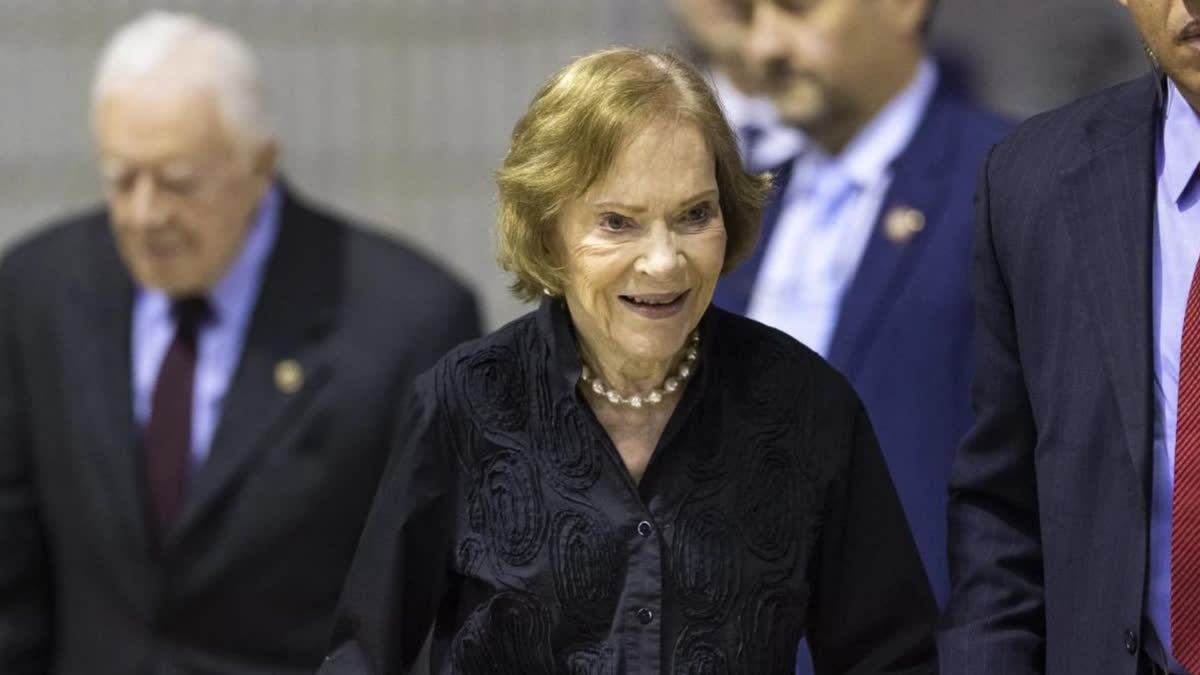 US: Former first lady Rosalynn Carter passes away at 96

Published: Nov 20, 2023, 7:13 AM
Follow Us
Atlanta (US) : Former first lady Rosalynn Carter, the closest adviser to Jimmy Carter during his one term as US president and their four decades thereafter as global humanitarians, has died at the age of 96.
The Carter Centre said she died Sunday after living with dementia and suffering many months of declining health. The statement announcing her death said she "died peacefully", with family by her side" at 2.10 pm at her rural Georgia home of Plains. "Rosalynn was my equal partner in everything I ever accomplished," Carter said in the statement. "She gave me wise guidance and encouragement when I needed it. As long as Rosalynn was in the world, I always knew somebody loved and supported me."
US First Lady Jill Biden, appearing at an event at Naval Air Station in Norfolk, Virginia, said she had to "lead this off with a sad announcement" of Rosalynn Carter's death. "She was well-known for her efforts on mental health and caregiving and women's rights. So I hope that during the holidays, you'll ... include the Carter family in your prayers," she said.
She spoke in a hangar where she and President Joe Biden planned to attend an early Thanksgiving dinner with service members and their families. Former president Donald Trump also mourned Carter's death on the Truth Social platform, calling her "a devoted First Lady, a great humanitarian, a champion for mental health and a beloved wife to her husband for 77 years, President Carter."
Reaction from world leaders poured in throughout the day. The Carters were married for more than 77 years, forging what they both described as a "full partnership." Unlike many previous first ladies, Rosalynn sat in on Cabinet meetings, spoke out on controversial issues and represented her husband on foreign trips. Aides to President Carter sometimes referred to her privately as "co-president."
"Rosalynn is my best friend ... the perfect extension of me, probably the most influential person in my life," Jimmy Carter told aides during their White House years, which spanned from 1977-1981.
Fiercely loyal and compassionate as well as politically astute, Rosalynn Carter prided herself on being an activist first lady, and no one doubted her behind-the-scenes influence. When her role in a highly publicized Cabinet shakeup became known, she was forced to declare publicly, "I am not running the government."