Trisha-Mansoor Ali Khan controversy: NCW directs police chief to act against actor for his 'derogatory remarks'

Published: Nov 20, 2023, 1:13 PM
Follow Us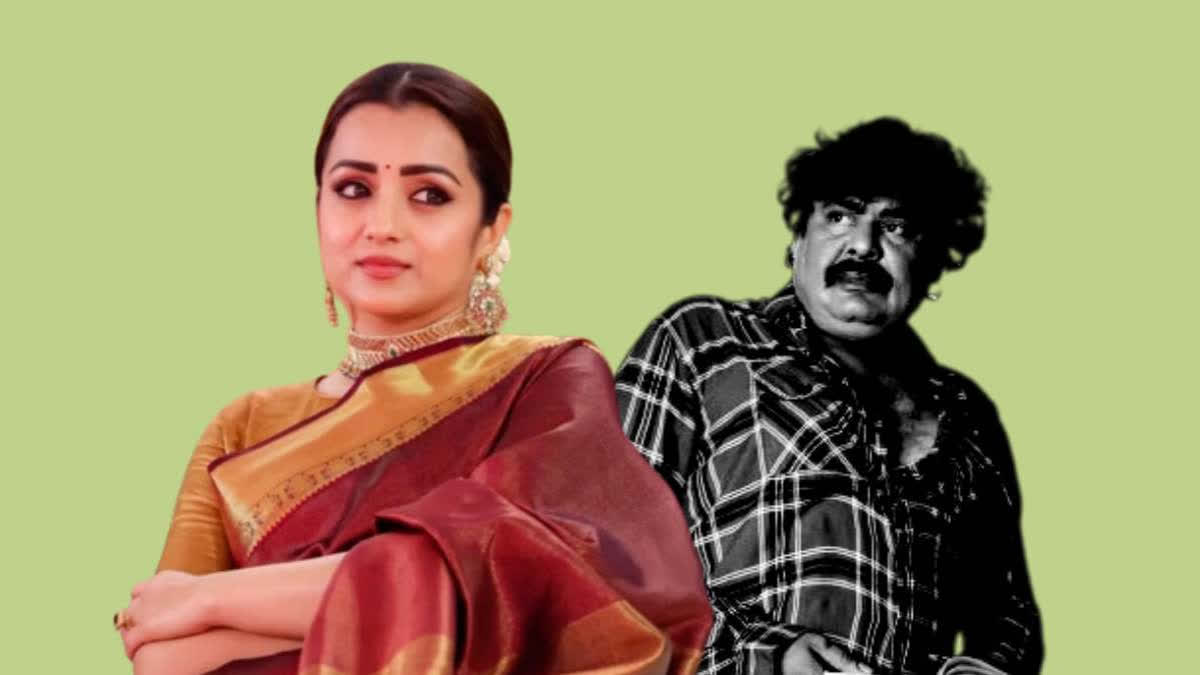 Trisha-Mansoor Ali Khan controversy: NCW directs police chief to act against actor for his 'derogatory remarks'

Published: Nov 20, 2023, 1:13 PM
Follow Us
Hyderabad: Leo actor Mansoor Ali Khan is facing severe criticism following derogatory comments aimed at Trisha Krishnan. Khan's comments received widespread criticism from numerous celebrities. In a new development, the National Commission For Women (NCW) has urged the DGP Chennai Police to invoke IPC Section 509 B against Mansoor Ali Khan.
Khan's distasteful remark about regretting not having a scene involving intimate proximity with co-star Trisha has sparked outrage. Trisha promptly responded, vowing to never share screen space with him again. This garnered support from NCW, Leo director Lokesh Kanagaraj and singer Chinmayi Sripaada, actor-politician Khushbu Sundar and the South Indian Artistes' Association (SIAA).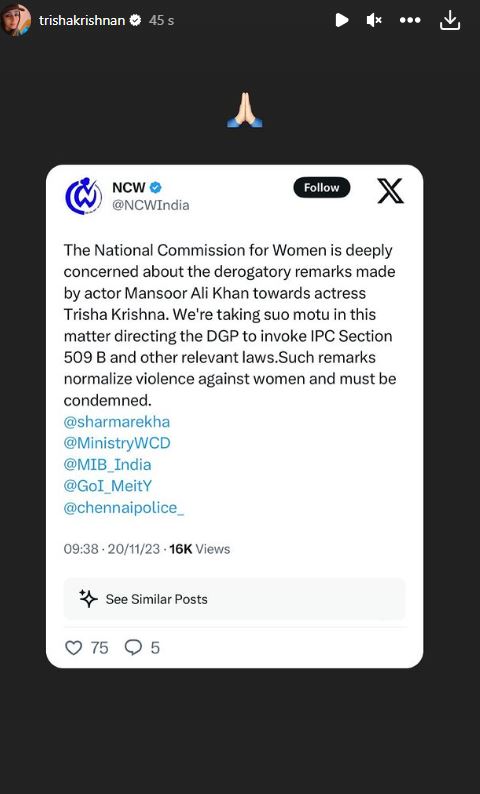 The National Commission for Women is deeply concerned about the derogatory remarks made by actor Mansoor Ali Khan towards actress Trisha Krishna. We're taking suo motu in this matter directing the DGP to invoke IPC Section 509 B and other relevant laws.Such remarks normalize…

— NCW (@NCWIndia) November 20, 2023
Instead of apologising, Khan issued a clarification, which didn't quell the backlash. The National Commission for Women stepped in, expressing deep concern and directing the DGP to invoke IPC Section 509 B. They emphasised the necessity to condemn remarks normalising violence against women.
A recent video has come to my notice where Mr.Mansoor Ali Khan has spoken about me in a vile and disgusting manner.I strongly condemn this and find it sexist,disrespectful,misogynistic,repulsive and in bad taste.He can keep wishing but I am grateful never to have shared screen…

— Trish (@trishtrashers) November 18, 2023
Taking to social media, the NCW shared their concern about Khan's comments, highlighting the need for invoking legal measures. The controversy arose from Khan's remarks during an interview about not having scenes with Trisha during a film shoot in Kashmir. Trisha condemned the remarks as sexist, disrespectful, and repulsive.
Disheartened and enraged to hear the misogynistic comments made by Mr.Mansoor Ali Khan, given that we all worked in the same team. Respect for women, fellow artists and professionals should be a non-negotiable in any industry and I absolutely condemn this behaviour. https://t.co/PBlMzsoDZ3

— Lokesh Kanagaraj (@Dir_Lokesh) November 18, 2023
After the video went viral, director Lokesh Kanagaraj supported Trisha, denouncing Khan's misogynistic comments. Singer Chinmayi Sripaada also condemned Khan's behavior, highlighting a pattern of such behavior going unchecked. The South Indian Artistes' Association (SIAA) also strongly condemned Khan's comments and demanded a public apology. SIAA even contemplated suspending Khan's membership until he apologized to Trisha and other actresses he disparaged.
As a member of NCW, I have already taken up the issue of Mansoor Ali khan with my senior and will be taking an action on it. Nobody can get away with such a filthy mind. I stand with @trishtrashers and my other colleagues where this man speaks in such a sexist disgusting mindset…

— KhushbuSundar (@khushsundar) November 19, 2023
Khan, under fire for his remarks, defended himself, attributing the controversy to 'vested interests' distorting his comments, despite facing widespread criticism for his disrespectful and sexist remarks.