Japan 'directly approaching' Yemeni Houthi hijackers for release of Israel-linked cargo ship

Published: Nov 21, 2023, 6:45 AM
Follow Us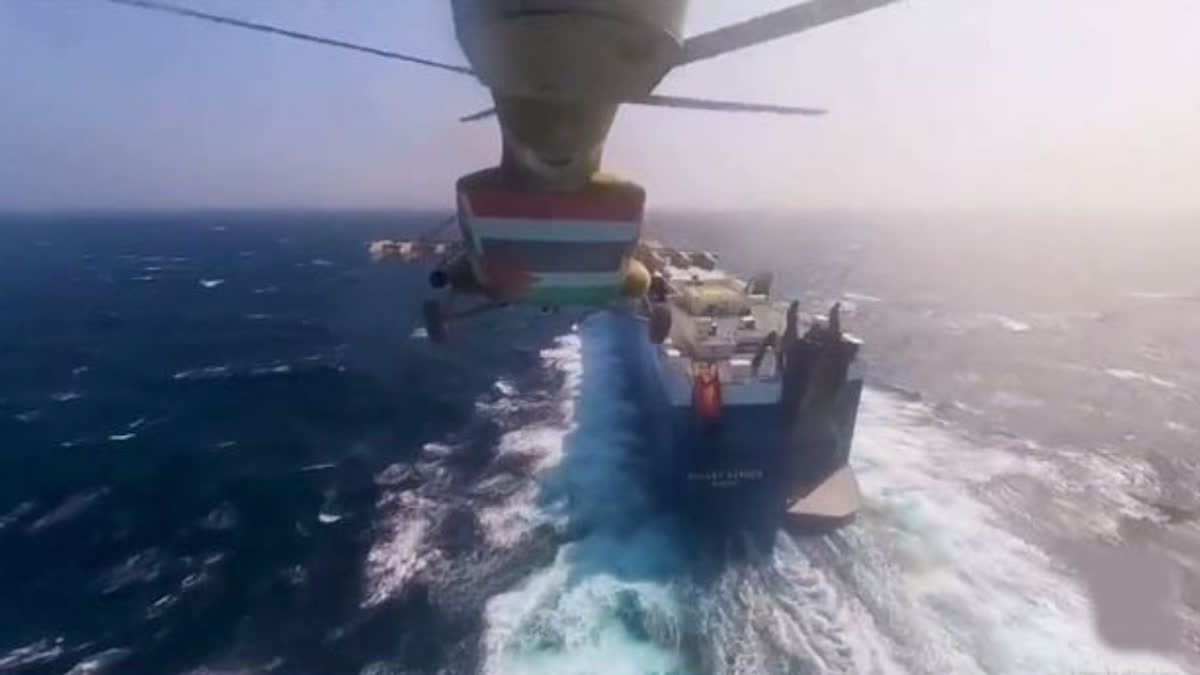 Japan 'directly approaching' Yemeni Houthi hijackers for release of Israel-linked cargo ship

Published: Nov 21, 2023, 6:45 AM
Follow Us
Jerusalem/Tokyo : Japan has said that it is "directly approaching" Houthi rebels, who recently hijacked an international cargo shop in the Red Sea, according to Al Jazeera. Tokyo announced on Monday that it is "communicating with Israel" in addition to other countries in an effort to get the Galaxy Leader released.
In a daring raid earlier, Yemen's Houthi rebels have seized the Israeli-linked cargo ship, going from Turkey to India, in a crucial Red Sea shipping route and took it to the Yemeni coast. They also took its 25 crew members hostage, officials said. The raid raised fears over escalation of regional tensions over the Israel-Hamas war and that a new maritime front was opened in the raging conflict.
The Iran-backed Houthi rebels said they hijacked the ship Sunday over its connection to Israel and would continue to target ships in international waters that were linked to or owned by Israelis until the end of Israel's campaign against Gaza's Hamas rulers.
All ships belonging to the Israeli enemy or that deal with it will become legitimate targets, the Houthis said. Mohammed Abdul-Salam, the Houthis' chief negotiator and spokesman, later added in an online statement that the Israelis only understand the language of force. The detention of the Israeli ship is a practical step that proves the seriousness of the Yemeni armed forces in waging the sea battle, regardless of its costs and costs, he added. This is the beginning.
The hijacked ship is notably owned by an Israeli businessman and is run by a Japanese company. The Houthi rebels claimed that Israel's "heinous acts" in Gaza were the reason behind the attack, Al Jazeera reported. The Japanese government has "strongly condemned" this action. Tokyo has asked other nations that are concerned - Iran, Saudi Arabia, Oman, and others - to take part in efforts to get the rebels to promptly release the ship and the captives.
In addition to directly addressing the Houthis, Tokyo is "communicating with Israel, and stated that it is also urging Saudi Arabia, Oman, Iran and other countries concerned to strongly urge the Houthis for the early release of the vessel and crew members, according to Al Jazeera. "Our government will continue to take necessary measures in cooperation with the countries concerned while taking into account the situation," Japan's Foreign Minister Yoko Kamikawa said.
Meanwhile, Israeli Prime Minister Benjamin Netanyahu condemned the hijacking of an international vessel by Iran-backed Houthis in the Red Sea on Sunday and called it a "very serious incident" on the global scale. Taking to X, the Israeli PMO said, "Israel strongly condemns the Iranian attack against an international vessel. The ship, which is owned by a British company and is operated by a Japanese firm, was hijacked with Iran's guidance by the Yemenite Houthi militia." (agencies)