'Be proud that you are Indian': Sudha Murty heaps praise on The Vaccine War, Vivek Ranjan Agnihotri grateful - watch video

Published: Sep 19, 2023, 11:03 AM
Follow Us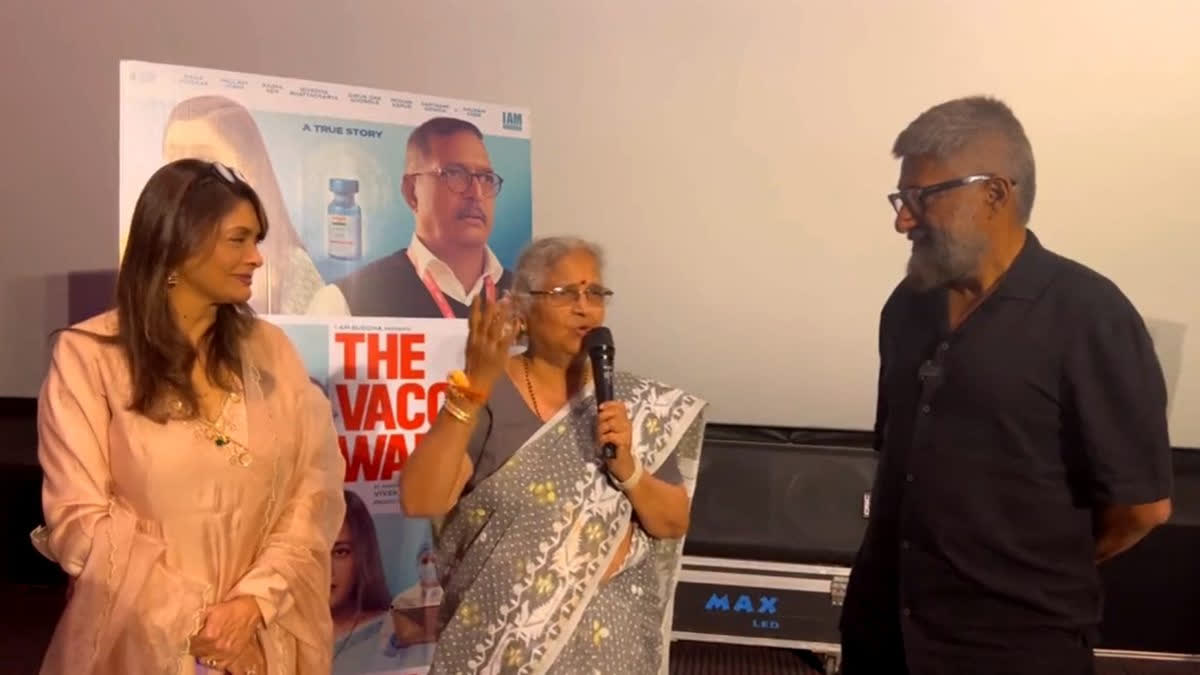 'Be proud that you are Indian': Sudha Murty heaps praise on The Vaccine War, Vivek Ranjan Agnihotri grateful - watch video

Published: Sep 19, 2023, 11:03 AM
Follow Us
Hyderabad: Yesterday, filmmaker Vivek Agnihotri hosted a special screening of his latest movie, The Vaccine War in Bengaluru, Karnataka. Among the notable guests in attendance was Sudha Murty, renowned social worker and co-founder of Infosys, who garnered significant attention at the event.
Vivek Agnihotri expressed his delight and gratitude for Sudha Murty's presence at the screening by sharing a photo of himself engaged in discussion with her about the film on social media. He captioned the photo with heartfelt words, saying, "Thank you @smtsudhamurty ji for your inspiring words at the screening of #TheVaccineWar #ATrueStory."
In a video shared by Vivek, Sudha, who is also a Padma Bhushan recipient, is seen heaping praise on The Vaccine War. She said, "The common men won't understand what is COVAXIN. But this movie clearly shows the effort. It's not just work. It's selfless work these scientists did. They spent their maximum time in this so we all can view in a democratic India happily and healthily." Concluding her speech, Sudha said, "Be ethical, hard-working, and be proud that you are Indian, be proud that you are Bharatiya."
Was fortunate enough to watch the screening today in Bengaluru. Wonderful movie that talks about how Bharat has arrived and how its Narishakti is leading the charge from the front. Dhanyawad Vivek ji and #PallaviJoshi ji for making a movie on this very important subject. 🙏🙏 https://t.co/JloWFV5Nrs

— Yogesh (@sharmay) September 18, 2023
Scheduled for release on September 28, 2023, The Vaccine War serves as a tribute to the dedicated scientists and physicians who worked tirelessly during the height of the COVID-19 pandemic to develop life-saving vaccines.
The film's title, The Vaccine War, hints at the challenging battle against the global health crisis and underscores the critical role played by the medical community in developing vaccines. It is an exploration of the scientific intricacies and complexities involved in this monumental task of producing indigenous vaccines for a populous country like India during COVID-19.