Universal Children's Day 2023: 'For every child, every right.'

Published: Nov 20, 2023, 12:14 PM
Follow Us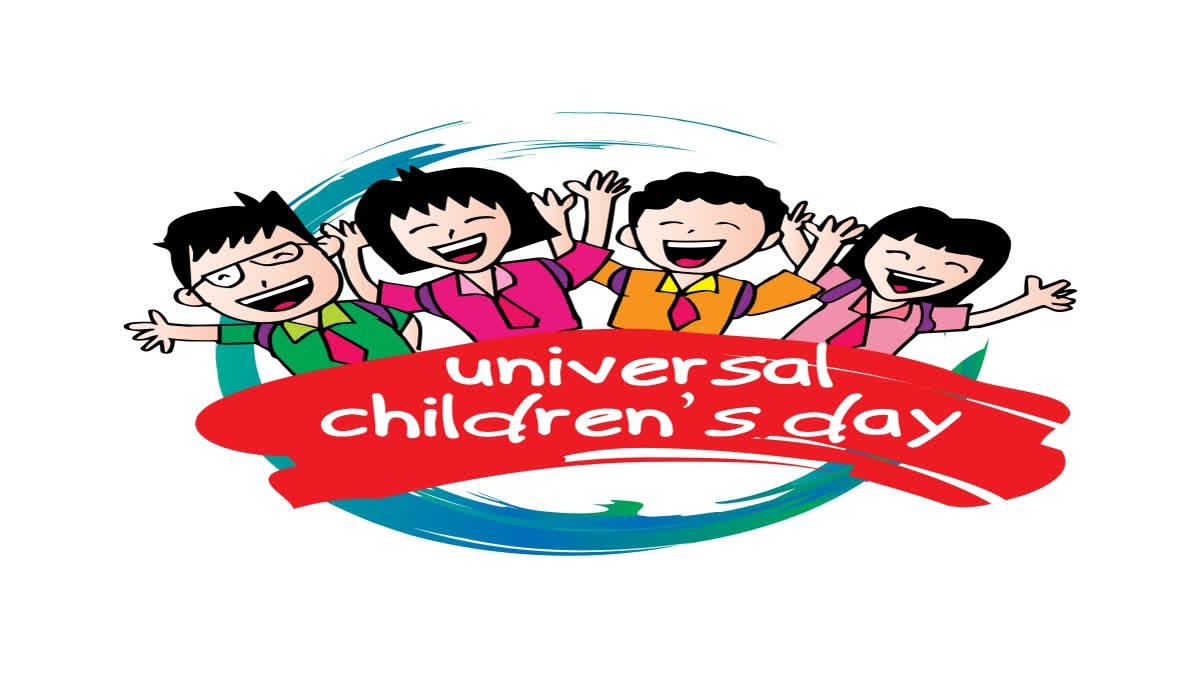 Universal Children's Day 2023: 'For every child, every right.'

Published: Nov 20, 2023, 12:14 PM
Follow Us
Hyderabad: Universal Children's Day, observed globally on November 20, stands as an acknowledgment of the importance of children and the welfare of their rights. This commemoration traces back to the UN General Assembly's 1959 declaration on the Rights of the child, observing the importance of international togetherness for children all over the world.
Theme for this year- The theme for Universal Children's Day 2023 is "For Every Child, Every Right", with the universal mission to support the rights of children across nations.
History- Universal Children's Day was observed in 1954 for the first time and it gained importance after the adoption of the Declaration of the Rights of the Child by the UN General Assembly on November 20, 1959. At the same time, the UNGA approved the agreement on the Rights of the Child. After 1990, the day also marks the anniversary of the date when the UNGA passed both the declaration and agreement on children's rights.
Significance- Universal Children's Day serves as a platform to allow people from diverse professions to raise awareness on the rights and welfare of children. It serves as an opportunity to go deep into the small changes older generations can make for children, which can have a huge impact on the children.
Rights of Children in India- The Indian Constitution provides various rights that safeguard the well-being and future of children.
Right to Equality- Ensuring equal protection and rights for all citizens.
Right against Discrimination- Prohibiting discrimination based on race, caste, or other factors.
Right to Life and Health- Guaranteeing personal freedom and access to a healthy life.
Right to Education- Providing free and compulsory primary education.
Protection from Exploitation- Safeguarding against trafficking, forced labour, and risky works.
Protection from Abuse and Social Injustice- Ensuring protection and fairness for the unprotected in society.
Right to Identity- Recognising the importance of an individual's identity and the rights associated with it.
Child Abuse Offenses- Despite having legal frameworks, children in India still deprived of their in-
Child Marriage-Violating fundamental rights, leading to educational disruption and physical/mental trauma.
Child Labour - Resulting from poverty and societal issues, hampering education and exploiting child labour.
Forced Begging- Illegally forcing children to beg, violating their rights and personal liberty.
Universal Children's Day is a reminder of the ongoing need to protect and ensure the development of children. Despite many legal provisions, challenges do exist. Therefore, there is an urgent need to highlight the collective responsibility to promote and defend the rights of every child
We can dial - 1098, a toll-free 24 hour emergency childline which is accessible across the national phone service for children in need of care and protection. Also educate the children you come across by familiarising this helpline as they themselves can contact the helpline.
According to the government, any child or concerned adult can dial 1098 to access this service, which is undertaken by the Union Ministry of Woman and Child Development.