International Day to End Obstetric Fistula 2023: Resolution to End Obstetric Fistula by 2030

Published: May 23, 2023, 5:00 AM
Follow Us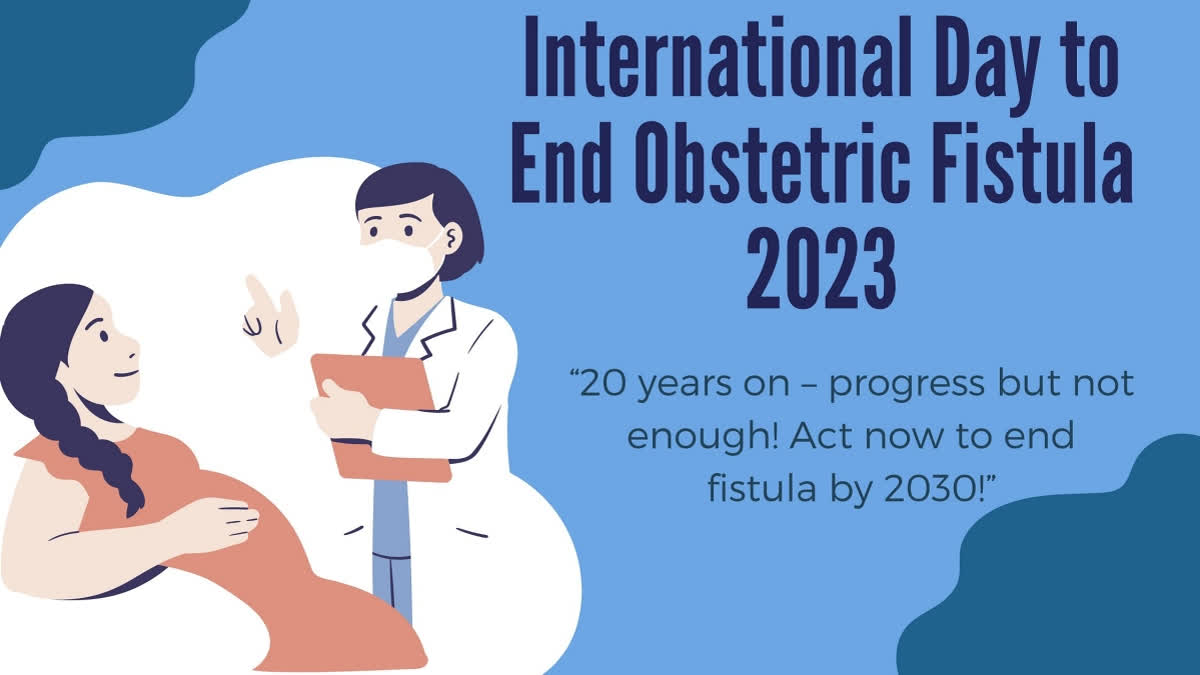 International Day to End Obstetric Fistula 2023: Resolution to End Obstetric Fistula by 2030

Published: May 23, 2023, 5:00 AM
Follow Us
Hyderabad: Childbirth is a special and extremely difficult process for every mother, therefore it is essential to take special care of her during and after pregnancy and ensure a safe childbirth. In many cases of pregnancies, mistakes due to childbirth in difficult conditions, and improper healthcare in delivery, women may have to face many serious problems.
Obstetric fistula is one such problem that can develop in the mother due to lack of attention during a complicated delivery. Although its treatment is possible through surgery, due to a lack of awareness about the problem and its treatment and due to various social and economic reasons, women are unable to get its treatment on time.
Every year on May 23, "International Day to End Obstetric Fistula" is observed to spread awareness among people around the world about Obstetric Fistula and its prevention and treatment, and to ensure the availability of health services and treatment to save more women from falling prey to this problem. In the year 2023, this day is being observed around the theme "20 years on – progress but not enough! Act now to end fistula by 2030!" with the pledge to eliminate obstetric fistula by 2023.
Obstetric fistula is a type of injury that occurs in the vagina during childbirth. Childbirth at an early age, being in labour for a long time, not getting the necessary medical help when needed, and not getting a C-section surgery despite the need, leads to some delicate tissue getting suppressed between the head of the baby and the pelvic bone of the mother. The suppression interrupts the blood flow which might damage or destroy the tissue. This condition sometimes causes a hole between the vulva and the bladder of a pregnant woman. Due to this problem, the urine and stool in the patient become incontinent and get passed on their own without the patient's control.
According to the UN, childbirth at an early age, teenage pregnancy, obstructed labour, lack of medical facilities and medical care, maternal malnutrition, poverty and illiteracy are some of the reasons responsible for this condition. Cases of obstetric fistula are usually seen more in lesser developed countries, and its patients are mostly young women. According to global research, the problem of obstetric fistula is witnessed by one out of three pregnant women during every 1000 childbirths in various countries of the Middle East, North Africa, East and South Asia, Asia Pacific and Sub-Saharan Africa.
Estimates suggest that approximately 500,000 women and girls are living with fistula in more than 55 countries in sub-Saharan Africa, Asia and the Pacific, Arab states, Latin America and the Caribbean. And every year thousands of its cases are recorded. Experts explain that this problem not just affects the physical and mental health of the woman, but also affects her household and social life.
According to the UN, problems related to mental health and severe depression are also witnessed in women who are suffering from this problem. This condition can sometimes also lead to infection, ulceration, kidney disease, painful sores, infertility and death. Apart from this, cases of stillbirth are also witnessed due to obstetric fistula. According to various sources, women face stillbirth in about 85 per cent of cases of obstetric fistula.
The World Health Organisation states that this problem can be avoided with proper care and treatment at the right time. Some factors such as avoiding getting pregnant at a young age and giving necessary obstetric care to the woman during pregnancy and at the time of childbirth can be effective in preventing obstetric fistula. Apart from these, some traditional practices should be avoided that could have harmful effects on the health of women. Significantly, cases of obstetric fistula can be treated through surgery.
For the last 20 years, a campaign is being run by the UN and many other social and health-related organizations to make efforts for a global commitment towards the prevention and overall treatment of obstetric fistula and increasing awareness among the general public. The United Nations (UN), stated that the organization is running with a global target to eliminate fistula by the year 2030 under its Sustainable Development Goals, for which the United Nations Population Fund (UNFPA) is leading a global campaign to end fistula and transform the lives of vulnerable women and girls.
One of the objectives of this campaign is also to eliminate harmful practices like child marriage. Because of this malpractice, becoming a mother at a young age raises the risk of obstetric fistula and many other life-threatening problems in most girls. According to the UN, about 95 per cent of fistula cases can be cured with surgery, but a large number of women are unable to get timely treatment due to the high cost of treatment, lack of information and fear of social neglect and ridicule.
In the year 2003, UNFPA launched the 'Campaign to End Fistula' for the first time to end obstetric fistula. International Day to End Obstetric Fistula was also organized on this occasion, but the observance of this event as an annual campaign was started by the UN in the year 2013.