Ladakh's sea buckthorn gets GI tag

Published: Nov 18, 2023, 7:39 PM
Follow Us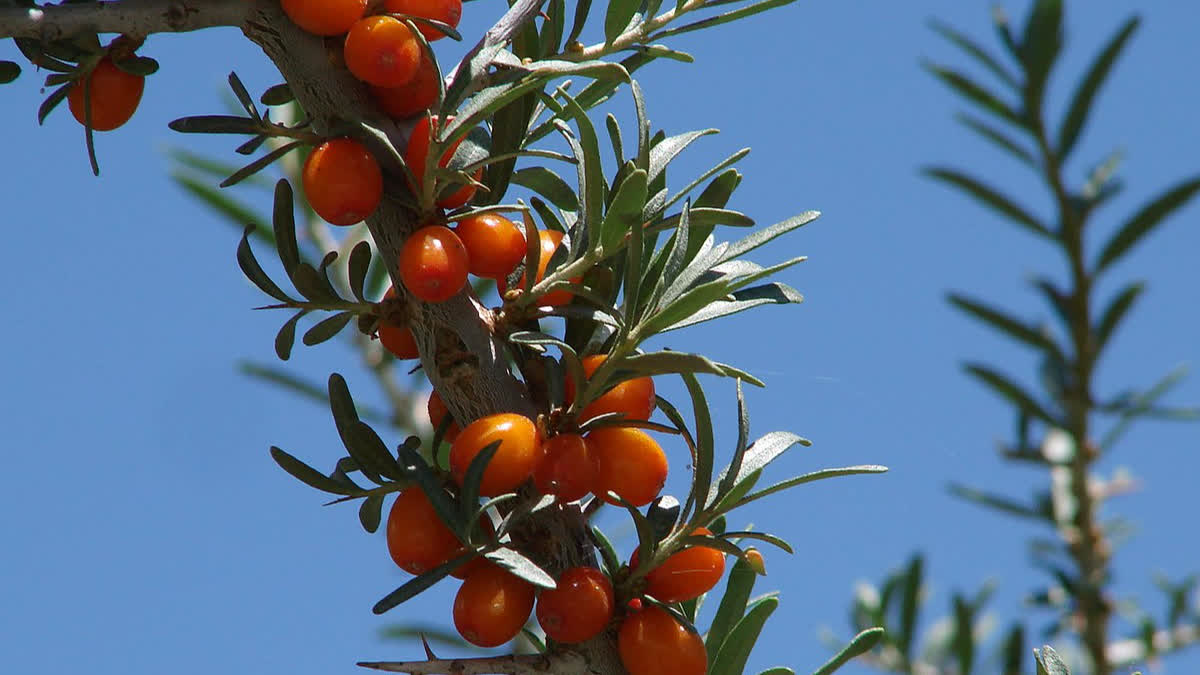 Ladakh's sea buckthorn gets GI tag

Published: Nov 18, 2023, 7:39 PM
Follow Us
Srinagar: Sea buckthorn fruit from Ladakh will now have a distinct identity both domestically and internationally thanks to Geographical Indication (GI) tagging.
The Department of Industries and Commerce, Ladakh has been authorised as the Registered Proprietor for 'Ladakh Sea Buckthorn' in Class 31 by the Geographical Indication Registry under the Department for Promotion of Industry and Internal Trade (DPIIT), Ministry of Commerce and Industry, Government of India.
For Ladakh, this would be the fourth GI tag. Earlier, GI tags were also attached to Ladakh Pashmina, Apricot (Raktse Carpo species), and Ladakhi wood sculptures. The second fruit of Ladakh to receive particular distinction in the form of a GI tag is sea buckthorn. There are now initiatives in place to promote the fruit.
The Leh Berry, or sea buckthorn (Hippophae), is a wonder plant found in Ladakh that yields tiny, sour-tasting orange or yellow berries that are high in vitamins, particularly C. There are several nutritional and therapeutic benefits to sea buckthorn products.
In the Ladakh area, it is naturally spread across 11,500 hectares. In addition to being drought-resistant, the plant can tolerate extremely cold temperatures, ranging from minus 43 to 40 degrees Celsius. The shrub species is perfect for cold deserts because of these two qualities. Sea buckthorn has traditionally been utilised as fuel, medicinal, and nutritional supplement. It is also known by other names, such as "Wonder Plant," "Ladakh Gold," "Golden Bush," or "Gold Mine'' of cold deserts.