We don't interfere in 'internal affairs' of our friendly countries: Thai Ambassador on modification of Article 370
Published on: Aug 10, 2019, 11:22 PM IST
|
Updated on: Aug 11, 2019, 10:00 AM IST

We don't interfere in 'internal affairs' of our friendly countries: Thai Ambassador on modification of Article 370
Published on: Aug 10, 2019, 11:22 PM IST
|
Updated on: Aug 11, 2019, 10:00 AM IST
Hyderabad: Amid ongoing escalation of tension between India and Pakistan over Kashmir, Chutintorn Sam Gongsakdi, Ambassador of Thailand said that the modification of Article 370 is an internal matter of India.
Speaking to senior journalist Smita Sharma, he hoped Delhi and Islamabad would be able to resolve differences in an amicable manner. Following the lockdown in Jammu and Kashmir, some Thai tourists were also stranded in the valley for a few days.
After staying out of the first BIMSTEC military exercise citing budgetary reasons last year, Thailand has now agreed to a first trilateral naval exercise with India and Singapore. The idea, first proposed during PM Modi's speech at the Shangri La Dialogue in June 2018, had initially been rejected by Thailand fearing that it could upset China.
Gongsakdi also confirmed that Thailand is keen to purchase Brahmos cruise missiles among other military supplies from India. He also hoped that India can agree to a text of RCEP (Regional Comprehensive Economic Partnership) to be negotiated by the end of this year. RCEP is a proposed Free Trade Agreement (FTA) between ten member countries of ASEAN (Association of South-East Asian Nations) and its six FTA partners including China, Japan, South Korea, India, Australia and New Zealand which if concluded promises to be a regional economic game changer.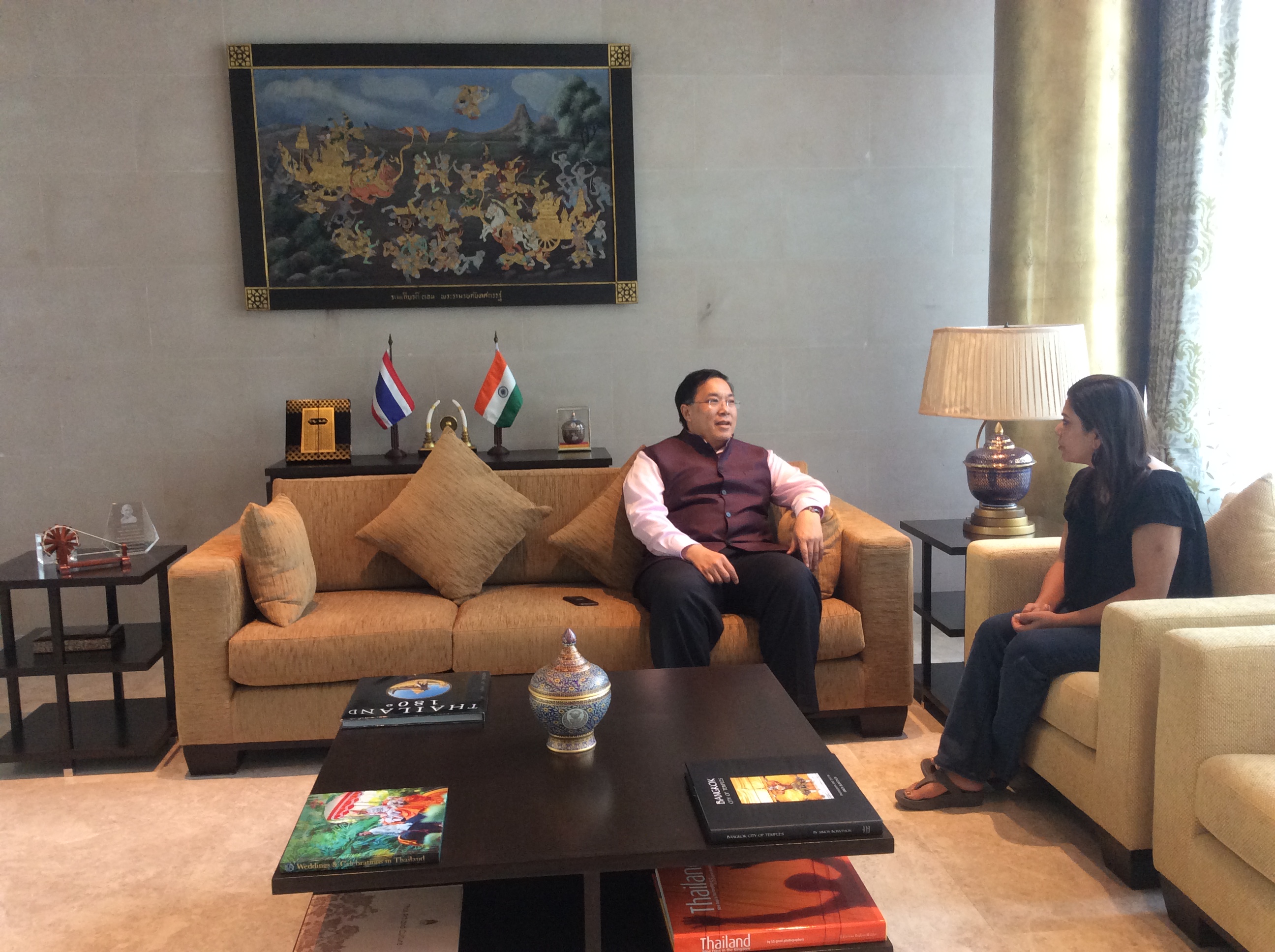 Following are the excerpts from an interview with Chutintorn Sam Gongsakdi:
Q- Has New Delhi briefed you in the wake of modification of Article 370 in Jammu and Kashmir? What is your view of the ongoing India-Pakistan tension?
Gongsakdi: The Ministry of External Affairs has briefed everyone. Most of the ASEAN envoys were briefed by Secretary East. Thailand does not interfere in the internal affairs of our friendly countries. Our stand has always been that we hope that the parties concerned would be able to resolve any issues between them in an amicable and peaceful manner. We do respect the internal affairs of India. I have explained in the best possible way to my capital so that they understand the context of India in terms of Jammu, Kashmir and Ladakh Affairs.
Q- So you do think the reorganisation of Jammu Kashmir is an internal matter of India?
Gongsakdi: I think Thailand's position does not differ from that of many friends of India.
Q- Thailand was hesitant to join a trilateral naval exercise proposed last year by PM Modi so as not to upset China. Where do things stand now?
Gongsakdi: The trilateral naval exercise is going to happen this year in the Andaman sea between India, Singapore and Thailand. Next year Singapore will host and then followed by Thailand. Singaporeans through their offices did the heavy lobbying. We are open to India .Our strategy in foreign affairs is to strike a balance in our relationship with all of the regional powers and players. I hope that it does not seem obvious as if we are in a China camp. Before there was a China camp we were in the US camp. Relationships evolve. We are still close with the US but we have to have relations with China too. As the world spins, you also change. India is no more in the Soviet camp but you were. The world is a different place and India is on the rise. We see India mainly from an economic perspective. But we are getting closer. Thai political leaders and military are now feeling more comfortable with India.
Q- There are reports of Thailand showing keen interest in purchasing Brahmos missiles from India. Can you confirm?
Gongsakdi: We are in the grand scheme of things of seeking geo-political balance. We are interested in procuring armaments from India and Brahmos is certainly in the picture. The prospect may range from a year to five years because the Thai military has five year purchasing plans. But certainly purchase of armaments from India is in the picture.
Q- Thailand refused to be part of the first BIMSTEC military exercise last year.Is that issue now in the past?
Gongsakdi: We had told Nirmala Sitharaman during her Thailand visit that we will not be able to participate because it is not budgeted for. We got lumped with Nepal. But it is not something we can change. Maritime security cooperation, sharing of intelligence is a strong growth area of BIMSTEC. In the beginning Thailand would say that we created BIMSTEC together for the economic cooperation.But BIMSTEC is being side tracked by security issues. But as our National Security Council attended the deliberations they saw value in that and we go by the stakeholders. The exercise that we did not attend was purely because of budgeting reasons since we do not have money sitting in a pot. It has to be pre allocated.
Q- Is ASEAN looking at 2019 as a practical deadline for RCEP conclusion?
Gongsakdi: We are still committed to the goal and we will push it as hard as possible. We are optimistic. Last year up to this point countries like India have also shown compromise. But at a recent troika meeting ASEAN Secretary General, Indonesia and Thailand came to meet Commerce Minister Piyush Goyal .We were able to talk frankly and understand each other's positions. Lot of the discussion was about how we can help India manage some of its problems like trade deficit, circumvent rules of origin like re-export from other countries, services and domestic regulations like qualifications etcetera. We spoke specifically about issue of nurses especially those going to Japan. The advise from ASEAN was specific. One practical way was to try to enumerate your problems In writing and have a text that we can negotiate. What we are hoping this year is that we can get the text finished and next year we can do market access negotiations.
Q- The major Industry apprehension against RCEP involves the fear of India being flooded with cheap Chinese goods. Your views.
Gongsakdi: This is more India specific concern. In Thailand when we were negotiating FTA with China, our people were afraid that Chinese products will swamp the country. Given a choice people do not buy on price alone. In our neighbouring countries, Chinese motorcycles are cheaper but they buy Thai which is essentially Japanese Hondas. Because they last longer. So you have to have belief. But there are trade rules for dumping, subsidy related issues. What India has said is mainly how can we ensure Chinese products are not coming from all sorts of directions. And China is a non-market economy. Their price formation is not as transparent as other countries. That is a common issue. India would like more transparency. Based on Thai experience in the end what we compete on quality.
Q- India has trade deficits with all ASEAN countries. What is a possible solution to reducing it?
Gongsakdi: You buy expensive manufactured stuff and you export a lot of agricultural products that are not processed. I keep seeing millet in relation to Thailand. It takes a lot of effort to pay for high tech stuff with low tech stuff. Things will change when you export more services or military equipment and so on so forth. The import and export numbers do not tell the whole story. Sometimes you are importing inputs that go elsewhere as outputs. The short term response to your deficit is more services export from India. When I was in the WTO they said your negotiating position should reflect your country's ambitions a couple of decades ahead. As India is finding your WTO rounds take a long time which might not even conclude. FTAs reveal renegotiation is not immediate as you think. So you not only have to think of present but also of couple of decades ahead so you do not find yourself short-changed. India would perhaps be interested in tourism. You have to think out of the box. You have a silent majority. You only hear the ones complaining. You have to ask NITI aayog where is the country going, what is the future and then think of an agenda. You need to have a political agenda too. You don't want so many people to commit suicides. Thailand is specifically short on 1.8 lakh IT workers. Lot of countries including Thailand are so concerned that Indians will overwhelm us, loss of jobs will happen. But we have nearly 3-4 million guest workers from Cambodia, Laos and Vietnam. Time has proven that we need them and they are not taking over Thai jobs. Thais don't want to do that. Thailand is becoming an ageing society like Japan.
Q- How do you see the impact of Trade Wars and tensions between US-China and South Korea-Japan.
Gongsakdi: It is already having an impact. If you scan the economic news, growth rates have been revised downwards. Manufacturing in China in the past 3 months have gone down. Thai growth rate has been revised from 4% to 3%. The ambassadors in Delhi are ready to report how Indian economy is slowing down but I tell them that 7 per cent rate is envy of most countries across the world. But trade wars are affecting everyone because of global value and supply chains, the world is interconnected. If we can't solve it quickly we have to find alternatives. For every market that closes we have to find new market openings. That brings us back to RCEP.
Also read: Only stray protests in Kashmir: MHA