Millets: India eyes $2 billion export opportunity

Published: Aug 27, 2023, 8:17 PM
Follow Us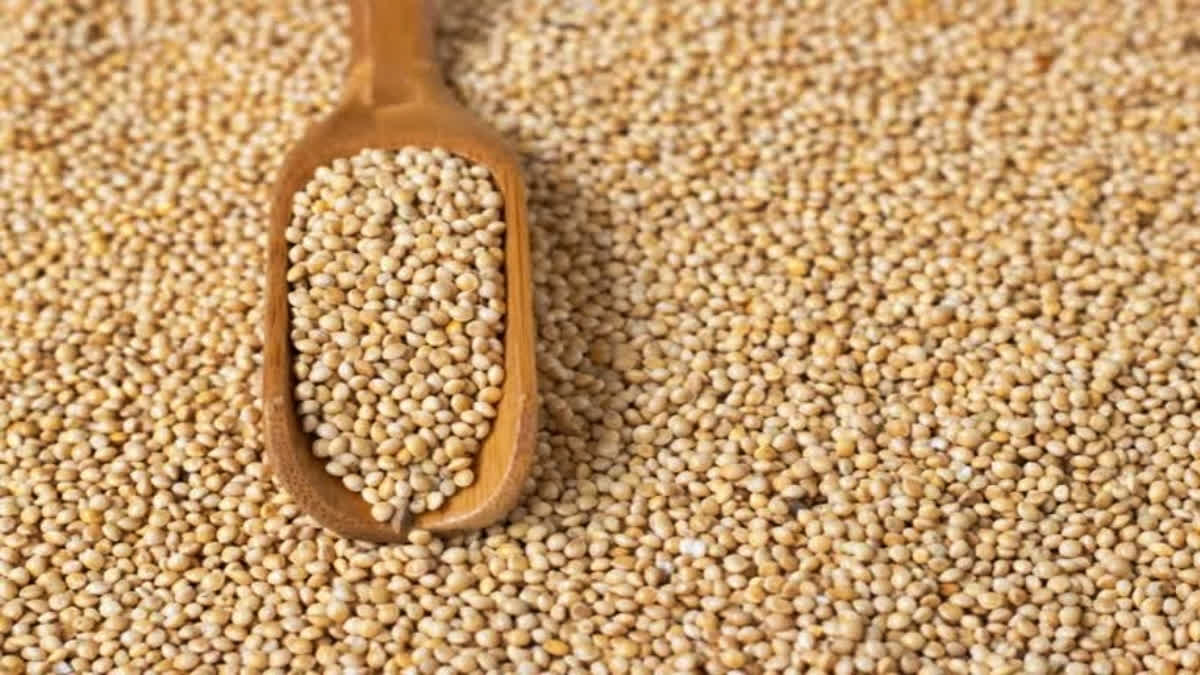 Millets: India eyes $2 billion export opportunity

Published: Aug 27, 2023, 8:17 PM
Follow Us
New Delhi: India is looking forward to tapping a $2 billion export opportunity by promoting millets – Ragi, Jowar and Bajra – and millet-based products, dubbed as a healthy and environment-friendly alternative to water-guzzling wheat and rice. Millets have been grown and consumed in the country for ages but they have faded into oblivion with the success of wheat and rice in recent decades.
India is the world's millet capital as it accounts for more than 40 per cent of the world's production, and nearly 80 per cent of the millet production in Asia. There are three major millet varieties such as Ragi (Finger Millet), Jowar (Sorghum) and Bajra (Pearl Millet). In addition to these three major millets, several minor millets are also there such as Kutki (Little Millet), Kangni (Foxtail Millet), Barri (Proso Millet), Jhangora (Barnyard Millet) and Koden (Kodo Millet).
These millets offer several benefits over wheat and rice in terms of their nutritional value and also health benefits as they are good for maintaining low blood sugar levels, unlike wheat and rice. In addition to their nutritional and health benefits, millets are environment-friendly crops as they require little water and can withstand extreme weather and climatic conditions that is why they are known as environment-friendly and climate-resistant crops.
TR Kesavan, President of TAFE and Chairman of FICCI's Agriculture Committee says millets are suited to diverse conditions, millets offer essential nutrients, manage diabetes, enhance food security, conserve biodiversity and symbolise cultural heritage. "Millets present a potential crop for the future. It is high time to build the brand of India in millets, for they hold the potential to reshape our agricultural landscape," Kesavan said.
Being the world's largest producer of millet, India has been trying to boost its exports by taking advantage of the fact that the United Nations has declared the current year as the International Year of Millet (IoYM) which was supported by 72 countries in the world body. While India is the world's largest producer, Africa remains the largest consumer of the millets with 40 per cent share in global consumption.
A $2 billion export opportunity
A knowledge paper jointly produced by the industry body FICCI and PwC projects that the global trade of millets will increase to nearly $14 billion in the next five years. In 2021, the world exported 509.73 tonnes of millets worth $198.66 million. The top exporters of millets were Ukraine ($45.71 million), the United States ($28.52 million), India ($27.42 million), the Russian Federation ($17.72 million) and France ($14.25 million).
In the same year, the world imported 553.71 tonnes of millets worth $256.86 million, with the top importers being Indonesia ($37.86 million), the European Union ($28.87 million), Germany ($16.55 million), Belgium ($13.80 million) and Canada ($13.51 million). The global market size of millets is projected to grow at a compound annual growth rate (CAGR) of 4.6 percent (from 2023–2028) and reach $13.80 billion by 2028.
"As a leading producer of millets, India's share in international trade is projected to grow significantly, representing a $2 billion opportunity," said the FICCI-PwC knowledge paper. "These century-old grains are now gaining prominence as a smart and sustainable choice of crops which provide food, feed, nutrition and fodder security to the nation," said Jitendra Joshi, Director of Seeds sales, South Asia, Corteva Agriscience.
Joshi says being nutritionally superior to rice and wheat, high in dietary fibre and low in glycemic index, millets are all set to tackle the nutritional challenges and lifestyle problems at the consumers' end.
Millet production in India
Indian farmers produced an average of 16.39 million tonnes of millets between 2017–18 and 2021–22, including 9.75 million tonnes of pearl millet, 4.54 million tonnes of sorghum, 1.74 million tonnes of finger millet and 0.37 million tonnes of minor millets. The average area under millet cultivation in the country has been 13.28 million ha, with 55 percent under pearl millet, 33 per cent under sorghum, 8 per cent under finger millet and 4 per cent under minor millet cultivation.
While the desert state of Rajasthan was the largest producer of millets in the country in 2021-22, it was followed by Maharashtra, Uttar Pradesh, Madhya Pradesh, Gujarat, Haryana, Jharkhand, Karnataka, Tamil Nadu and Andhra Pradesh, which cumulatively have a more than 95 per cent production share.
80 startups in millet sector
Given the government's push to promote India's Shree Anna (millets), more than 80 startups have come forward to promote the production and export of millets in the last one and a half years.
The government is also mobilizing start-ups for export promotion of value-added products in the Ready to Eat (RTE) and Ready to Serve (RTS) category such as noodles, pasta, breakfast cereals mix, biscuits, cookies, snacks, sweets, among other things. As per the government's millet promotion strategy in the global market, As per the government's millet promotion strategy, major international retail supermarkets like Lulu group, Carrefour, Al Jazira, Al Maya, Walmart, and others would also be roped in to establish millet corner for branding and promotion of millets.