World Piles Day sheds light on the impact of haemorrhoids and promotes awareness and prevention

Published: Nov 20, 2023, 12:05 PM
Follow Us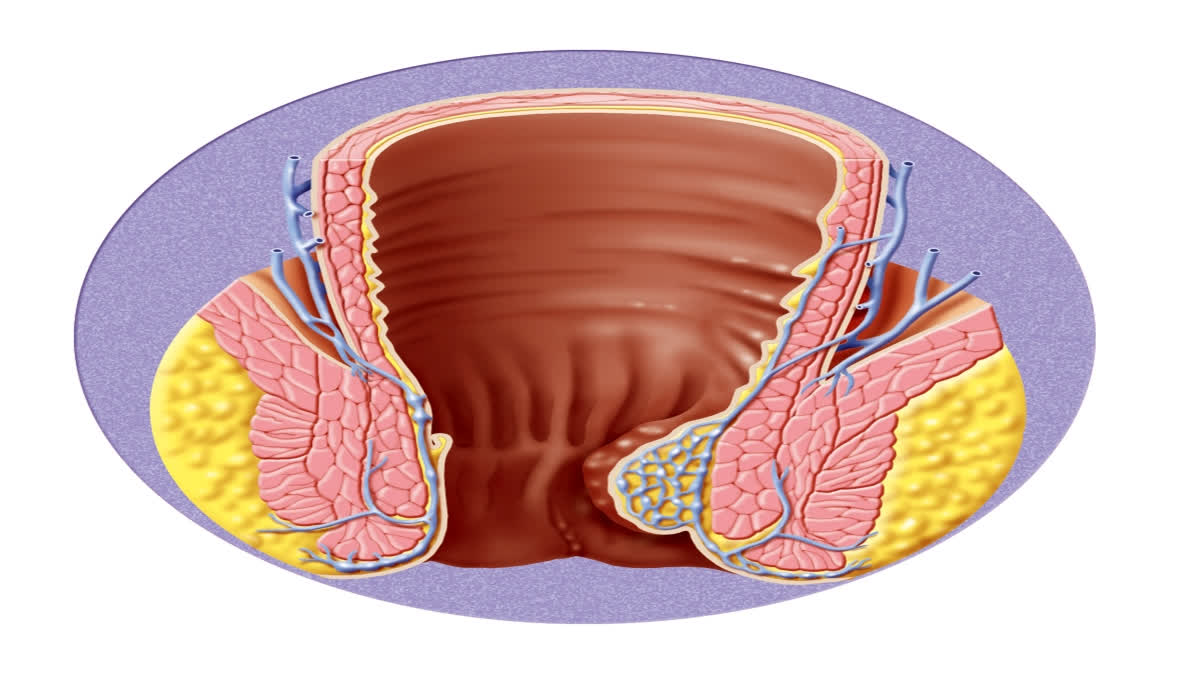 World Piles Day sheds light on the impact of haemorrhoids and promotes awareness and prevention

Published: Nov 20, 2023, 12:05 PM
Follow Us
Hyderabad: World Piles Day, observed annually on November 20, serves as a global initiative to increase awareness about haemorrhoids, commonly known as piles—a prevalent yet often misunderstood medical condition affecting the anal canal.
Piles, or haemorrhoids, are inflammatory collections of tissue in the anal canal, encompassing blood vessels, supportive tissue, muscle, and elastic fibres. They manifest in two primary forms—internal and external, each varying in size and severity. Internal piles, located between 2 and 4 centimetres above the anus, are typically painless, while external piles extend beyond the anus's edge, causing discomfort and visible symptoms.
The classification system for piles distinguishes between four grades:
Grade I: Small inflammations within the anal lining, often not visible.
Grade II: Larger internal piles that can be pushed out during stool passage but retract naturally.
Grade III: Prolapsed haemorrhoids visible outside the anus, requiring manual re-insertion.
Grade IV: Large haemorrhoids located outside the anus, necessitating treatment as they cannot be naturally re-inserted.
While symptoms of piles are generally not severe and may resolve on their own, individuals may experience:
Painful lumps containing coagulated blood.
Sense of incomplete bowel movement.
Bright red blood after passing stools.
Itchy, red, and sore skin around the anal area.
Pain during bowel movements.
If left untreated, piles can lead to severe complications, including excessive anal bleeding, infections, faecal dissoluteness, anal fistula, or strangulated haemorrhoids due to compromised blood supply.
Piles are often triggered by increased pressure in the lower rectum, attributed to factors such as chronic constipation, diarrhoea, heavy lifting, pregnancy, straining during bowel movements, obesity, colon cancer, or spinal cord injury.
Addressing piles involves a range of treatment options tailored to the severity of the condition:
Lifestyle Changes: Dietary adjustments, weight management, and regular exercise.
Medications: Over-the-counter painkillers, ointments, creams, and pads, with laxatives prescribed to reduce constipation.
Surgical Options: Reserved for advanced cases, including haemorrhoidectomy, banding, stapled hemorrhoidopexy, sclerotherapy, and haemorrhoidal artery ligation.
Importance of Seeking Medical Advice:
Considering the variability in symptoms and severity, seeking medical advice, especially from a proctologist, is crucial for appropriate diagnosis and treatment. World Piles Day aims to encourage individuals to prioritize their colorectal health and address any persistent symptoms promptly.
In conclusion, World Piles Day serves as a platform to disseminate knowledge about haemorrhoids, dispelling myths and fostering a proactive approach to colorectal health. Increased awareness and understanding are essential in preventing and managing this common yet often overlooked condition.