World First Aid Day 2023: A global initiative to save lives and promote health

Published: Sep 8, 2023, 11:31 PM
Follow Us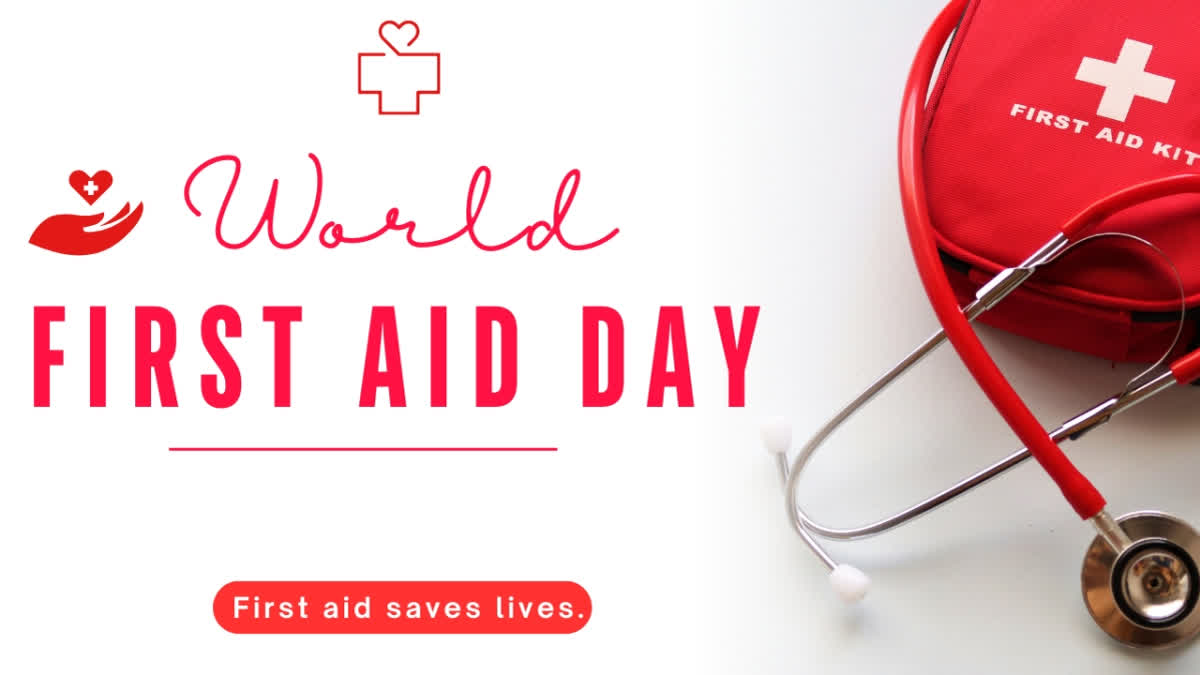 World First Aid Day 2023: A global initiative to save lives and promote health

Published: Sep 8, 2023, 11:31 PM
Follow Us
Hyderabad: The International Federation of Red Cross and Red Crescent Societies (IFRC) started a monumental event that has since become a global observance, the World First Aid Day in the year 2000. The day is observed annually on the second Saturday of September. It serves as an important reminder of the critical role first aid plays in our daily lives, particularly during crisis situations. It is a time when people worldwide are educated about the significance of first aid, the necessity of acquiring first aid skills, and the importance of having a well-equipped first aid kit at home.
While children are introduced to the fundamentals of first aid in schools, these essential skills often fade over time in the increasingly fast-paced world. However, the dire necessity of first aid remains unchanged. Accidents are unpredictable, and swift action can make the difference between life and death. In such circumstances, the knowledge of first aid becomes indispensable for everyone.
First aid is the immediate care and treatment given to an injured or ill person before they can receive professional medical attention. It is a critical bridge between an emergency situation and the arrival of healthcare professionals. The essential contents of such a kit include:
Antiseptic Solutions: Dettol or a similar antiseptic solution to clean wounds and prevent infections.
Wound Dressings: Cotton and bandages for covering and protecting wounds.
Tools: Scissors for cutting bandages, medically approved creams, and hand sanitizers.
Medications: Pain relievers, aspirin tablets, and a thermometer for initial assessment.
Emergency Contact: The contact number of the nearest hospital for rapid response in case of severe emergencies.
In accidents or emergencies, timing is everything. Often, lives are lost due to the lack of timely first aid intervention. First aid serves several crucial purposes.
Bleeding Control: Immediate first aid can stop excessive bleeding, stabilizing the patient's condition until they reach a medical facility.
Cardiac Emergencies: In cases of heart attacks or strokes, swift first aid can prove life-saving. Aspirin tablets, for example, can help thin the blood, reducing the risk of complications.
Significance of First Aid-
Saving Lives: At its core, first aid aims to preserve life. In critical situations, quick and appropriate first aid measures can mean the difference between life and death.
Mitigating Harmful Situations: First aid is not only about preserving life but also about ensuring that the injured party doesn't fall into further harm. By stabilizing injuries and providing initial care, first aid keeps individuals from deteriorating while awaiting professional help.
Promoting Health Improvement: Beyond immediate lifesaving actions, first aid contributes to the overall health improvement of individuals. Properly administered first aid can prevent complications, reduce recovery time, and enhance the chances of a full recovery.
By promoting awareness about first aid, teaching these vital skills, and encouraging the maintenance of first aid kits, we empower ourselves and our communities to be better prepared for emergencies.