Infant Protection Day: Nurturing the most vulnerable lives

Published: Nov 6, 2023, 11:50 PM
Follow Us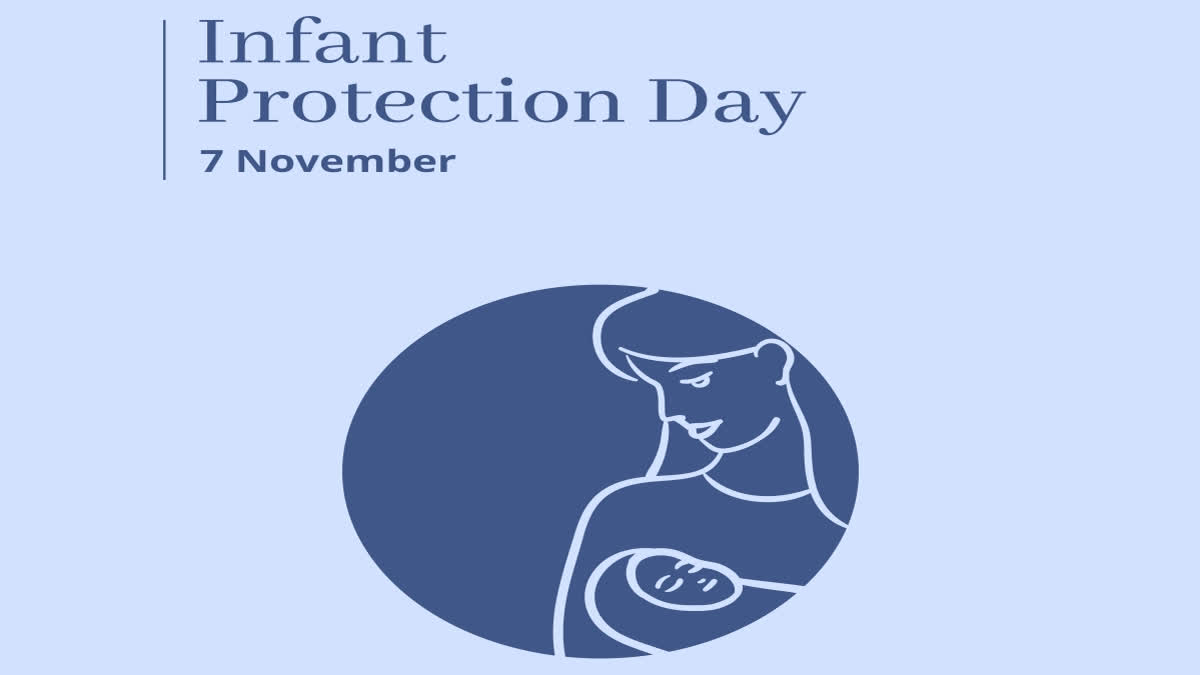 Infant Protection Day: Nurturing the most vulnerable lives

Published: Nov 6, 2023, 11:50 PM
Follow Us
Hyderabad: Infant Protection Day, observed on November 7, is an occasion dedicated to safeguarding and nurturing infants during the most delicate stage of their lives, from birth to one year of age. The day urges the populace towards the importance of creating awareness about the essential concerns impacting newborns and infants, with the overarching goal of saving their lives and promoting adequate care.
The journey of infant development commences at birth and during the first three months of life, numerous critical changes occur in a baby's body. These changes encompass motor development, the development of hearing and sight, and the initiation of communication skills.
Perhaps the most fundamental aspect of a baby's early development is the nurturing relationship established with their parents. Proper infant care involves a multitude of actions, including holding, playing, talking and responding directly to the baby's cries and needs.
History: The day stems from a historical context rooted in the imperative need to protect and care for infants, particularly in the early months of their lives. In 1990, there was a lack of information and awareness regarding infant protection, resulting in the tragic loss of over five million infant lives.
This deeply concerning statistic prompted numerous countries, primarily in Europe, to recognise the urgency of taking action to enhance child healthcare and reduce the infant mortality rate (IMR).
European countries were the pioneers in establishing Infant Protection Day, intending to create awareness about Child Care Services and significantly lower the IMR. On this day, these countries sought to educate their citizens about the importance of providing adequate child care. Over time, the United States followed suit, officially marking November 7 as Infant Protection Day.
What is the Infant Mortality rate or IMR? Infant mortality refers to infant deaths before the age of one. To compute death rates, the infant mortality rate (IMR), which relates to the likelihood of baby deaths per 1000 live births, is utilised.
According to data from the World Health Organisation (WHO), an alarming figure of over 7,000 children lose their lives every day, constituting a staggering 47% of all child deaths under the age of five. Shockingly, approximately one-third of these tragic deaths transpire on the day of birth, while around 75% transpire within the first week of life.
The term 'infant mortality' refers specifically to the deaths of newborns under the age of one. It is the IMR that offers a tangible measure of the likelihood of infant deaths, reflecting a critical need for effective strategies to reduce these fatalities.
Infant Mortality Rate in India: In 2020, India made significant progress, with the infant mortality rate dropping to approximately 28 deaths per 1,000 live births, marking a substantial improvement over previous years. The most common causes of infant mortality in India include premature birth, sepsis, meningitis and pneumonia.
The global trend in infant mortality has also shown a promising decline with the rate decreasing from 63 infant deaths per 1,000 live births in 1990 to 27 per 1,000 live births. Projections indicate a further reduction to eight infant deaths per 1,000 live births by 2100.
Protection of Infants: The objective of Infant Protection Day lies in educating individuals on how to protect and care for infants adequately. Here are some crucial aspects to consider:
Safe sleeping environment: Ensure that infants have a safe and comfortable sleeping space free from hazards.
Feeding: Follow appropriate feeding guidelines and schedules.
Proper holding: Develop and nurture the essential bonding through proper holding and cuddling.
Hygiene: Maintain strict hygiene to safeguard the baby's health.
Vaccinations: Keep up with recommended vaccination schedules to protect against preventable diseases.
Temperature control: Ensure that the baby's surroundings are at an appropriate temperature.
Regular check-ups: Schedule routine check-ups to monitor the baby's growth and development.
Bonding and interaction: Actively engage with the baby through play, talking, and interaction.
Baby proofing: Make the environment safe for exploration as the baby begins to crawl and explore.
Responding to cries: Pay attention to the baby's cues and respond promptly to their needs.
Avoid smoking and secondhand smoke: Create a smoke-free environment to safeguard the baby's respiratory health.
Car safety: Properly secure infants in car seats to ensure their safety during travel.
Supportive community: Foster a supportive and understanding community that values the well-being of infants.