Unsung four-legged heroes of Kolkata police retire with 'no benefits'

Published: Nov 20, 2023, 7:04 PM
Follow Us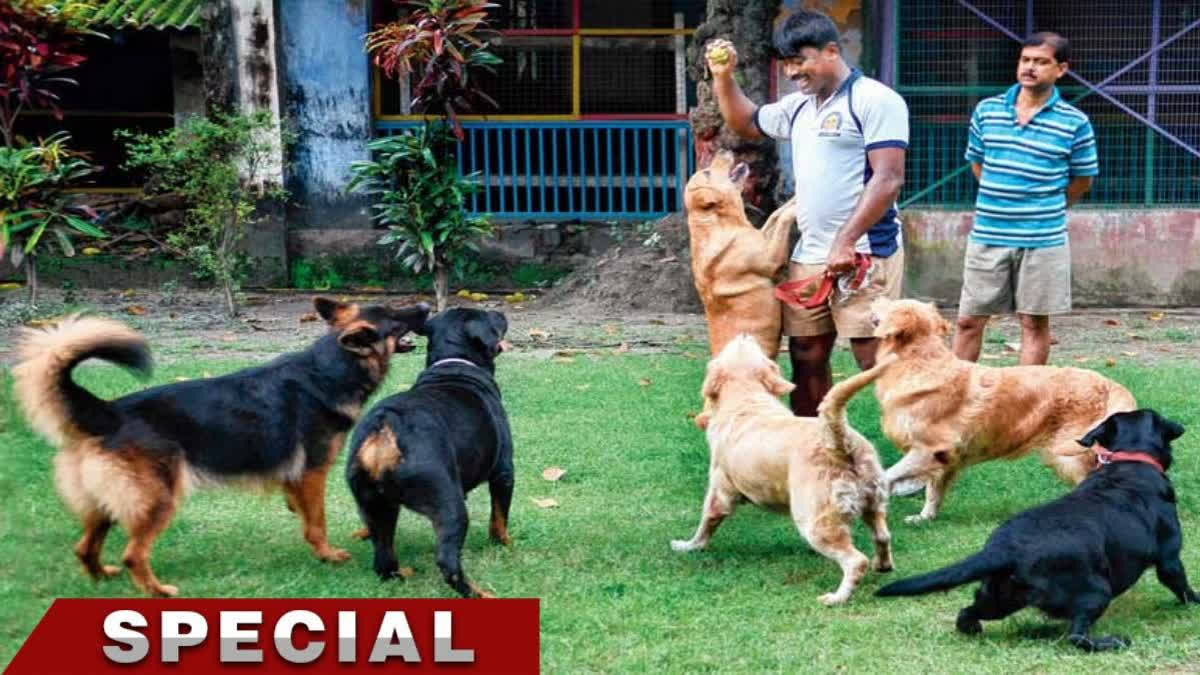 Unsung four-legged heroes of Kolkata police retire with 'no benefits'

Published: Nov 20, 2023, 7:04 PM
Follow Us
Kolkata: In the realm of retirement, where many find solace, even the four-legged companions of Kolkata Police are not exempt. Much like their human counterparts in government service, Kolkata Police's courageous dog squad members also retire after years of dedicated service. According to reports from Lalbazar, this year alone, nearly 11 police dogs from the Kolkata Police force are set to retire. The question arises: how do these retired canine members spend their post-service lives?
After retirement, former state government employees or police officers typically continue to enjoy the benefits and facilities they had during their service. However, do Kolkata Police's retired dogs receive any similar government perks? While these canine retirees served as government employees or police officers during their working lives, their post-service lives differ from those of their human counterparts. Unlike in other states where retired police dogs are often pampered with facilities akin to those of retired doctors, Kolkata Police seems to be an exception.
A long-time official from Kolkata Police's Dog Squad, who wishes to remain anonymous, shared, "After retirement, the government benefits and facilities that we receive, Kolkata Police's dogs are completely deprived of those privileges. In practice, after retirement, they are treated just like any ordinary dog."
This lack of post-retirement care places the handlers of these retired police dogs at the forefront of their well-being. If a handler refuses to take responsibility for the retired dog or is unwilling, the dog can be adopted by higher-ranking officials in the state or Kolkata Police. Recently, there has been a proposal from Kolkata Police to create accommodation for retired dogs, ensuring their well-being.
However, reports suggest that this proposal from Kolkata Police is yet to materialise. Despite the initiative to provide a shelter for retired police dogs, the idea remains on paper. Lalbazar sources reveal that if individuals wish to adopt these dogs, the police authorities in Kolkata would facilitate the process. Nevertheless, the crucial aspects of whether the adopter can adequately care for the dogs and whether they can provide a suitable home and environment for them are carefully examined by police officers, extending their scrutiny to both residential and commercial spaces.
In essence, the retirement life of Kolkata Police's loyal canine companions is a matter that warrants attention. The disparity between the treatment of retired police dogs in Kolkata compared to other states raises questions about the welfare and post-service provisions for these dedicated and loyal service animals. As discussions continue, it remains to be seen whether Kolkata Police will implement measures to ensure the well-deserved comfort and care for their retired canine members.