Reliance announces Rs 20,000 crore investments in Bengal at BGBS
Updated: Nov 21, 2023, 7:10 PM
|
Published: Nov 21, 2023, 6:20 PM
Follow Us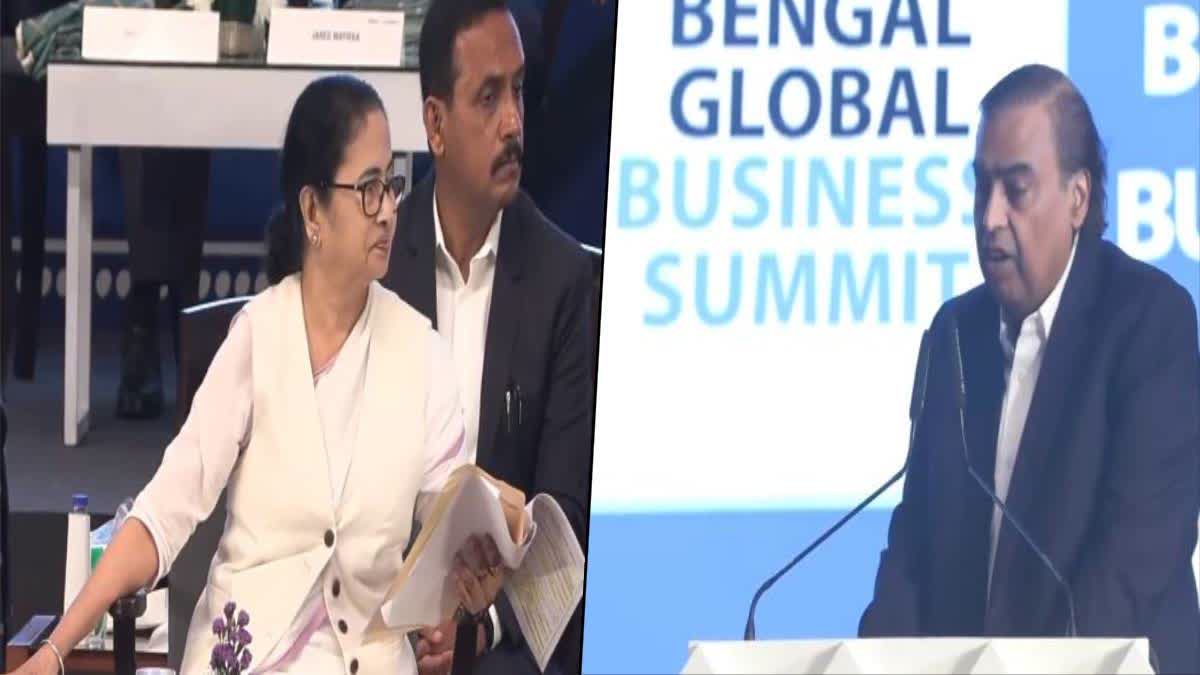 Reliance announces Rs 20,000 crore investments in Bengal at BGBS
Updated: Nov 21, 2023, 7:10 PM
|
Published: Nov 21, 2023, 6:20 PM
Follow Us
Kolkata: In a significant development at the Bengal Global Business Summit (BGBS), Reliance Industries Chairman Mukesh Ambani lauded Chief Minister Mamata Banerjee's leadership and announced further investments of Rs 20,000 crores in Bengal.
Ambani praised Mamata's visionary leadership, stating, "Bengal has created an ideal investment environment under Mamata's farsighted leadership. The state has now transformed into an investment destination, and for us, Bengal is another key investment destination."
Ambani revealed plans for an additional investment of Rs. 20,000 crores in Bengal over the next three years, building upon the existing investment of Rs 45,000 crores by Reliance in the state. The new investments will focus on digitizing the education, healthcare, and agriculture sectors. Ambani emphasised expanding Jio's telecommunication reach in the region and boosting Reliance's role in bioenergy production in Bengal.
Speaking about Mamata's leadership, Ambani drew a parallel with former Prime Minister Atal Bihari Vajpayee, who had referred to Mamata as the 'agnikanya' (firebrand). Ambani stated, "Atal Bihari Vajpayee rightly described you as the 'agnikanya.'"
Apart from these commitments, Mukesh Ambani announced three more initiatives. Firstly, Reliance will take part in the restoration of the Kalighat Temple. Secondly, Reliance Mart will promote Bengal's handicrafts, and thirdly, a training centre for further development in the handloom sector will be established.
Reliance, backed by statistics, aims to increase Jio's user base in the Kolkata zone from 98% to a full 100%. Ambani highlighted Bengal's robust GDP growth, stating, "The state is now vibrant for investments."
Other industrialists, including Narayana Group's Devi Prasad Shetty, committed to establishing a modern hospital in Kolkata within the next two years. Jake Group's Harsh Neotia announced investments in the dairy sector, anticipating employment for around 2,000 people in the project.
Wipro's Rishad Premji expressed the company's interest in creating the largest campus in the country in Rajarhat, highlighting their commitment to long-term investments in Bengal. Additionally, industry leaders such as Sanjiv Goenka, ITC Chairman Sanjiv Puri, and Bengal Ambuja Group's Harsh Neotia echoed positive sentiments about the industrial potential of Bengal.
The World Bengali Business Summit witnessed a wave of optimism as industrialists pledged support for the state's economic development under Chief Minister Mamata Banerjee's leadership.