Not only Kashmir, saffron to be cultivated in Bengal too, thanks to University of North Bengal

Published: Nov 21, 2023, 10:24 PM
Follow Us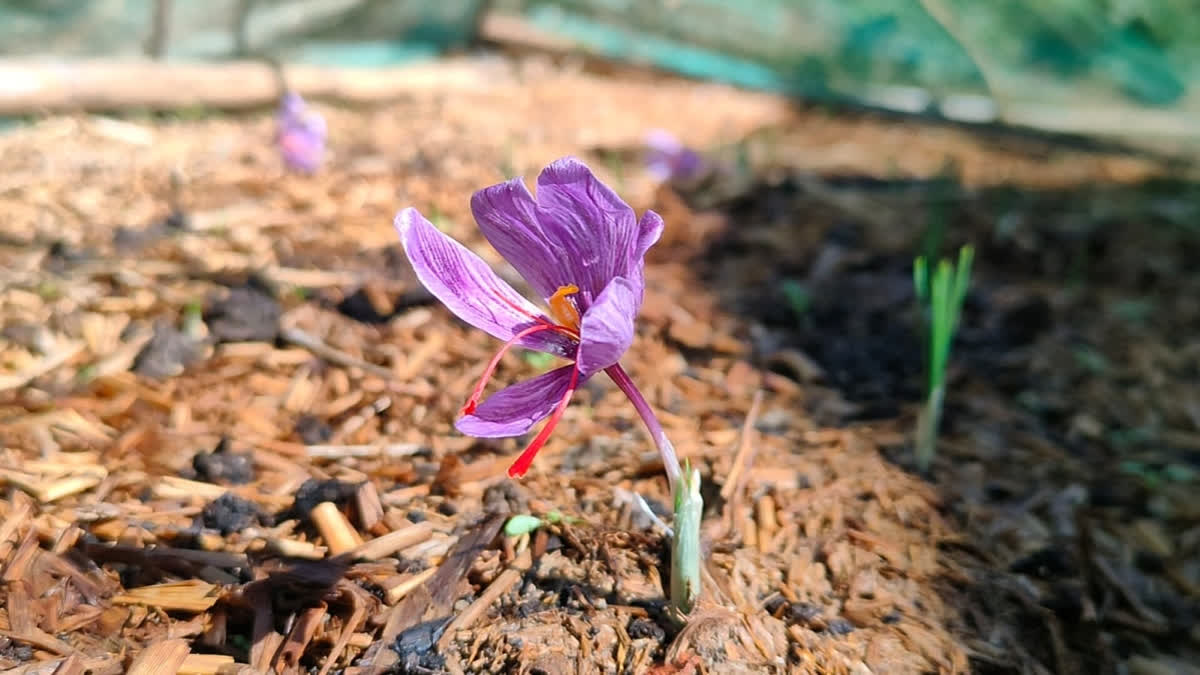 Not only Kashmir, saffron to be cultivated in Bengal too, thanks to University of North Bengal

Published: Nov 21, 2023, 10:24 PM
Follow Us
Siliguri/Kalimpong: Saffron used to be cultivated only in Kashmir. Now, saffron will be cultivated in the soil of North Bengal. The University of North Bengal (NBU) has demonstrated experimental cultivation through research.
Following the success of the experiment, the Kopham Department (Centre of Floriculture and Agribusiness Management) of NBU is showing a new direction for farmers in saffron cultivation. The university authorities are excited about the success of the Kopham department. In addition to the university laboratory, there has been success in farming in the hills as well. That success has been found in the experimental cultivation of saffron in Kalimpong.
Experimental cultivation was started in the hills and laboratories of the Kopham Department of the NBU by importing seeds from southern Kashmir. And in that, Kopham has in a big way achieved the impossible.
Farmers don't need a lot of land. One having a house of 100 square feet can earn lakhs of rupees per month by cultivating saffron. In the future, the NBU authorities of Siliguri are going to show the unemployed youth a new way of income through saffron cultivation in the state.
The Kopham department of the university has started saffron cultivation in this first laboratory in the whole country. There has been success. Similarly in Kalimpong, success was achieved in 15 days by experimental cultivation. As many as 80 seeds were experimentally cultivated in areas like Toagaon, Upper Chacha, and Kalimpong.
Meanwhile, saffron is mainly cultivated in Jammu and Kashmir, India. But by bringing 100 seedlings of saffron from Kashmir for testing, the officials of the Kopham department started experimental cultivation in three ways.
Besides the laboratory method, the authorities started the hydroponic system with one in the Kalimpong land and the other in the poly house on the university premises. The farmers of North Bengal will be trained in whichever of these three methods for success in saffron cultivation. Seedlings for saffron cultivation are generally planted in October. It takes about 15 to 20 days to flower. A total of 80 seedlings were experimentally planted in Kalimpong on 28 October. And within 15 days most of the flowers have come.
Amarendra Pandey, Kopham Biotechnician, NBU, said, "About 1000 saffron seedlings can be planted in a 100 square feet house. Four kgs of saffron can be obtained from these 1000 plants. Currently, the price of 1 kg of saffron in the market is around Rs 3 lakh. There has been good success in the hills too. If tested, this cultivation will be done in the hills and plains of North Bengal from now."
Kalimpong farmer Mahendra Chhetri said, "I feel very good. I wanted to cultivate earlier. But I didn't get the seeds. Now the NBU has given me the seeds to cultivate experimentally. They have given me all the support. I am happy that the cultivation has been successful. In the future, this saffron cultivation will help the hill farmers. will have a massive response."