Uttarkashi tunnel collapse: We lack trained rescuers, requisite equipment; says disaster management expert Brig. Khanna

Published: Nov 21, 2023, 3:35 PM
Follow Us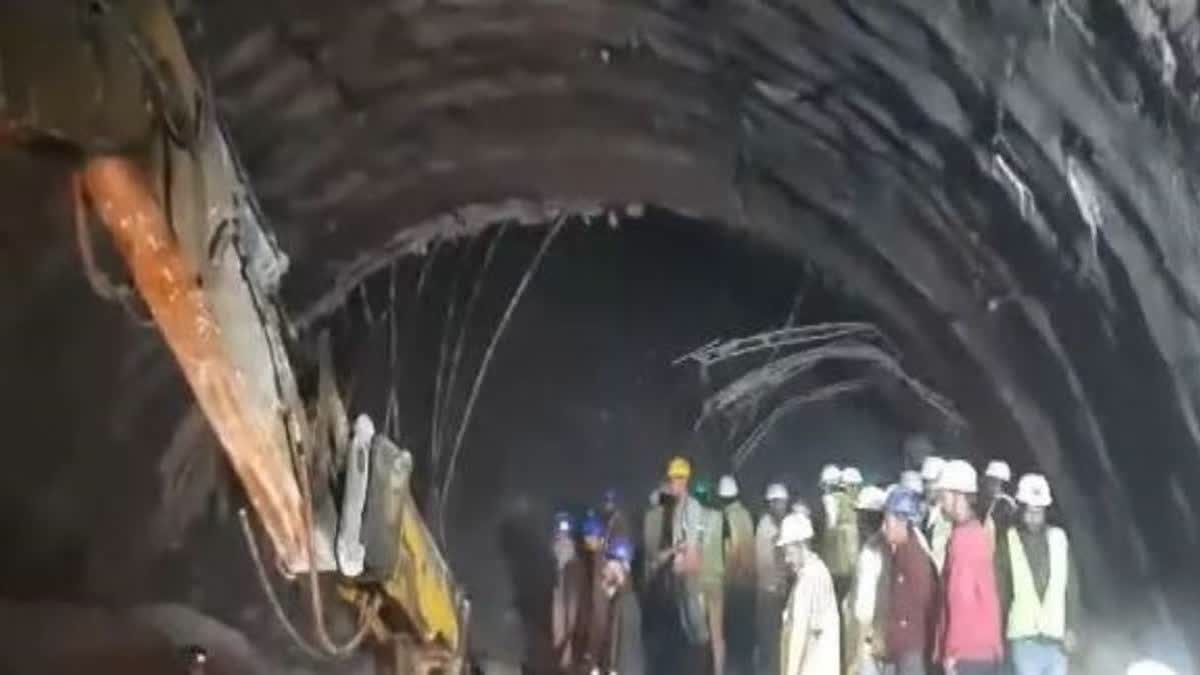 Uttarkashi tunnel collapse: We lack trained rescuers, requisite equipment; says disaster management expert Brig. Khanna

Published: Nov 21, 2023, 3:35 PM
Follow Us
Dehradun: In a major breakthrough on the ninth day of rescue operations at Uttarkashi tunnel collapse, rescue team officials have finally succeeded in developing communication with the trapped workers through the six-inch pipeline on Tuesday. Although the 41 labourers trapped inside the tunnel have been stated to be stable, a renowned disaster management expert said that better equipment and training are required in such operations.
Talking to ETV Bharat, retired Brigadier Dr BK Khanna, a war veteran and an internationally renowned Disaster Management and Climate Change Adaptation expert who led the NDMA between 2005-2015 said that Uttarakhand has witnessed many such disasters in the last few years that claimed several lives. The government must give contract to only those agencies that possess the requisite equipment and know how to undertake a rescue operation in case of any disaster, he added.
"Cost of the project can rise but no compromise should be made on human lives. The NDRF, SDRF and selected Fire Brigade and Irrigation department staff must be trained in tunnel rescue. I think IIT Dhanbad offers courses on rescue from closed environments, including tunnels. Our rescuers must be trained in tunnel rescue and should be provided with the requisite equipment. Presently, they do not have the necessary equipment nor the desired training. Development in hilly areas should not be equated or compared with those of the plains. Hilly areas have their own problems, especially in young Himalayan mountains. I hope we learn from our past mistakes", he said when asked to comment on the environmental concerns poses by the developmental initiatives in the Himalayas.
On why it is taking so long to recuse the trapped workers, Khanna replied, "The portion in the tunnel that collapsed is muddy. Rescuers had tried to push pipes so that the trapped workers could come out, but the pipes could not reach them. Now they pushed narrower pipes, through which life saving food items and drinking water are being supplied. Rescue of stranded workers is still not feasible. It can be said that trial and error methods are being tried to somehow rescue the trapped workers. The intention is good but a definite feasible plan is still to be worked out."
Elaborating on measures that should have been adopted before constructing a tunnel in hilly areas, he said that, "Before you start constructing a tunnel, risk and vulnerability assessment of the site have to be carried out to assess the geology and soil contents there. In addition, an assessment has to be made on all possible accidents and disasters that may occur following which, steps should be identified to mitigate these and mock exercises should be held."
"Himalayas are young mountains and the Indian Tectonic plate under it is constantly pushing the EuroAsian Plate. Himalayan mountains are fragile due to biophysical conditions which render the environment to be easily damaged by both natural and human causes and which adversely affect human or other living populations. While undertaking construction in Himalayas, the environmental aspects have to be considered as well," he added.
Meanwhile, Uttarakhand Chief Minister Pushkar Singh Dhami informed that Prime Minister Narendra Modi is constantly taking stock of the rescue operations. It is pertinent to note here that the first visuals of workers trapped inside the collapsed Silkyara tunnel in Uttarakhand's Uttarkashi surfaced this morning.