Uttarkashi tunnel collapse: How to ensure trapped workers don't lose hope
Updated: Nov 19, 2023, 7:50 PM
|
Published: Nov 19, 2023, 6:52 PM
Follow Us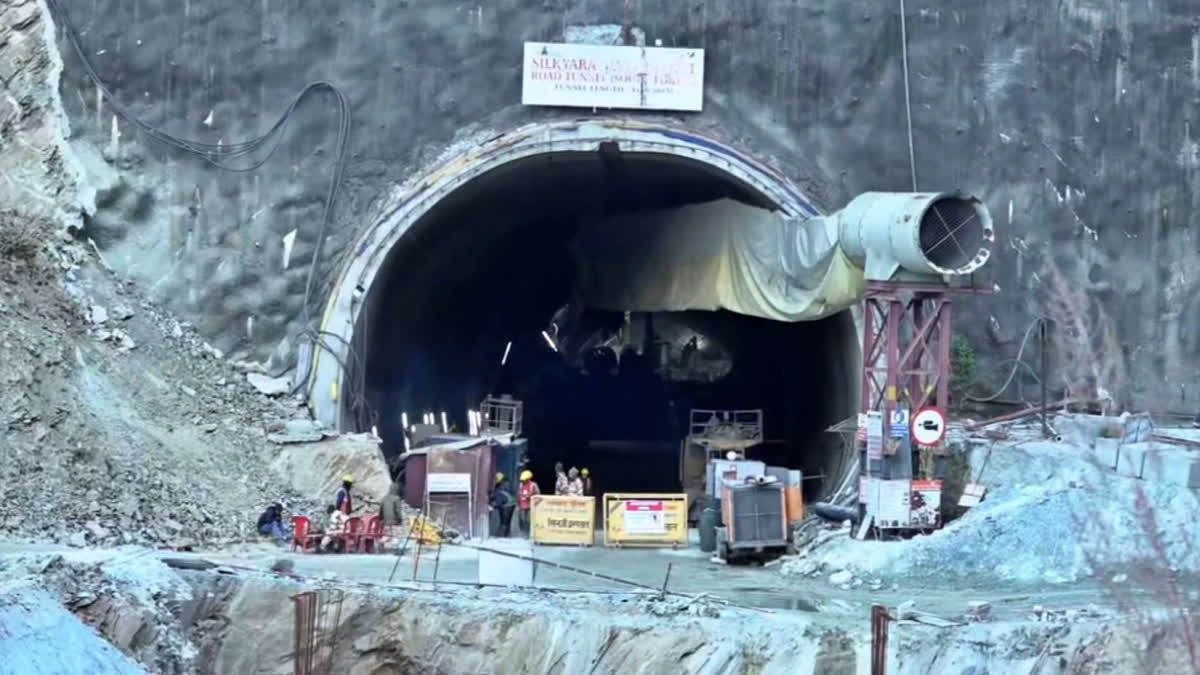 Uttarkashi tunnel collapse: How to ensure trapped workers don't lose hope
Updated: Nov 19, 2023, 7:50 PM
|
Published: Nov 19, 2023, 6:52 PM
Follow Us
New Delhi: More than a week has gone by since a portion of an under-construction tunnel at Uttarkashi in Uttarakhand collapsed entrapping 41 workers underground all this time despite continuous rescue efforts.
A portion of the under-construction Silkyara-Barkot tunnel collapsed early morning on November 12. The planned 4.5 km-long tunnel is part of the Char Dham all-weather road project and is located on the Yamunotri National Highway. The tunnel will reduce the distance to Yamunotri Dham by about 21 km and the travel time by one-and-a-half hours.
Though communication could be maintained initially with the trapped workers through walkie-talkies, that has stopped now as the batteries of the ones underground have drained out. Now the trapped workers and the rescue teams over the ground are verbally communicating through a pipe that was drilled in to supply water, medicines and small food items like dry fruit and puffed rice.
In such a situation, the question arises as to what is the state of mind the trapped workers are in. It has been more than a week now. Though they have been repeatedly assured that the rescue operations are on in full swing, their worries remain.
According to a media report, word is being sent to the trapped workers through the pipe. Inquiries are being made regularly about the condition of their health. However, the only question they have been asking is: "When will you bring us out?" So, how can these trapped workers' hopes be kept alive?
"In situations like these, when they get to know that this idea has failed and that idea has failed, there is a natural response of fear," Dr. Munia Bhattacharya, Senior Consultant Psychologist at Marengo Asia Hospital in Gurugram, told ETV Bharat. "The fear manifests in various ways, including anxiety, feeling of regret about unfulfilled goals, unresolved conflicts and missed opportunities in their lives. This can contribute to sadness and disappointment."
Dr. Bhattacharya said that sometimes there is a sense of acceptance that nothing will happen and rescue operations will not succeed. In that case, the body hormones start functioning differently and the individuals stop moving their arms and feet. "The brain sends signals to the body that death is imminent," she said. In the case of Uttarkashi, Dr. Bhattacharya said that if communication could be maintained with the trapped workers, then their hopes can be kept alive with motivational words.
"If a psychologist is posted there, the workers could be motivated to keep moving their arms and feet," she said. "You should keep reassuring them that rescue teams and state-of-the-art machinery from all over have been brought to the site. Work is going on in full swing. They should be told: 'We are able to provide to you air, water and food that is necessary for sustaining life. Have patience. Even if it takes time, we will rescue you'."
Dr. Bhattacharya said that such motivational words make the brain send new signals to the body and the individuals will start moving their arms and feet. "They will then get motivated to rescue themselves. It should be ensured that they do not lose confidence," she said. According to sources, it is not that the workers are trapped in a cramped space. They have a two-km-long passageway of the tunnel behind them that has already been constructed. They can move around in that space freely.
Meanwhile, a new pipe with a diameter of 250 mm is also being inserted to reach the workers through which more solid food can be supplied. Possibilities are also being explored to send a camera-mounted robot through the pipe so that the situation inside can be seen from the outside.
The rescue operation involves inserting a pipe of 80 cm diameter through which the workers can be pulled out. However, the auger machine being used to drill a hole for inserting the pipe from the Silkyara portal or entry point of the tunnel hit a block.
Nobody is sure what the block is. It might be a large rock boulder or machinery being used inside. A team from Delhi has reached the site and is using ground penetration radar (GPR), seismic refraction, and electrical resistivity tomography (ERT) to find out what is inside. Once it is found, the pipe will have to be realigned. Meanwhile, efforts are now also on to insert a pipe vertically to reach the workers. For that also, geophysical scanning of the top surface has been done. According to the sources, the rescue operation will take five or six days more.