Four of family murdered in Tiruppur in financial tiff with inebriated men
Updated: Sep 4, 2023, 9:34 AM
|
Published: Sep 4, 2023, 8:17 AM
Follow Us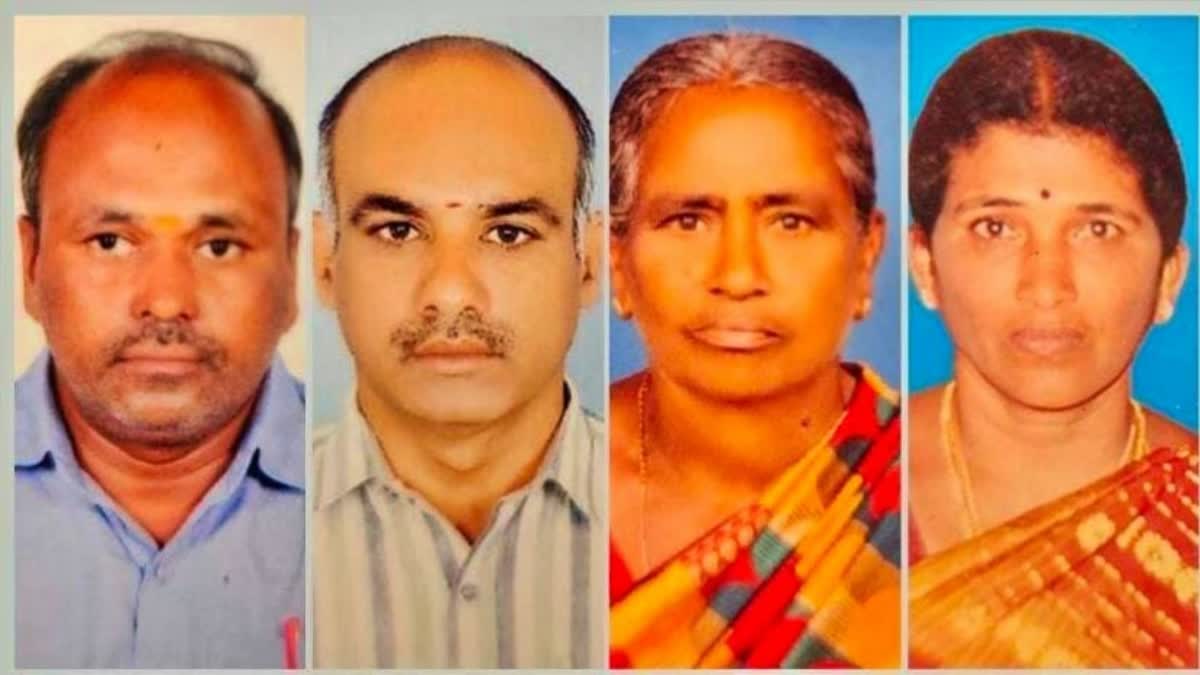 Four of family murdered in Tiruppur in financial tiff with inebriated men
Updated: Sep 4, 2023, 9:34 AM
|
Published: Sep 4, 2023, 8:17 AM
Follow Us
Tiruppur: Four persons of a family were killed following an altercation with a drunk man with whom the family had loaned money on interest, in Kallakinaru village near Palladam, on Sunday night.
Police identified the deceased as Senthil Kumar, his brother Mohanraj, their maternal aunt Rathinambal and their mother Pushpavathi.
Police said the assailant identified as Venkatesan alias Kutty, a native of Thoothukudi, who had earlier worked as a driver to Senthil Kumar, was throwing a liquor party to his two friends near Senthil Kumar's house.
Venktatesan picked up a quarrel with Senthil Kumar and also recalled the settling of a financial transaction between them.
This escalated into a wordy duel, culminating in the murder of Senthil Kumar.
As Senthil Kumar cried out for help, the family members attempted to save him from the assailants who hacked the other three too before fleeing from the spot.
West Zone IG K Bhavaneeswari visited the spot and inquired with the first responders and the police team attended to the crime. She also had a word with the other relatives of the deceased about the truck the family had with the assailant.
According to a senior police official privy to the investigation, the attack was meted out by a three member gang. Venkatesan alias Kutty, a former driver of Senthil Kumar, along with two of his accomplices was having a liquor party.
As the booze flowed, the decibels rose leading to an altercation with Senthilkumar. Primafacie it appears like a planned attack owing to personal enmity as Venkat was sent away by Senthil Kumar after their cash transactions turned sour.
"We are investigating the crime. We will be able to establish the actual motive behind the murder," the official said.
Tiruppur District Police moved Senthil Kumar's body to a Government Hospital in Palladam for a post-mortem examination.
Relatives and friends of the deceased staged a demonstration and prevented the police from removing the other three bodies from the crime scene and insisted the assailant be arrested immediately.
Tiruppur District Police held talks with the protesters and assured them adequate action will be taken against the assailant.
Based on the police assurance, the locals withdrew their protest and all three bodies were moved to the Government Hospital.
Police said further investigations are on to establish the motive behind the killing.
Meanwhile, BJP state unit president K Annamalai has condoled the incident as deceased Mohanraj was a local unit office-bearer of the saffron party.
குடியிருப்புப் பகுதியில் மது அருந்தியதைத் தட்டிக்கேட்ட, பல்லடம் சட்டமன்றம் பொங்கலூர் மேற்கு ஒன்றியம் மாதப்பூர் பஞ்சாயத்து கிளை @BJP4Tamilnadu தலைவர் சகோதரர் திரு.மோகன்ராஜ் அவர்கள் சமூகவிரோதிகளால் குடும்பத்துடன் வெட்டிக் கொல்லப்பட்ட செய்தியறிந்து மிகுந்த அதிர்ச்சி அடைந்தேன். திரு.…

— K.Annamalai (@annamalai_k) September 3, 2023
Annamalai said it was the objection by the family for liquor consumption near their house got them killed. He sought stringent action against the assailant.