Rajasthan: Six policemen going to PM Modi's Jhunjhunu meeting died in road accident
Updated: Nov 19, 2023, 12:43 PM
|
Published: Nov 19, 2023, 10:07 AM
Follow Us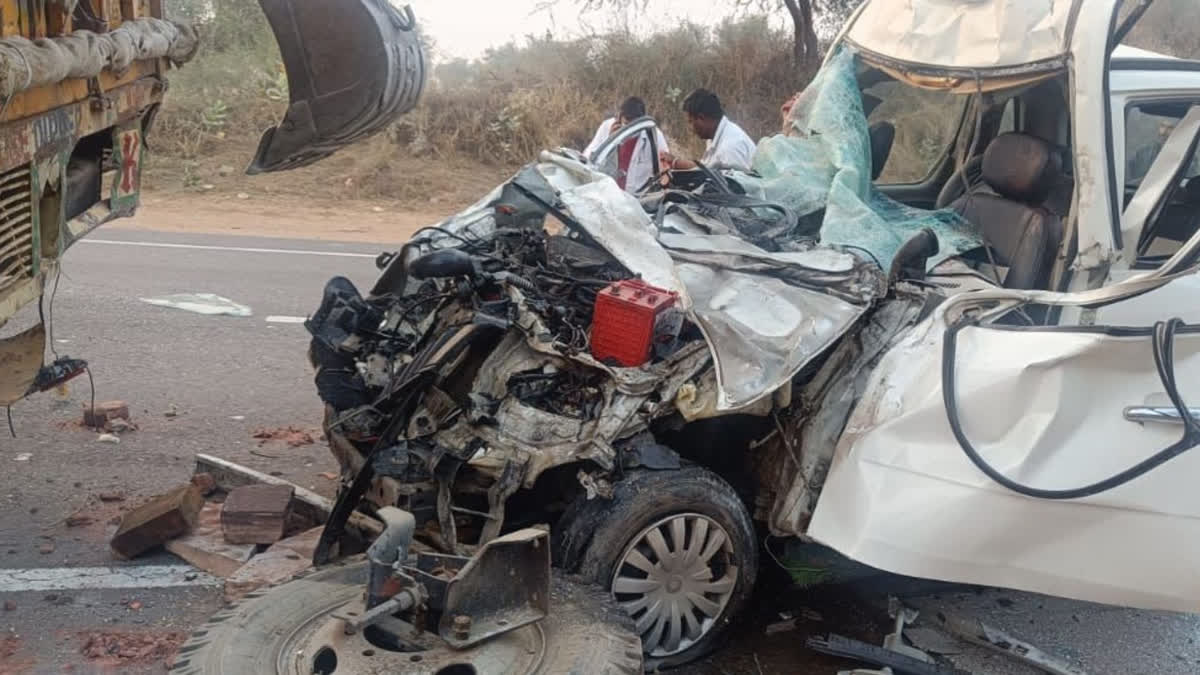 Rajasthan: Six policemen going to PM Modi's Jhunjhunu meeting died in road accident
Updated: Nov 19, 2023, 12:43 PM
|
Published: Nov 19, 2023, 10:07 AM
Follow Us
Nagaur (Rajasthan) : Six policemen died in a ghastly road accident in Sujangarh Sadar police station area of ​​Churu area in Rajasthan this morning. Two of them died on the spot under the high impact accident while four others succumbed to serious injuries later. One more cop, who was injured, was being treated at J L N Hospital in Nagaur.
According to information reaching here, about seven jawans were going from Khinvsar to Jhunjhunu for providing security at Prime Minister Modi's election meeting to be held in Jhunjhunu. They are part of the huge security arranged for the PM's meeting and they had left Khinvsar early in the morning. The vehicle carrying these policemen hit a trolley.
The Police said that the car carrying the policemen collided with the truck which was coming in the opposite direction. Because of the head-on collision, six policemen sustained fatal injuries.
आज सुबह-सुबह चुरू के सुजानगढ़ सदर क्षेत्र से वाहन दुर्घटना में पुलिसकर्मियों के हताहत होने का दुःखद समाचार प्रप्त हुआ।

इस हादसे में दिवंगत सभी पुलिसकर्मियों के परिजनों के साथ हमारी गहन संवेदना है।

घायलों के शीघ्र स्वास्थ्य लाभ की कामना करता हूँ ।

— Ashok Gehlot (@ashokgehlot51) November 19, 2023
Rajasthan Chief Minister Ashok Gehlot expressed grief over the tragic accident in which six policemen were killed. He conveyed his deepest condolences to the bereaved family members. CM Gehlot said in a post in Hindi on X, roughly translated to: "Early this morning, sad news was received about the casualties of policemen in a vehicle accident from Sujangarh Sadar area of ​​Churu. Our deepest condolences to the families of all the policemen who died in this accident. I pray for the speedy recovery of the injured."
Constable Ramkumar of Nagaur JLN Hospital outpost said that seven policemen were going on duty to provide security at the PM Narendra Modi's meeting in Jhunjhunu when the vehicle collided with a trolley on the highway. The accident took place in Sujangarh Sadar police station area of ​​Churu.
Five of the six deceased policemen were identified as ASI Ramchandra and constables Kumbharam, Thanaram, Laxman Singh and Suresh of Khinvsar police station of Nagaur district, Rajasthan.