Gang of ATM Thieves apprehended by Rajasthan police after seven-year crime spree

Published: Sep 7, 2023, 10:05 AM
Follow Us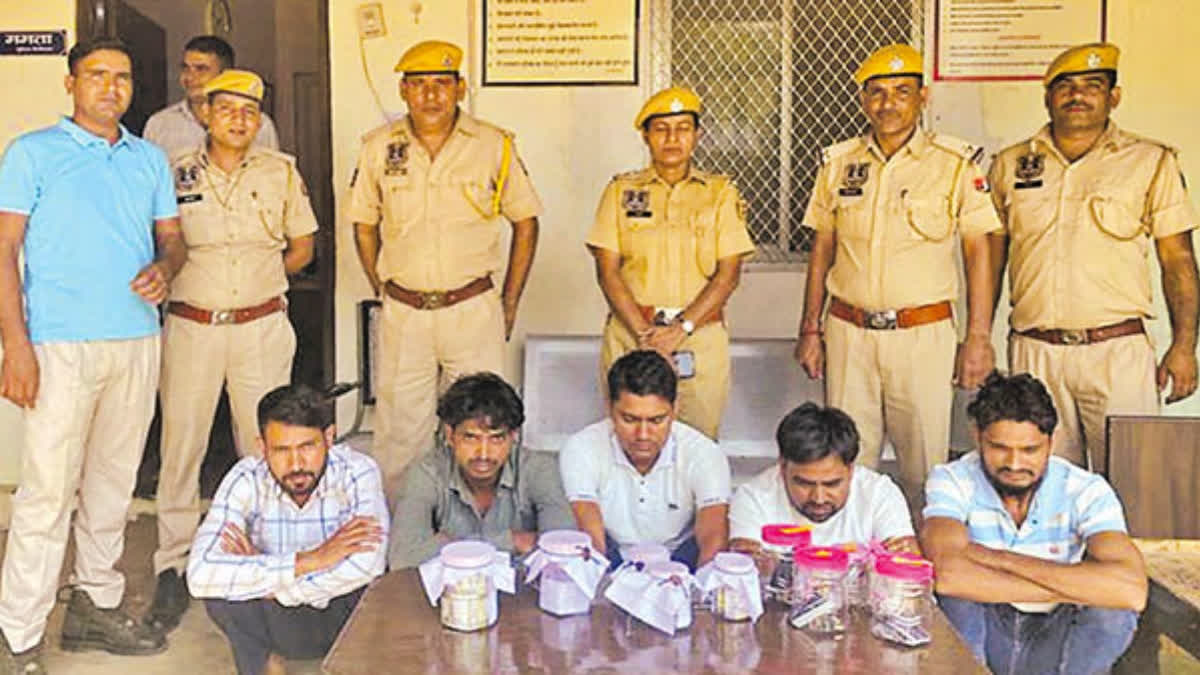 Gang of ATM Thieves apprehended by Rajasthan police after seven-year crime spree

Published: Sep 7, 2023, 10:05 AM
Follow Us
Hyderabad: In a significant breakthrough, the Rajasthan police managed to apprehend a notorious gang of ATM thieves who had been terrorizing the Telugu states of Telangana and Andhra Pradesh. The operation, which unfolded two days ago at the Jaipur airport, led to the capture of five criminals identified as Zubair (32), Lukman Dean (37), Saddam (35), Mushtaq (28), and Idris (29), all hailing from the Deeg area of Rajasthan's Bharatpur district. These individuals are believed to be members of a notorious gang known as the 'Mewat Gang,' consisting of approximately 100 fraudsters.
Investigations conducted by the police have revealed that this gang had been operating a highly organized and lucrative criminal enterprise for seven long years, looting crores of rupees from ATMs across various states. Their most recent escapade involved the illegal withdrawal of funds from the ATM of Bhadradri Urban Co-operative Bank in Telangana.
The modus operandi employed by these criminals was nothing short of audacious. They would initiate their criminal activities by pilfering ATM cards from unsuspecting victims in the Bharatpur and Alwar regions of Rajasthan. Once equipped with these stolen cards, they would board flights to their targeted states, meticulously planning their heists to avoid detection.
To blend in and avert suspicion, the gang members would don suits and boots, assuming an appearance that did not align with the stereotypical image of criminals. Upon reaching their chosen rural areas, they would set their sights on ATMs, usually operating as a pair. One gang member would position themselves inside the ATM booth, while the other would monitor the nearby power supply infrastructure. At a strategically timed moment, just as the money was about to be dispensed from the ATM, they would cut off the power supply to the machine.
This cunning tactic resulted in cash being released from the ATM, but the corresponding withdrawal would not be recorded in the account of the legitimate cardholder. Subsequently, the gang members and the unwitting ATM cardholders would equally split the stolen money, further compounding the complexity of their criminal activities.
The breakthrough in this case came after the Jaipur police received a crucial tip-off indicating that members of the notorious gang, notorious for such fraudulent activities, were en route to Rajasthan via flight. Acting swiftly on this information, law enforcement authorities intercepted the gang members at Jaipur airport, effectively bringing their reign of terror to an end. During the operation, the police seized a cache of evidence, including 75 ATM cards and Rs. 2.31 lakh in cash.
This successful operation serves as a testament to the diligence and commitment of the Rajasthan police in combating organized crime and ensuring the safety and security of citizens. The apprehension of these criminals not only puts an end to their nefarious activities but also sends a clear message to potential wrongdoers that law enforcement agencies are unwavering in their resolve to uphold the rule of law and protect the interests of the public.