Assam Chief Minister Himanta Biswa Sarma for UCC implementation; mocks Rahul Gandhi for meeting porters

Published: Sep 21, 2023, 7:54 PM
Follow Us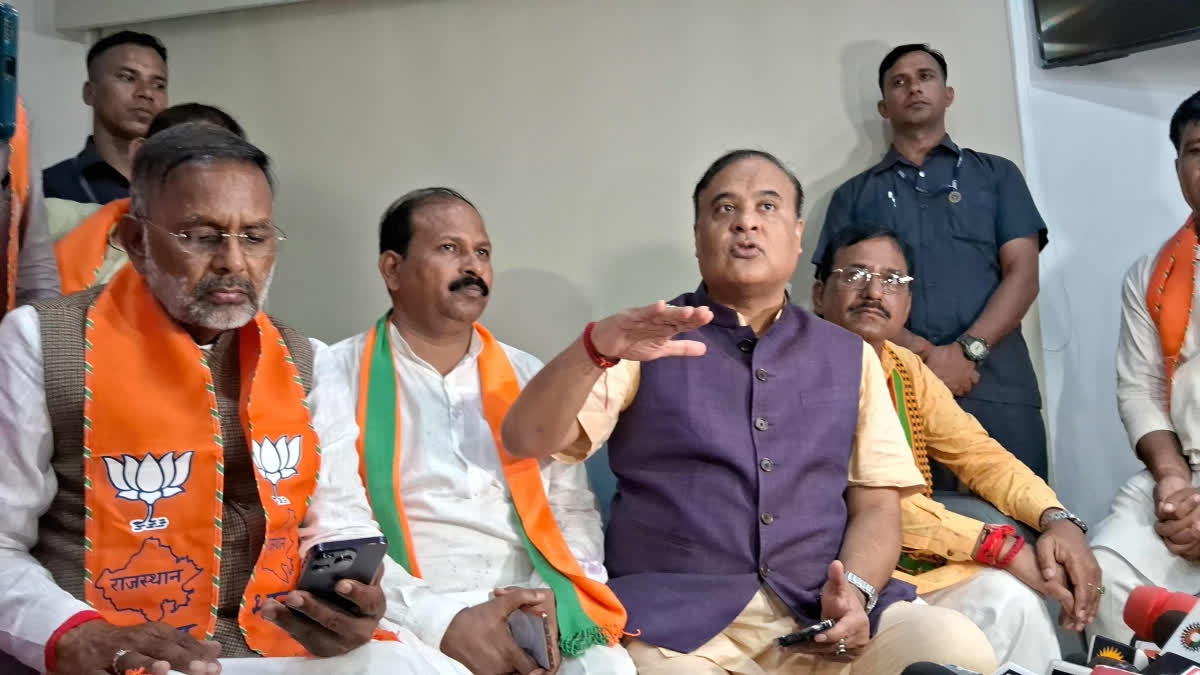 Assam Chief Minister Himanta Biswa Sarma for UCC implementation; mocks Rahul Gandhi for meeting porters

Published: Sep 21, 2023, 7:54 PM
Follow Us
Kota (Rajasthan): Assam Chief Minister Himanta Biswa Sarma on Thursday batted for the implementation of the Uniform Civil Code (UCC) in the country. Sarma, a senior leader of the BJP, who was here, also said that in December the 4th marriage system will be stopped in Assam.
The Assam Chief Minister also claimed that there was a hand of 'Rohingyas' in the violence that erupted in Haryana, which claimed the lives of six persons.
He claimed that the Bangladeshi Rohingyas were a threat to Assam and West Bengal earlier, but now they have become a threat to the heartland and northern Indian states.
"Recently, there is a talk of Rohingyas being involved in the riots in Haryana. We have also handed over 200 cases to the National Investigation Agency (NIA). Also, around 500 to 600 people have come to the notice of Assam Police this year, who were migrating towards the main line. We are also keeping the Centre in the loop. I recently travelled to Chhattisgarh and the locals there also said a similar thing. There is an 1800-kilometre India-Bangladesh border, so there is danger, we have fenced it, but these people are entering India due to the lack of political will," added Sarma, who was recently engaged in a war on X with Congress MP Gaurav Gogoi.
Himanta Biswa Sarma also took a jibe at former Congress chief Rahul Gandhi, who met porters in the national capital. "He (Rahul Gandhi) understands the pain of porters and truck drivers. While his (Congress) government was there for 60 years, he did not understand the pain of these people. They were carrying handbags on their heads," said Sarma.
He further said that Muslims in Assam were cooperating to stop the four-marriage system and there was demand from the Muslim community of the state. "I had put the draft Bill about it in the public domain. We received 149 replies, of which only three were against it," the Chief Minister claimed.
'Kota residents take care of our children': While praising Kota residents, Himanta Biswa Sarma said that thousands of children from Assam come to study here and the locals support them.