Punjab CM Bhagwant Mann extends all possible help to family of soldier killed in Kokernag encounter

Published: Sep 19, 2023, 5:37 PM
Follow Us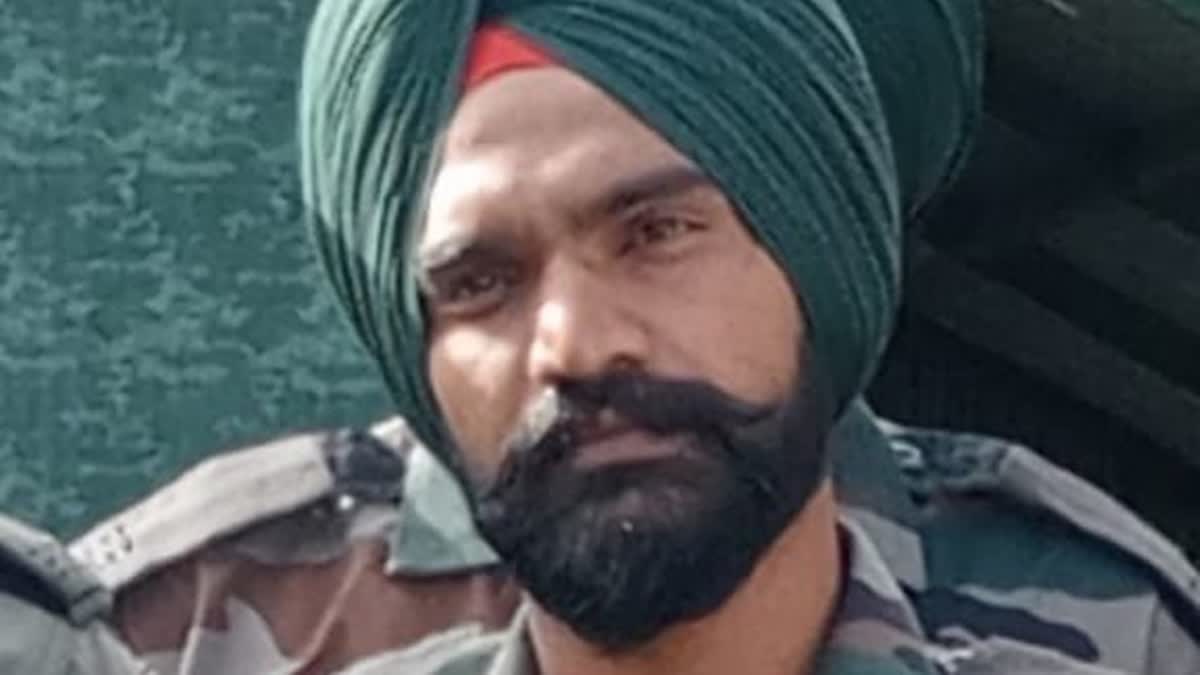 Punjab CM Bhagwant Mann extends all possible help to family of soldier killed in Kokernag encounter

Published: Sep 19, 2023, 5:37 PM
Follow Us
Patiala: A pall of gloom descended on village Samana in Punjab's Patiala as soon as the news spread about the death of army soldier Sepoy Pradeep Singh in the prolonged encounter in Kokernag area of south Kashmir. Singh was the fourth security personnel to be killed in the encounter in which two militants including Lashkar e Toiba commander Uzair Khan were also killed as per police.
A wave of mourning spread in Singh's village Samana when police confirmed the killing of Singh in the encounter. Punjab chief minister Bhagwant Mann expressed sympathy with the bereaved family. Mann said the Punjab government stands with the family of the slain soldier adding that all possible help will be extended to the family.
"The sad news of the martyrdom of the missing army jawan in the Anantnag terrorist attack was received... Shaheed Pradeep Singh, a resident of Samana constituency, was missing for the last few days... I sincerely salute the courage and spirit of the martyred jawan for the sake of the country... Also with the family. Sympathy…Punjab Govt is with the family in this difficult time…All possible help will be extended to the family," Mann said.
ਅਨੰਤਨਾਗ ਅੱਤਵਾਦੀ ਹਮਲੇ 'ਚ ਲਾਪਤਾ ਫੌਜੀ ਜਵਾਨ ਦੇ ਸ਼ਹੀਦ ਹੋਣ ਦੀ ਦੁਖਦ ਸੂਚਨਾ ਮਿਲੀ…ਸਮਾਣਾ ਹਲਕੇ ਦਾ ਰਹਿਣ ਵਾਲਾ ਸ਼ਹੀਦ ਪ੍ਰਦੀਪ ਸਿੰਘ ਪਿਛਲੇ ਕਾਫੀ ਦਿਨਾਂ ਤੋਂ ਲਾਪਤਾ ਸੀ…ਸ਼ਹੀਦ ਜਵਾਨ ਦੇ ਦੇਸ਼ ਖ਼ਾਤਰ ਹੌਂਸਲੇ ਤੇ ਜਜ਼ਬੇ ਨੂੰ ਦਿਲੋਂ ਸਲਾਮ ਕਰਦਾ ਹਾਂ…ਨਾਲ ਹੀ ਪਰਿਵਾਰ ਨਾਲ ਦਿਲੋਂ ਹਮਦਰਦੀ…ਔਖੇ ਸਮੇਂ ਪੰਜਾਬ ਸਰਕਾਰ ਪਰਿਵਾਰ ਦੇ ਨਾਲ… pic.twitter.com/RsSYlyoYyD

— Bhagwant Mann (@BhagwantMann) September 19, 2023
Pertinently, ADGP Kashmir Vijay Kumar on Tuesday said that the encounter has ended with the killing of LeT commander Uzair Khan while search operation is going on in the area. Media reports said that in a joint security operation against the militants in Anantnag area, forces used drones to drop grenades on a suspected militant hideout.
Grenade launchers were also used by the troops to target the group of militants hiding in the area.