BSF intercepts eight Pakistani drones in a week on Punjab frontier, heroin worth Rs 3.5 crore recovered in a day
Updated: Nov 21, 2023, 5:32 PM
|
Published: Nov 21, 2023, 4:47 PM
Follow Us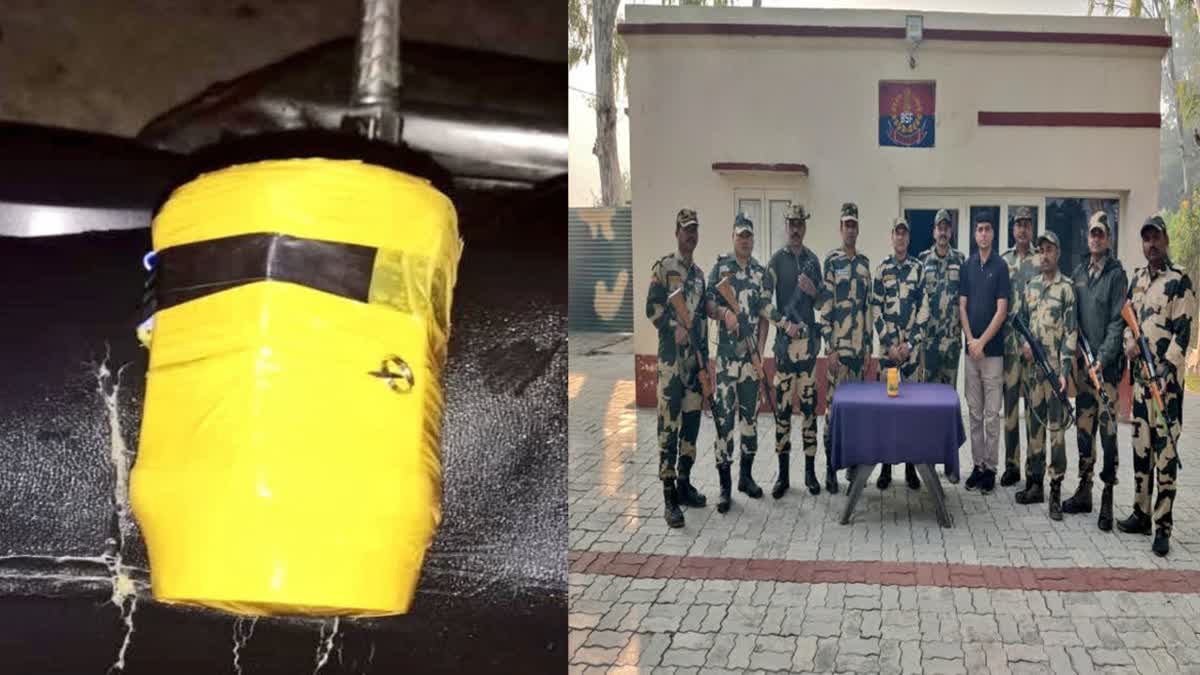 BSF intercepts eight Pakistani drones in a week on Punjab frontier, heroin worth Rs 3.5 crore recovered in a day
Updated: Nov 21, 2023, 5:32 PM
|
Published: Nov 21, 2023, 4:47 PM
Follow Us
Amritsar: In a major success against cross-border drug smuggling, the Punjab Frontier of the Border Security Force along with Punjab Police have recovered 565 grams of heroin from the border village Mode of Amritsar on Tuesday with the security forces seizing nearly 5 kg drone dropped heroin worth crores of rupees smuggled from across the border, officials said.
In a post on X, a spokesperson for the Punjan Frontier of the BSF said, "In a search operation, based on specific input about drone intrusion, BSF Punjab troops seized 565 gms of heroin from the outskirts of the village Mode, District Amritsar. The troops swiftly responded to the drone intrusion, which dropped the contraband before returning back to Pakistan.
Alert BSF troops successfully thwarted yet another attempt by Pakistani smugglers to smuggle drugs into Indian territory". Sources said that the value of the seized heroin was worth around Rs 3.5 crore in the international market. A search operation has been started in the area to nab the fleeing smugglers. The recovery of the heroin comes a day when the security forces claimed to have recovered a Chinese made Pakistani drone at Village Mehdipur in District Tarn Taran.
"On specific intelligence input, BSF Punjab and Punjab Police aunched a joint search operation and recovered a Pakistani drone (QUADCOPTER - DJI matrice 300 RTK - MADE IN CHINA) used for cross-border smuggling, from Village - Mehdipur, District - Tarn Taran, Punjab," the BSF said. On Monday, the BSF said that over the last seven days, the alert troops of BSF Punjab intercepted and recovered eight Pakistani drones engaged in smuggling narcotics into India.
Along with it, the BSF successfully seized nearly 5 kg heroin and apprehended two smugglers, it added. "Notably, all the intercepted drones are made in China and were used to carry out cross-border smuggling," said a spokesperson. On Nov 19, a BSF spokesperson said that On receiving specific input, alert BSF troops launched a search operation and recovered 2 kg heroin wrapped with yellow adhesive tape that was dropped by Pakistani drone from Village Chak Bhange Wala, District Ferozepur, Punjab.