Kerala research scholar makes 300 'parathas' a day in university canteen to make ends meet
Updated: Nov 18, 2023, 5:52 PM
|
Published: Nov 18, 2023, 4:22 PM
Follow Us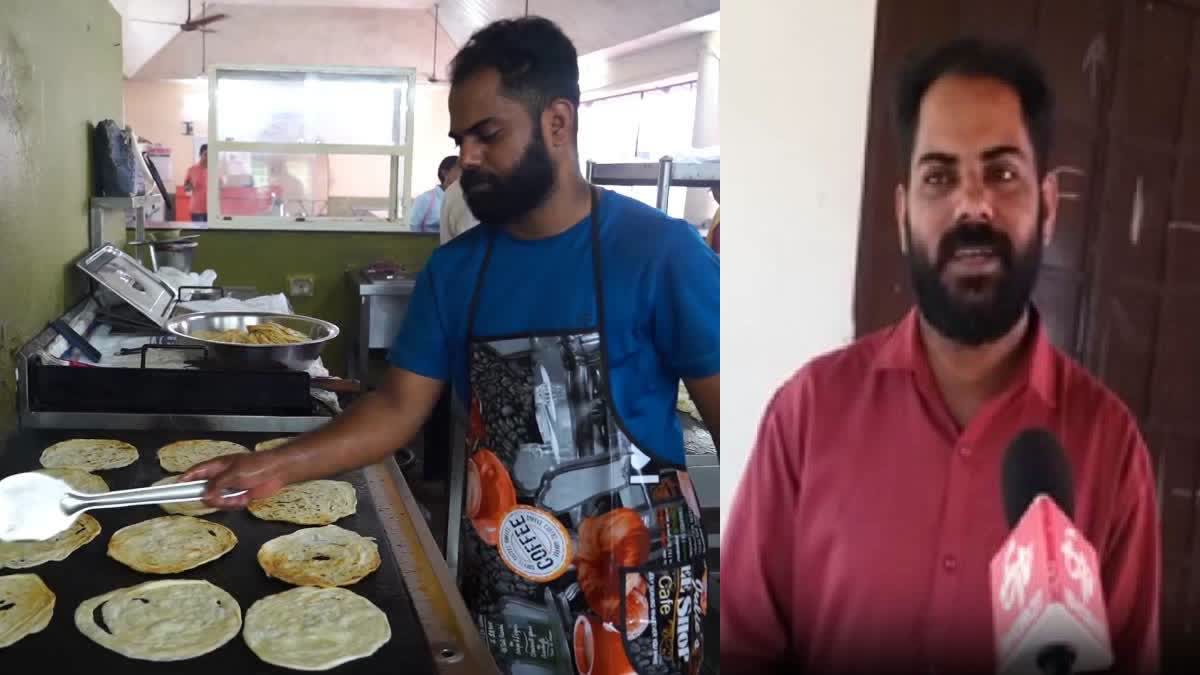 Kerala research scholar makes 300 'parathas' a day in university canteen to make ends meet
Updated: Nov 18, 2023, 5:52 PM
|
Published: Nov 18, 2023, 4:22 PM
Follow Us
Ernakulam (Kerala): Akhil Karthikeyan, a research scholar at Kaladi Sanskrit University has been working along with studies since he was in class 8. Presently, he works as a cook at his university canteen.
For the last four months, his day starts at 5 am by making 300 'parathas' in the canteen. After completing his chores in the canteen, he rushes back to his hostel to get ready for his classes at 9.30 am.
Akhil, who hails from Sooranad in Kerala's Kollam district, has gone through a lot of struggles in his life. Despite all obstacles, he has managed to continue his studies and after possessing a master's degree in Malayalam, he has opted for research studies. Under the guidance of Dr Vatsalan Vathussery, he is pursuing research on 'Malayalam cinema's emotional evolution and market politics' as he has a keen interest in cinema. Also, Akhil is a singer and painter and has served as a panchayat member for five years.
After enrolling as a research scholar at the university, he found it difficult to get himself a job to bear his expenses. In the meantime, the migrant labourer who was working at the university's canteen suddenly quit his job. When Akhil learnt about the job vacancy in the canteen, he immediately grabbed the opportunity.
Cooking for so many people requires both expertise and physical labour. Initially, the canteen operators doubted Akhil's capability. But, Akhil suddenly arrived at the canteen at 5 am and prepared tasty 'parathas' taking everyone by surprise. Since then, Akhil has followed the same routine for the last four months.
"Working in the hot conditions for a prolonged period inside the canteen is not at all an easy task. But working along with studies is nothing new in foreign countries. This model can be replicated here as well," Akhil said.
He said that his parents, Leela and Karthikeyan, have always given their moral support to him. His wife Anushree Chandran is a writer and researcher at Sree Sankaracharya University.