Woman, nine-month-old daughter electrocuted in Bengaluru footpath, FIR lodged against BECOM

Published: Nov 19, 2023, 1:26 PM
Follow Us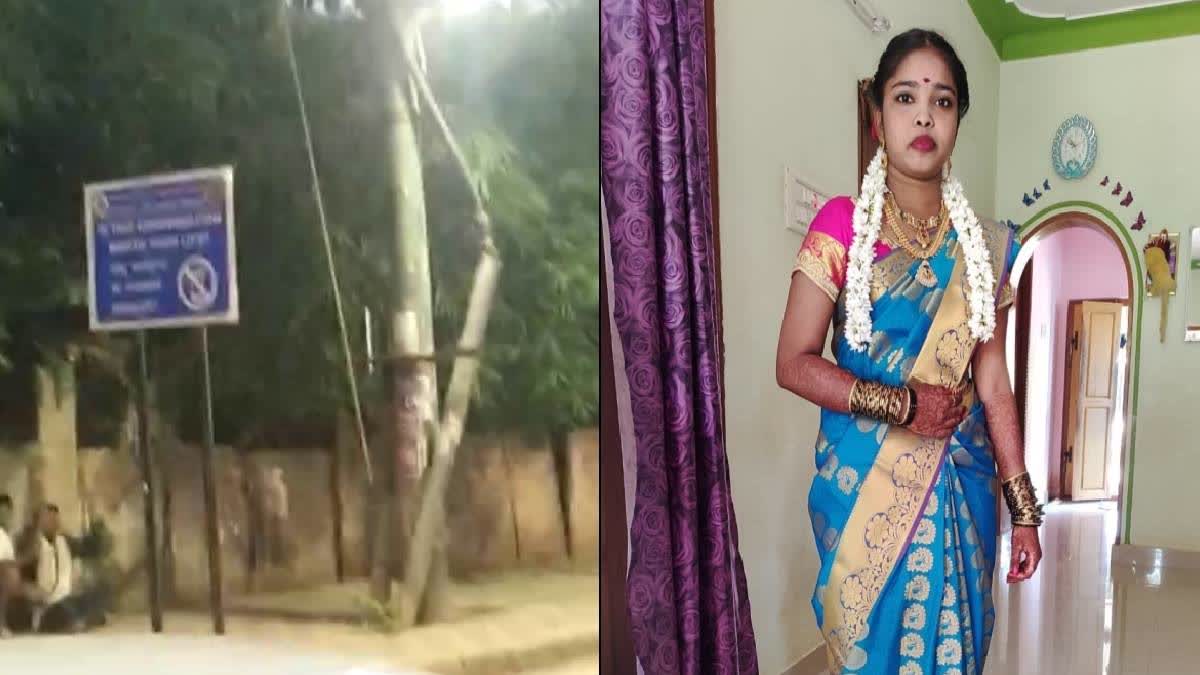 Woman, nine-month-old daughter electrocuted in Bengaluru footpath, FIR lodged against BECOM

Published: Nov 19, 2023, 1:26 PM
Follow Us
Bengaluru: A 23-year-old woman and her nine-month-old daughter were electrocuted while walking on the footpath near the Hope Farm junction in White Field in Bengaluru on Sunday. Her husband was injured while trying to save them. Citizens have demanded action against Bangalore Electricity Supply Company Limited (BESCOM) for leaving the dangling wires on the roads.
The incident took place at around 6 am when the woman, who was carrying her daughter and her husband were returning home after spending Diwali in Chennai. The family was walking on the footpath when the woman stepped on a wire that was lying on the road and was electrocuted along with her daughter. The deceased have been identified as Soundharya (23) and her daughter Suviksha.
Seeing Soundharya and daughter struggling on the floor, her husband rushed forward to save them and sustained injuries in his hand. Soundharya's husband who hails from Tamil Nadu, works at a private firm in Neyveli.
The passersby saw the incident and informed the Kadugodi police. A case has been registered in Kadugodi police station and investigations are underway. Police said that Soundharya had stepped onto an electric wire assuming it to be fibre-optic cable since such cables are scattered on many areas of the city. The couple and their daughter, residents of AK Gopalan Colony, had gone to Chennai during Diwali and were returning to Bengaluru today, police said.
BESCOM assistant engineer Chetan, junior engineer Rajanna and station operator Manjunath are currently being interrogated at Kadugodi police station. An FIR has been registered under Section 304A (causing death by negligence) of the IPC against BESCOM at the Kadugodi police station.
"Soundharya was returning home with her daughter when she stepped onto a broken electric wire on the footpath. BESCOM officials and staff have been detained and are being interrogated in this connection," White Field Division DCP Dr. Shivakumar Gunare said.
Citizens condemns BESCOM for leaving live wires on the roads and demanded action against them. A citizen group, Citizens Movement, East Bengaluru took to X saying, "....dangling wire took a young life! When will our metros get underground electric wires, @narendramodi? Sir, does your smart city plan have this provision? When we compare it with other Asian cities, why do we still live in the 80s? Why are we not seeing the fruit of the 5th largest economy on the ground? What is wrong here."
Soundharya (23 years) died today with her daughter Suviksha (9 months) due to electrocution while walking near Hopefarm! @NammaBESCOM's dangling wire took a young life! When will our metros get underground electric wires, @narendramodi? Sir, does your smart city plan have this… pic.twitter.com/02uTBnx9VV

— Citizens Movement, East Bengaluru (@east_bengaluru) November 19, 2023