Cauvery protests: Dog participates in 'padayatra', man bathes in mineral water

Published: Sep 29, 2023, 8:11 PM
Follow Us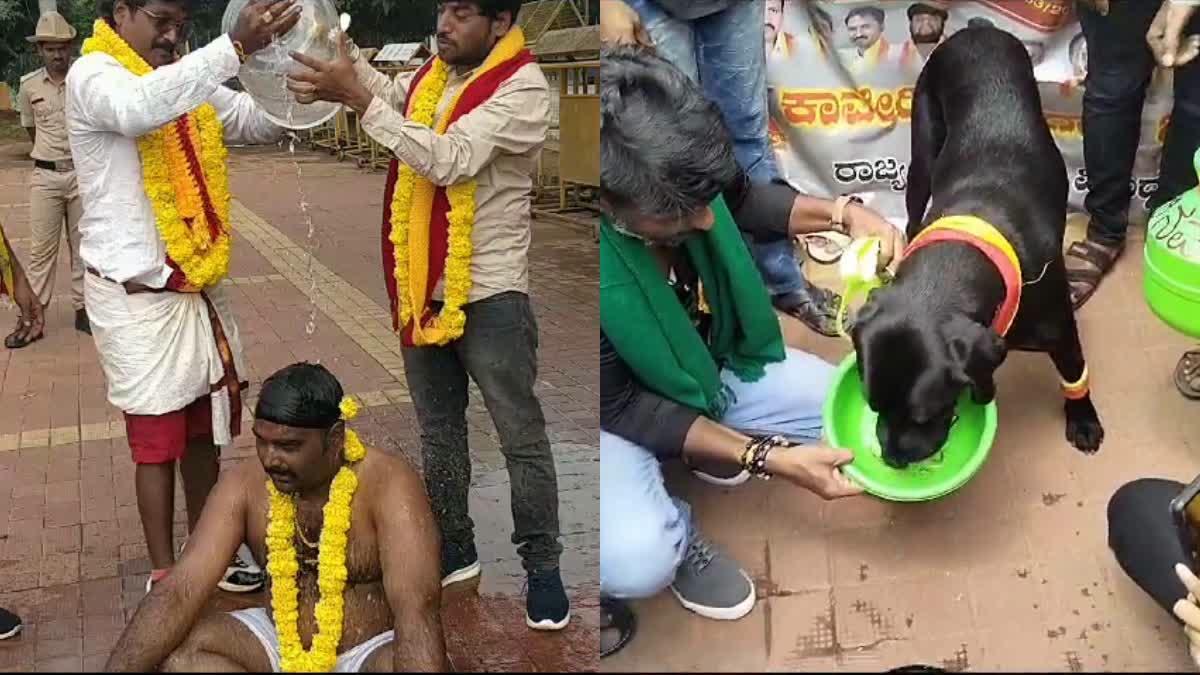 Cauvery protests: Dog participates in 'padayatra', man bathes in mineral water

Published: Sep 29, 2023, 8:11 PM
Follow Us
Bengaluru: Amid the Karnataka bandh that was observed today to protest against release of Cauvery water to Tamil Nadu, protests were staged in innovative manner. A pet dog accompanying his owner during the padayatra and a man bathing with mineral water caught people's attention.
The dog named Rambo walked from Mandya to Bengaluru's Freedom Park and participated at the protest rally. Rambo took part in the 'padayathra' organised by the pro-Kannada groups that supported the bandh. The dog held an anti-Tamil Nadu poster in its mouth. Rambo was seen walking along with the protesters in the rally that was taken out today.
In another innovative protest that came into fore, a protester expressed his anger by bathing in mineral water in front of Freedom Park. The man sent a clear message explaining that if Cauvery water is released to Tamil Nadu then there is no other option other than to bath using mineral water.
A state-wide 12-hour bandh was organised in Karnataka today. Several activists of pro-Kannada, pro-Dalit and pro-farmer organisations staged protests at the Freedom Park in Bengaluru during the day.
The protesters said that while the farmers of the state were reeling under acute water crisis, releasing water to Tamil Nadu will make matters worse for them. Several cities including Bengaluru, Mysuru, Hubbali, Mangaluru wore a deserted look as shops and major establishments along with public transportation remained off the roads.
Many roads and highways were also blocked by the protesters who held demonstrations with banners and placards. Among the key demands of the protesters was to ask the Cauvery Water Management Authority to devise a new formula for sharing Cauvery water with Tamil Nadu.