Class on Wheels: 'Digital Bus' aims to teach poor students computers in Karnataka, bridge academic divide
Updated: Nov 19, 2023, 7:59 PM
|
Published: Nov 18, 2023, 10:34 PM
Follow Us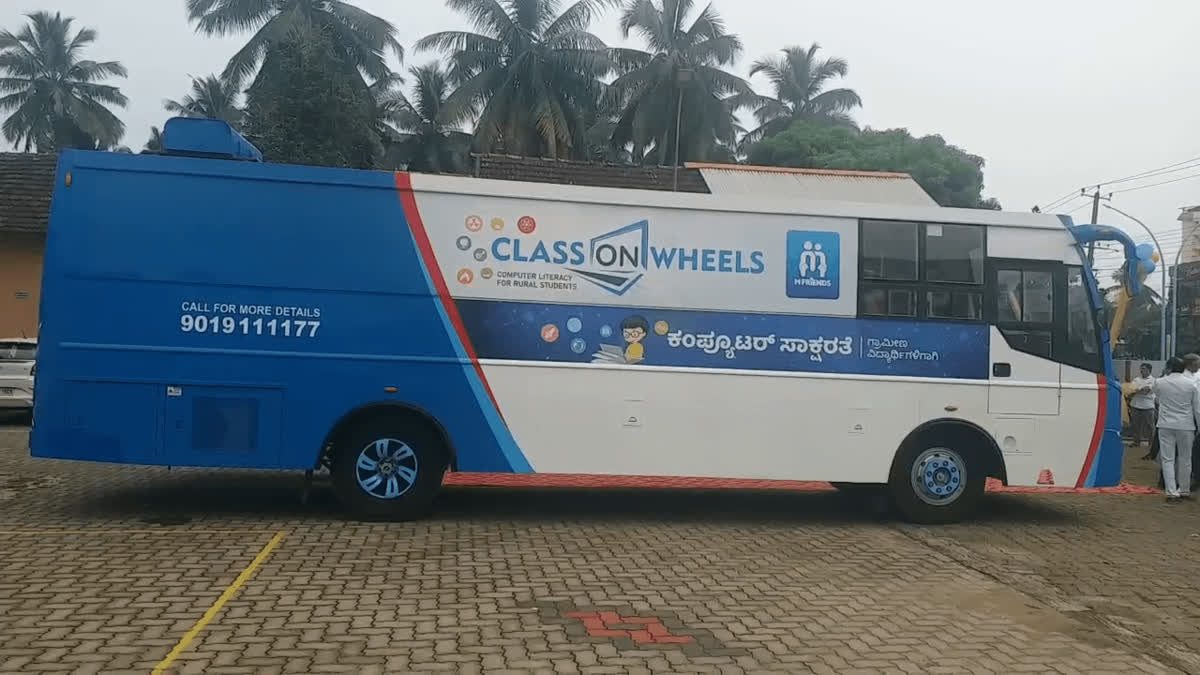 Class on Wheels: 'Digital Bus' aims to teach poor students computers in Karnataka, bridge academic divide
Updated: Nov 19, 2023, 7:59 PM
|
Published: Nov 18, 2023, 10:34 PM
Follow Us
Mangaluru (Karnataka): With the aim that government school children in rural areas should not be deprived of computer education, a welfare group of local residents have started a noble project in Karnataka's Mangaluru.
'M Friends' has come up with a digital bus to go to schools in rural areas to impart computer education to poor children. The organization was started in 2013 through a WhatsApp group. Since then, it has been carrying out social service, especially in the health sector. M Friends Charitable Trust has now launched a digital bus for rural children to commemorate its 10th anniversary.
A luxury air-conditioned bus has been manufactured under the name "Class on Wheels". The bus will operate in rural areas of Dakshina Kannada district offering free service. The target is to teach computers to 5000 children every year. This bus has been converted into a complete classroom.
There are two ACs inside the classroom, 16 laptop computers for 16 students, revolving chairs, and 16 folding desks. A separate computer, chair, and desk have been set up for the teachers. A projector for conference, TV for presentation, music system, mic sound system, lighting, and LED digital board are also installed. There is also WiFi for online education.
There is a colour printer, photocopier, and a scanner as well. A biometric device has been installed near the bus door for the attendance of students and teachers. CCTV cameras are installed for the safety of children. There is a 6.8 KV modern generator for own power generation, an external power connection facility point, a 200-litre water tank on top of the bus for hand washing, a wash basin, a 40-litre potable water facility, two AC outdoor units, a battery box, toolbox, and power point system.
A moving classroom, the project aims to make students in government schools as competitive as their counterparts in private schools
How did the plan begin?: Hanif Puttur of M Friends is currently working in Dubai. Hanif, who holds a UAE Golden Visa, is the Regional Head of M Friends Charitable Trust. He participated in a competition organized by an organization in Abu Dhabi, UAE. At that time, he expressed his intention to start a computer bus for poor students in rural areas.
He talked about building a special bus to provide computer education. After that lakhs of people voted online in favour of his dream project. Through this, Hanif became the winner of the competition. He handed over the prize money won in the competition along with his personal financial help to M Friends Charitable Trust. Through this, the bus dream came true.
An additional amount was borne by M Friends Trust along with Hanif. This bus of Tata company Heera model of Arvind Motors has been converted into a computer classroom by Rodricks Industries of Bykampady, Mangaluru. A minimum of 15 to 20 hours of training will be imparted to a student in a phased manner.
One to one-and-a-half-hour class is being given to four schools in a day. A separate syllabus has also been created for this. The bus will have two computer teachers, an experienced driver and an operator. The digital bus will operate from 9 am to 4 pm except on government holidays. The organization said that the annual cost of this project will be Rs 10 lakh.
Speaking about this, M Friends President Mohammad Haneef said, "We are doing many social services through this organization, which was started through a WhatsApp group. This project has been made with the view that children studying in government schools in rural areas should compete academically with private school children. We have started this project for primary and secondary education students. We have already identified 15 schools," he said.
Talking about this, BEO Lokesh of Puttur taluk said, "I have asked to do this project in 10 schools. It stops near 10 schools. This is especially beneficial for 6th and 7th class students. 16 children can study on this bus."