17 King cobras, 55 ball pythons, 6 capuchin monkeys seized from unidentified Thailand passenger at Bengaluru Airport

Published: Sep 8, 2023, 8:54 AM
Follow Us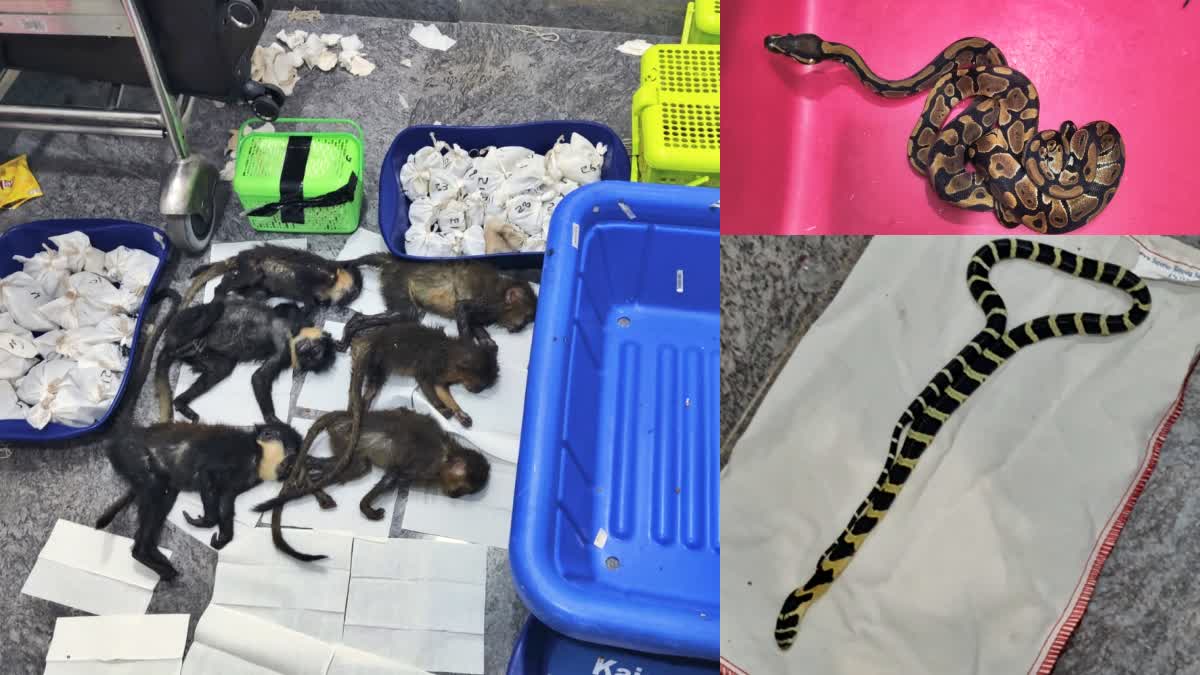 17 King cobras, 55 ball pythons, 6 capuchin monkeys seized from unidentified Thailand passenger at Bengaluru Airport

Published: Sep 8, 2023, 8:54 AM
Follow Us
Bengaluru: Air Customs officials at Karnataka's Kempegowda International Airport in Bengaluru have seized king cobras, ball pythons, and capuchin monkeys, all protected species smuggled into the country from Thailand.
The animals were found stuffed in the check-in baggages on Thai AirAsia's flight number FD 137. The flight arrived in Bengaluru around 10.30 pm on Wednesday, accordig to the customs officials.
The baggage contained 17 king cobras, and 55 ball pythons (in different colour morphs) and six capuchin monkeys. While the king cobras and ball pythons were found alive and active, all the primates were dead, the customs said in the statement released on Thursday.
According to the Wildlife Protection Act 1972, barring the primates, the other two animal species were scheduled animals. These three are listed under appendices of the Convention on International Trade in Endangered Species of Flora and Fauna (CITES) as well, the customs said.
Python falls in Sheduled I of the Wildlife Protection Act while King Cobra falls in the second, and both are endangered species and require special protection.
Customs officials said they suspect that the animals could have been smuggled into India as part of international illegal pet trade.
#IndianCustomsAtWork A case of Wildlife smuggling was booked by Bengaluru Air Customs on 6th Sep, 2023 at KIAL Bengaluru. Animals found alive have been deported to country of origin and 6 dead Capuchin monkeys were disposed. Further investigation under progress. pic.twitter.com/NoM0XTkcjq

— Bengaluru Customs (@blrcustoms) September 7, 2023
They said the king cobras and pythons were deported to Thailand. The customs officials have managed to dispose of the dead capuchin monkeys with proper sanitary measures.
However, the customs authorities were not able to locate the passenger who carried the baggage and have now registered a complaint with the police to identify the passenger who is involved in the act.
According to the customs officials, the Wednesday night seizure is the biggest haul of protected wildlife at the Bengaluru Kempegowda International airport in three weeks. The previous occasion also saw exotic animals being smuggled in from Thailand.
On August 21, the customs rescued 234 exotic animals, including pythons, chameleons, iguanas, turtles, alligators and a dead baby kangaroo, which were sneaked into the country by a Bangkok passenger, who had hid them in two trolley bags.