What is Chhotanagpur Tenancy Act and why are tribals in Jharkhand opposing its amendments?

Published: Nov 18, 2023, 7:20 PM
Follow Us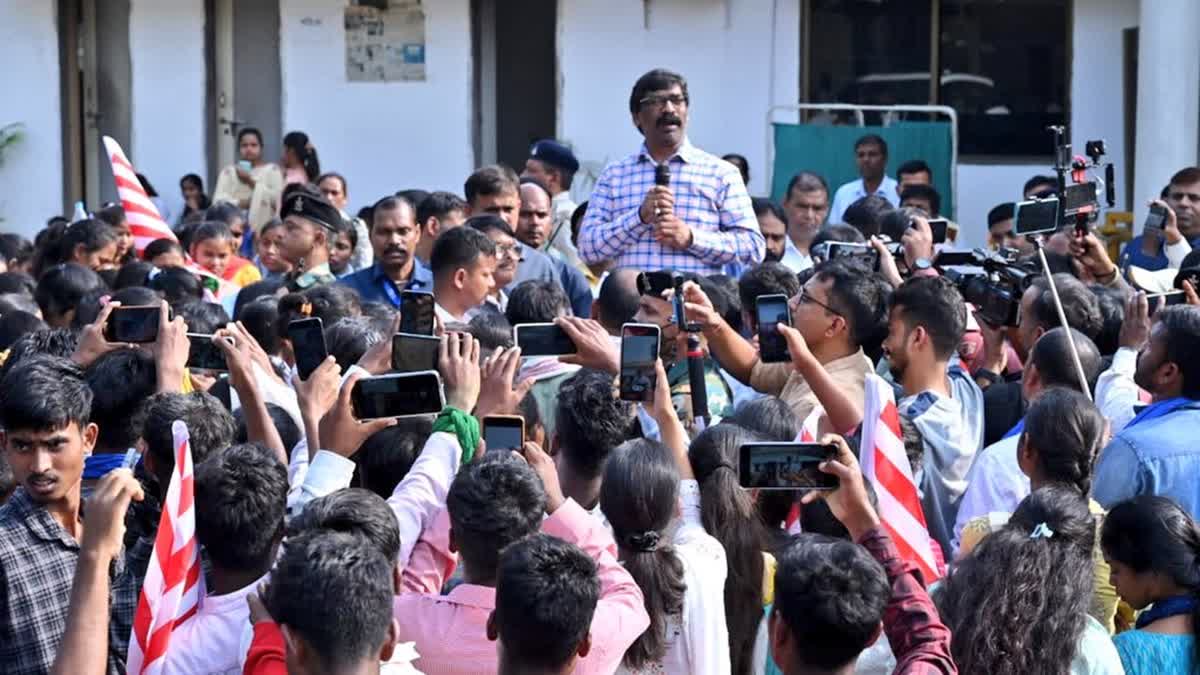 What is Chhotanagpur Tenancy Act and why are tribals in Jharkhand opposing its amendments?

Published: Nov 18, 2023, 7:20 PM
Follow Us
Ranchi: In a major victory for the tribals fighting for their rights in Jharkhand, the 26th meeting of the Jharkhand Tribal Advisory Council (TAC) convened under the leadership of Chief Minister Hemant Soren on Thursday approved to limit the land transactions under the Chhotanagpur Tenancy Act 1908. The meeting particularly put a vehement opposition to the Lugu Pahar Hydel Pumped Storage Project being built by the Damodar Valley Corporation (DVC) on Lugu Pahar, a revered site among tribal Santalis in Jharkhand's Bokaro.
Chhotanagpur Tenancy Act and Santhal Pargana Tenancy Act 1949: Jharkhand is a state where whenever there is talk of reform or amendment in Chhotanagpur Tenancy Act 1908 i.e. CNT and Santhal Pargana Tenancy Act 1949 i.e. SPT, there is an uproar among the tribals. Both the acts were enacted by the British. The objective was to ban the buying and selling of tribal land.
What is the Chhotanagpur Tenancy Act 1908 and why are tribals in Jharkhand opposing any amendment to the act?
In a special conversation with ETV Bharat, senior advocate Rashmi Katyayan said that after a blanket ban on tribal land transactions under the CTA, 1908 initially, in 1938, a provision for purchase and sale of tribal land at the police station level was incorporated to the CNT. After independence, amendments started in the act and in 1947, section 46 was replaced and introduced in a new way envisaging a provision for ST land transaction, but only at the police station level.
The problems started arising as with time the number of districts and police stations in Jharkhand kept increasing. In 1950, when the Constitution came into force on 26 January that year, there were seven districts in present time Jharkhand, which was then part of unified Bihar-Ranchi, Hazaribagh, Palamu, Santalpargana, Manbhum, Dhanbad and Singhbhum.
At that time the number of police stations was also less. But with time the number of districts and police stations kept increasing. Because of this, problems started arising in transferring the land under the CTA. With the TAC agreeing to strictly adhere the land transactions to the district and police station limits of 1950, advocate Rashmi Katyayan called it a good initiative.
But Katyayan believes that according to her, the compulsion of the police station should also be abolished. "Because with time people of tribal society are also shifting to different places. In such a situation, if someone has come to Ranchi and is working or has settled, then why would he want to buy land in his native village Dumka?" she asked.
She said that if the scope of purchase and sale of land of SC and BC is to be taken to the district level of 1950, then for this an amendment will have to be passed in the Assembly. Katyayan said that in order to implement this, the government will either have to make rules or send a proposal to the Governor under the 5th Schedule for modification.
According to Katyayan, the process of CNT started in 1833, in which changes were made as per the need in 1869 (only referring to Bhuihari land), 1879, 1903 and 1908. Today it is known as CNT Act 1908.

Santhal Pargana Tenancy (Supplementary Provision) Act 1949: The SPT Act was introduced in 1872 and was adopted as per the need in 1949. The supplementary part itself shows that it is a part of some other law i.e. Santhal Pargana Settlement Regulation 1872. There is a provision in SPT that unless it is written in the Khatian, you cannot sell the land even to your own people.
Banks do not give loans for CNT and SPT land: The CNT and SPT have been acting as a roadblock to many as CM Hemant himself has said that the banks do not give loans against CNT and SPT land. CM Hemant himself has said many times that even the tribals who own land are "living a life of poverty". On this, senior advocate Rashmi Katyayan said that the Odisha government has taken initiative in this direction.
"Tribal people of Jharkhand should also get loan against their land. This will open the way for their progress. It is the job of the government to take a call on this," she said. Tribal affairs expert Victor Malto said that there is "no information about what was agreed upon in the TAC meeting". He said that transfer should be done in scheduled areas under rules. He also said that before the formation of the state, a large number of people from other states had come and settled in Jharkhand.
"They will also have to be taken care of. Right comments can be made only after seeing what has been agreed upon in the TAC and what notification the government is going to issue," he added.

History of CNT: Senior journalist, writer and educationist Santosh Kido, who is an expert on tribal affairs and is doing research on the need for CNT, said that the history of the case dates back to the Mughal era under emperor Jahangir. Kido said that Jahangir had imprisoned Durjan Sal in Jharkhand for denying to pay taxes, which the emperor imposed in a bid to capture Heera Nagpur (Chhotanagpur), believed to be rich in diamonds at the time.
"When Durjan Sal could not pay the taxes, he was put in Gwalior jail for twelve years. Meanwhile, another incident happened, when Jahangir needed to identify the correct diamond during mining. The courtiers suggested him the name of Durjan Saal. Then Durjan Sal was called to Delhi. Because the diamond was stuck in a piece of iron, Saal removed the diamond from the piece of iron in the blink of an eye without causing any damage. He had tremendous understanding of diamonds. On this basis, Jahangir freed Durjan Sal. He also freed other captive Rajputs," journalist Kido claimed.
He said that Durjan Sal asked for tax from the Mundas and brought Rajputs from outside thereby agitating the local tribals in Jharkhand culminating in the famous Kol rebellion in 1831-32 which spread from Chotanagpur to Manbhum. In a bid to appease the tribals, the British empire, through Thomas Wilkinson as special commissioner banned the traders who used to mortgage the land in exchange of money and later transfer it to their name. This system was implemented by the South West Frontier Agency in 1834, Kido said.
"This system continued till 1882 in the form of Wilkinson Rule. Munda Manki recognized that system in Singhbhum. But as soon as this system ended in 1882, the era of land grabbing started. On this the Munda Sardars who had become Christians protested. At that very moment Birsa Munda came forward. The war lasted from 1882 to 1895. The reason for this was the land itself. Then the British rulers understood that this war had been going on for a hundred years. Later, J.B. Hofmann prepared a draft which with some changes became a law in the form of CNT in 1908," explained Kido.

What is the demand of tribal group? Dev Kumar Dhan, convenor of Adivasi Mahasabha, believes that the the assurance by the TAC meeting to stick to the 1950 land transactions "will not bring much benefit". "The law was made in 1908 itself. It's been more than a hundred years. There has been a change in the thinking and lifestyle. Now people want to come to cities. Emphasis is being laid on education and business. Recently, after meeting the CM, I had suggested removing the limitation of police station area to the entire state.
However, the land limit must be fixed in this. But this did not happen. Therefore, there will be no significant benefit from this," he said. President of Tribal Jan Parishad, Prem Shahi Munda says that the initiative taken by the government is welcome. He said a limit for purchase and sale of land must be fixed at the police station level.