J&K courts stare at mountain of pending cases; experts cite reasons impeding timely justice
Updated: Sep 25, 2023, 9:14 PM
|
Published: Sep 25, 2023, 8:52 PM
Follow Us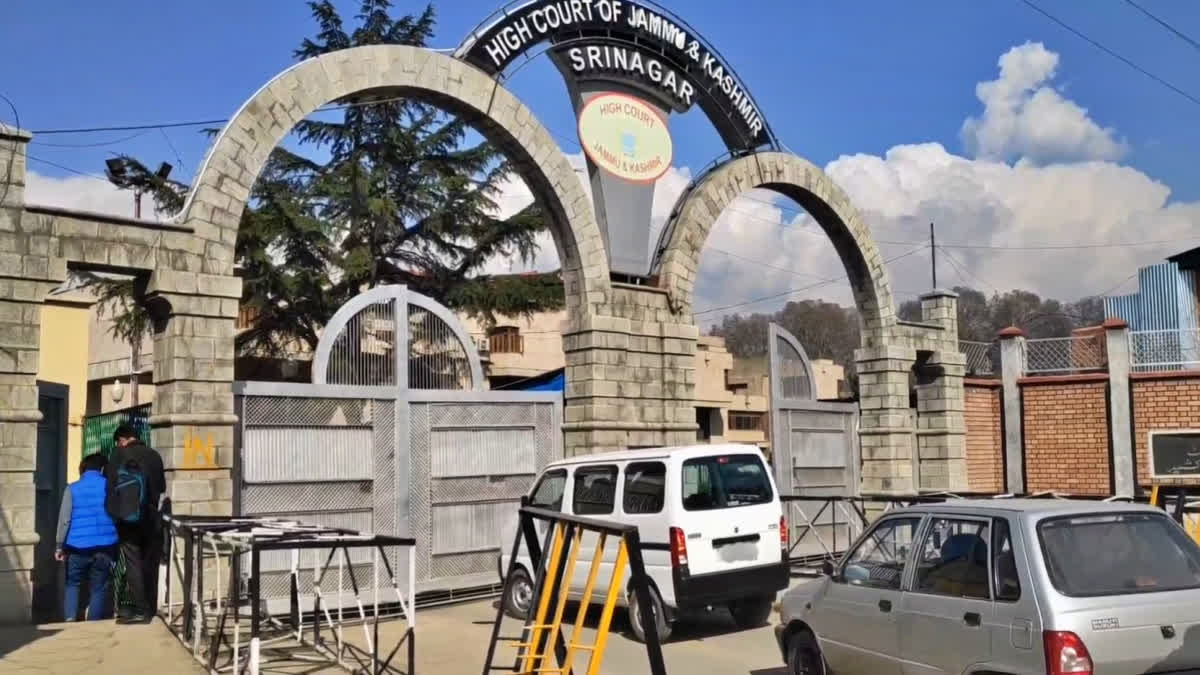 J&K courts stare at mountain of pending cases; experts cite reasons impeding timely justice
Updated: Sep 25, 2023, 9:14 PM
|
Published: Sep 25, 2023, 8:52 PM
Follow Us
Srinagar (Jammu and Kashmir): When a person is wronged, he or she turns to the courts hoping to get justice. However, it is easier said than done as a massive pendency of cases in the courts across India proves a major hurdle in receiving timely justice.
According to the real-time data of the National Judicial Data Grade (NJDG), there are currently 4,44,33,697 pending cases across the country including 3,33,44,252 criminal and 1,10,89,445 civil cases. While 36,51,098 of them were filed by women, 28,06,515 were filed by senior citizens.
In Jammu and Kashmir too, thousands await justice as courts with limited human resources and infrastructure stare at a mountain of cases. At present 3,26,264 cases are pending in the courts of the region. Of these, 2,22,823 are criminal while the other 1,03,441 are civil. Of these, 16,775 were filed by women while 17,574 were filed by senior citizens.
According to NJDG data, there are 60,79,392 cases pending in high courts across the nation. Women have submitted 3,92,469 of these, while senior citizens have filed 6,49,205 of them. A total of 44,736 cases are now pending before the High Court of Jammu & Kashmir and Ladakh, of which 8,161 are criminal and the rest 35,575 are civil cases. Senior citizens have filed 6,633 cases, compared to 2,770 cases brought by women. Interestingly, 16 of these cases have been waiting for longer than 30 years. Eleven of them are civil matters, while five of them are criminal.
29,197 cases are pending before the Jammu bench of the court, while 15,539 cases are pending before the Srinagar bench. While 5,309 criminal and 23,888 civil cases are pending in Jammu, there are 12,687 civil cases and 2,852 criminal cases outstanding in Srinagar.
In Srinagar, there are four such cases that have been unresolved for more than three decades. Women have submitted 1600 cases, and elderly persons have filed 2871 cases. In Jammu, 12 cases have been unresolved for more than 30 years. 3,762 senior citizens and 1,170 women have filed lawsuits.
ETV Bharat consulted a few renowned Jammu and Kashmiri lawyers for their opinions in this respect. Justice is still being served, they claimed, even if there is a delay.
Senior advocate Syed Riaz Khawar feels, "There are a number of reasons why there is pendency in the courts. The first is the population and judges ratio. The second is that some lawyers believe in getting hearings adjourned. The third is that the code of procedure needs to be updated because it was created by the British. The fourth is that minor issues that may be resolved locally are also brought up in courts. The burden on courts is increased by all of this."
"For example, irrigation and other minor issues can be resolved at the panchayat and tehsil levels but instead such cases are also filed in Courts. These local institutions and volunteer bodies must be strengthened," he said.
"We all adhere to the Code of Civil/Criminal Procedure," says advocate Shabir Ahmad Bhat. "Everything takes time. The court's ruling must be acceptable to all parties. For this reason, there are several options for appeals at various levels. Although the process takes time, urgent matters are taken up immediately. Justice will still be done even if there is a delay, and time will not be squandered." "We clearly inform our client well in advance of all aspects of hearing the case as per the Code. This is being done to make them aware of the process," he added.