Carpenter by profession, J&K youth carves niche with passion for shadow art
Updated: Nov 21, 2023, 12:57 PM
|
Published: Nov 20, 2023, 6:51 PM
Follow Us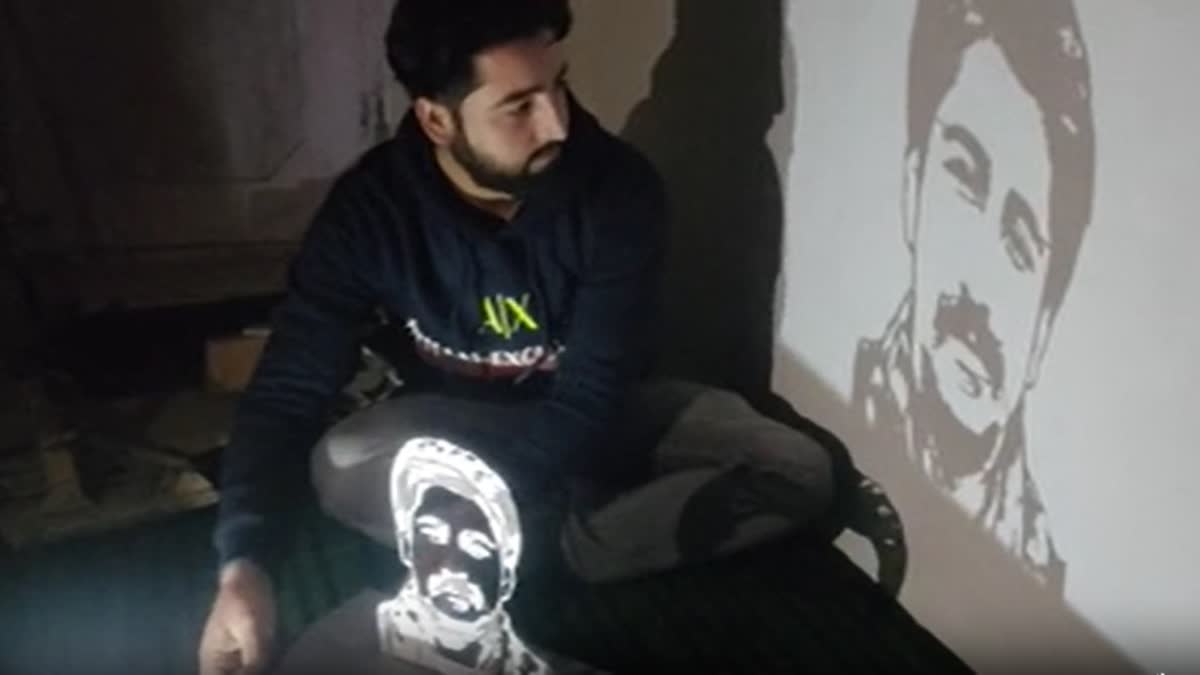 Carpenter by profession, J&K youth carves niche with passion for shadow art
Updated: Nov 21, 2023, 12:57 PM
|
Published: Nov 20, 2023, 6:51 PM
Follow Us
Kokernag (Jammu and Kashmir): There is no dearth of talented youth in Centrally Administered Jammu and Kashmir, whether it is in education, sports activities or other fields. The youth here are not only gaining fame at the domestic level but also at the foreign level in every field. Sohail Ahmed Bhat, a 25-year-old resident of Magam Kokernag, in south Kashmir's Anantnag district is one such youth blessed with a rare 'Shadow art' to create images of humans and objects with pinpoint accuracy.
In a special conversation with ETV Bharat, Bhat, who is a carpenter by profession, said he always wanted to do something different since his childhood days. Bhat said that after trying his hand on a few innovative models like that of a bulldozer and fruit picking machine, he thought he should make the shadow of a bird.
"When I felt that I had succeeded in making a shadow, after that I made several films shadowing actors, cricketers, officers as well as local people, which was popular among the public," he said adding that he received a lot of appreciation. Bhat said that unlike most of the youth of his age who waste time on mobile phones, which is having negative effects on their health, he wanted to channelize his talent into something interesting.
"But I don't have enough resources to promote this art, so I politely request the government to help me as much as possible so that I can create an invention that will last a lifetime and people remember me for that," he said. Bhat's brother Obaid Ahmed said that Bhat has been very hardworking since his childhood, although no one in the family supported him at that time.
Obaid said his brother was reprimanded several times by his parents for wasting time on the art, but he did not lose heart and followed his hobby along with his work all along. "Continuing his hard work, Sohail has so far created shadow art of many celebrities along with many inventions that many people flock to our house to see," Obaid said.
Sohail's mother Ghulam Fatima said that although their area lacks basic facilities, her son is a source of pride for the area. "At first we thought that Sohail was wasting his time so we did not support him that much, but his hard work and dedication proved that he is no less than anyone," she said. She said that the talent hidden in Sohail is found in very few people adding that there are not enough resources in the house that they can help him financially, "so we want to convey this message to the administration to help him financially".