Tis Hazari firing incident: Delhi Bar Council suspends lawyer's license, seeks written explanation
Updated: Jul 6, 2023, 8:07 AM
|
Published: Jul 5, 2023, 5:03 PM
Follow Us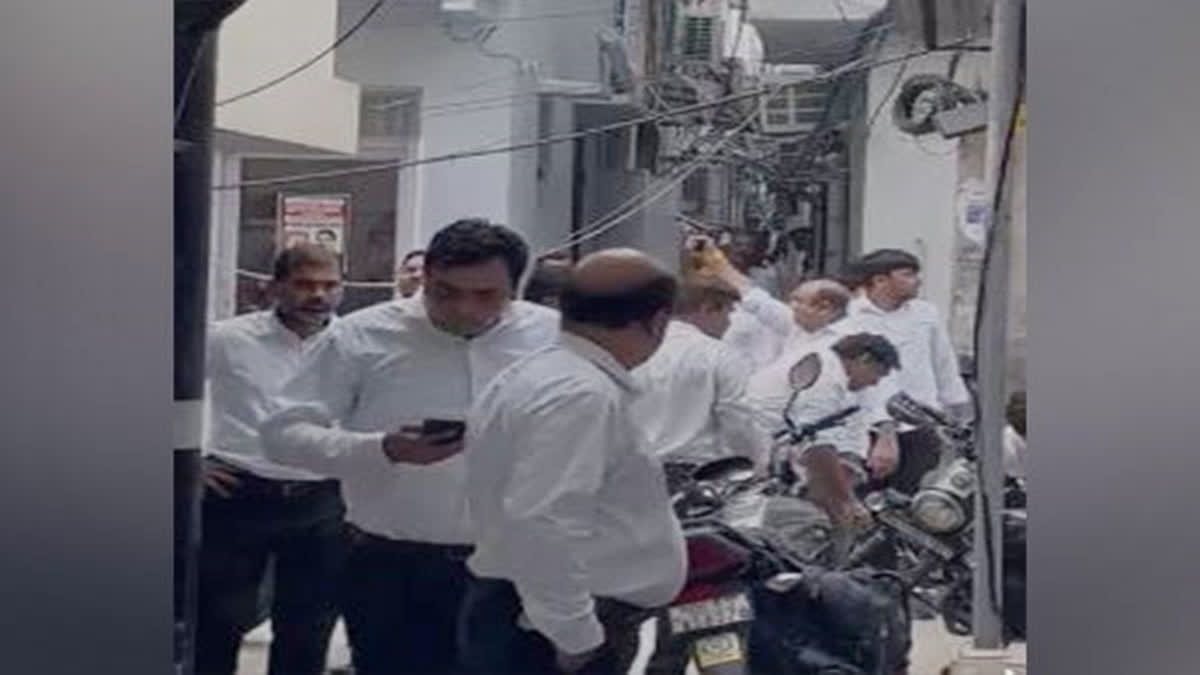 Tis Hazari firing incident: Delhi Bar Council suspends lawyer's license, seeks written explanation
Updated: Jul 6, 2023, 8:07 AM
|
Published: Jul 5, 2023, 5:03 PM
Follow Us
New Delhi: Hours after an advocate opened fire in the air at Tis Hazari Court campus in the national capital, the Bar Council of Delhi (BCD) placed him under suspension and sought a written explanation from him regarding his behaviour in a clash between two groups of advocates.
Taking suo motu action, Col. (Rtd.) Arun Sharma, Secretary BCD, wrote a letter to Manish Sharma about the suspension of his license to practice as an Advocate. "The Bar Council of Delhi has taken suo-moto cognizance of a viral video of a firing incident which took place at Tis Hazari Court premises today i.e. July 5, 2023, in which you among other advocates are seen involved in hurling abuses and firing in the air," the letter read.
"In the said video, you are clearly identifiable, whereas identification of other advocates involved is being carried out for taking appropriate action. You being an advocate resorting to violence that too inside the court premises is highly deplorable and is gross misconduct," the Colonel said.
Advocate warned-The Bar termed the behaviour of Sharma as 'highly deplorable' and 'gross misconduct' of rules and said suspension will take immediate effect. The action was taken under Section Rule 42, Chapter-IV of the Bar Council of Delhi Rules, the communication said. Advocate Manish Sharma has been called upon to appear before the Bar Council on July 7 and submit a written explanation. "Failing to which, ex-parte action shall be initiated as deemed appropriate in accordance with law," the letter warned.
Inquiry Committee formed-BCD Chairman K K Manan said that a committee has been formed to inquire about the incident. Some people have been identified. "License of an advocate has been suspended with immediate effect," Manan said. After the incident, a meeting of executives was called upon by the Delhi Bar Association (DBA). In this meeting some resolution for strict action and to know the modus has been passed. After the meeting, Nitin Ahlawat, DBA president said, "It is an unfortunate incident. People who are involved won't be spared and strict action will be taken."
Advocate denies opening fire-"It is a question of the prestige of the Bar and it is the oldest Bar. No one is permitted to do an illegal act of this kind, strict action will be taken after identifying the people involved in it," Ahlawat said. However, Advocate Manish Sharma denied the allegations and told ANI that he didn't fire any bullets.
"For the last few days, there were many issues going on between me and our secretary Atul Kumar Sharma related to the Bar and last night I was called by Atul Sharma. His brother and he called me up and abused and threatened to shoot me. I will file a complaint against those who did all this fighting and those who fired in the court, we have footage of them firing...I did not fire any bullet like this," he said.
Police take cognisance-After the incident, local police and higher officials reached Tis Hazari Court. After several rounds of meetings, the Deputy Commissioner of Police SS Kalsi took a round of the court premises and said that the situation is under control and efforts to identify the people are underway. "Situation under control. We are identifying the people involved in the firing. We are taking action. We had received information regarding the incident between advocates," the DCP said. (with ANI inputs)